NEWS
Voyager reschedule Australian Headline Tour for February 2021.
[SUPPORT VOYAGER AND THEIR OTHER CANCELLED TOUR DATES BY PURCHASING SOMETHING ON BANDCAMP TODAY! VOYAGER.BANDCAMP.COM]
WATCH 'RUNAWAY' HERE
BUY TICKETS FOR AUSTRALIAN TOUR HERE 
***
Voyager – 'Runaway'
[As seen on Eurovision, Australia Decides]
Voyager have announced that their headline tour in May has been rescheduled for February 2021 in light of the Coronavirus crisis.
Since their formation, whatever genre norms, boundaries, and regulations thrust upon Perth Australia's Voyager have been smashed. They embrace, if not brandish pop; employ a keytar on stage, and bring forward a positive, if not uplifting feeling to their music, running head-first into the endless parade of heavy bands who see the world in a different light. Voyager simply prefers to see the bright side of things.
Despite the inconvenience caused by the virus, Voyager remain positive that they will return stronger than ever and that when they do, they will be bringing their everything to the stage.
Danny Estrin says this about the rescheduled dates.
"You know what helps build something more than waiting? Waiting some more! So just as we were super excited to tour "Colours in the Sun" around Australia in May 2020, we are going to be at least twice as excited to bring it to you in 2021. We are going to be raring to burn off those isolation pounds on stage and bring you a smorgasbord of pent up Voyagerisms; more than ever, live music will have a whole new meaning and I can't wait to see everyone's smiles, some new 80s hairdos and some inflatable keytars – Runaway until 2021 Australia, see you soon(ish)."
Following the successful release of 'Colours in the Sun', which saw a chart debut of #1 in the AIR charts, and highlighted as The Music's 'Album of the Week', Voyager will still perform a headline tour, but it will now go ahead in February 2021.
The band will be bringing 'Colours in the Sun' to the stage with shows in Perth, Brisbane, Adelaide, Melbourne, Sydney and Canberra.
TICKETS –  OZTIX.COM.AU / David Roy Williams
AUSTRALIAN TOUR DATES 2021
Perth – Badlands Fri 12 Feb
Brisbane – The Zoo Sat 13 Feb
Adelaide – Jive Fri 19 Feb
Melbourne – Stay Gold Sat 20 Feb
Sydney – Crowbar Fri 26 Feb
Canberra – Basement Sat 27 Feb
Make a purchase on voyager.bandcamp.com to support the band's cancelled dates with In Flames.
Voyager recently unleashed a music video for their track 'Runaway' that saw airtime on Eurovision – 'Australia Decides'. The track was shortlisted and paid tribute to on the Television show that aired on 8th February in association with APRA/AMCOS.
You can view the music video, once again filmed against one of  Western Australia's beautiful natural landscapes, HERE
The video was directed by DarkSpiritPhotography.
Danny explained in an interview on AusDecides that 'Runaway' is about his keytar. He embellishes on this and says
"Both my keytars and I were born in the 80's. There's something about this generation that has carried through my musical influences (and love for cars) and is pretty evident in the material Voyager are writing today. Being in a band is a journey in itself, and my personal journey has always seen my keytars accompany me all around the world (sometimes in less than mint condition). It was only fitting that we pay a tribute to such an integral part of Voyager's sound and image in our video for 'Runaway', and we hope our fans continue to follow us and be a part of our history, and our future."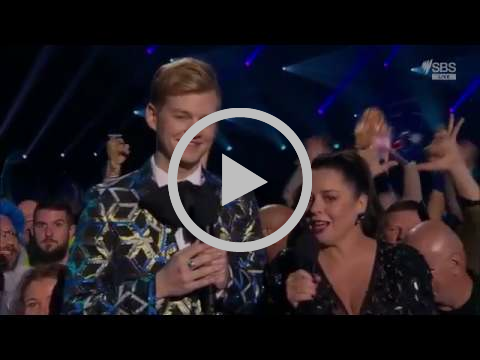 Voyager –  Tribute to 'Runaway' on 'Eurovision – Australia Decides'.
Voyager – Behind The Scenes on 'Runaway' Music Video