TYLER BRADEN ANNOUNCES NEW EP NEON GRAVE (3/3), RELEASES TITLE TRACK
Listen to 'Neon Grave' HERE
NASHVILLE, TN. / LONDON, U.K. – (January 27, 2023) – With just over a dozen official track releases, Warner Music Nashville standout Tyler Braden has already accumulated nearly 200 million global streams. The fast-rising country rocker is adding to his repertoire with his new EP Neon Grave, due March 3rd 2023 and available now for pre-order. The six-track project, produced by Randy Montana, features the powerhouse duet version of fan-favorite heartbreaker 'Try Losing One' (with Sydney Sierota of Echosmith) and the title track, out today. Listen to 'Neon Grave' here.
"Ever since I knew how to strum a couple chords on a guitar, rock music has been a huge influence on my style," Braden said. "I think 'Neon Grave' really kicks it up a notch. This project has that important, underlying thread of country storytelling but channels the kind of energy that fans feel during my live shows. I'm excited for everyone to hear and experience the direction that we're headed in!"
Tyler Braden is due to make his UK/European debut in March, with mainstage CMA Introducing Nashville performances at C2C Festival in London, Glasgow and Dublin:
Friday 10th March – London, O2 Arena
Saturday 11th March – Glasgow OVO Hydro
Sunday 12th March – Dublin, 3Arena

Photo Credit: Marisa Taylor

Braden wrote the gritty 'Neon Grave' alongside Shane Minor and Justin Ebach. It joins 'Try Losing One' (with Sydney Sierota) as the first two tracks on the upcoming EP. Last week he and Sierota shared the song's official music video, a somber black-and-white visual that underscores their stark vocals. Watch the video, directed by Grant Claire, here.
With an impressive 70 million global streams, the original version of 'Try Losing One' has already hit No. 1 on SiriusXM The Highway's Hot 30 Countdown and continues to climb at country radio. MusicRow declared that the country-rock ballad "burns with ferocious power and passion" and stated simply, "In a word, wow." Meanwhile, Billboard lauded 'Try Losing One' as "one of the most moving vocal deliveries in country music right now."
A finalist on the first season of NBC's American Song Contest, Braden continues perform on stages across the nation. He is currently on the road for Mitchell Tenpenny's This Is The Heavy Tour, including a stop this weekend (28/1) in Los Angeles. The two will hit Nashville's own Ryman Auditorium next Friday and Saturday nights (3/2 and 4/3). Meanwhile, Braden regularly releases videos in his popular One Song, One Take series. Check out his cover of Luke Combs' 'The Kind Of Love We Make' here.
Neon Grave Track Listing:
1. Neon Grave (Tyler Braden, Justin Ebach, Shane Minor)
2. Try Losing One (with Sydney Sierota of Echosmith) (Tyler Braden, Brian Davis, Adam Wood)
3. Choose Me (Tyler Braden)
4. Wrong Right Now (Tyler Braden, Ben Goldsmith, John Phillips)
5. Middle Man (Tyler Braden, Erik Dylan)
6.Try Losing One (Tyler Braden, Brian Davis, Adam Wood)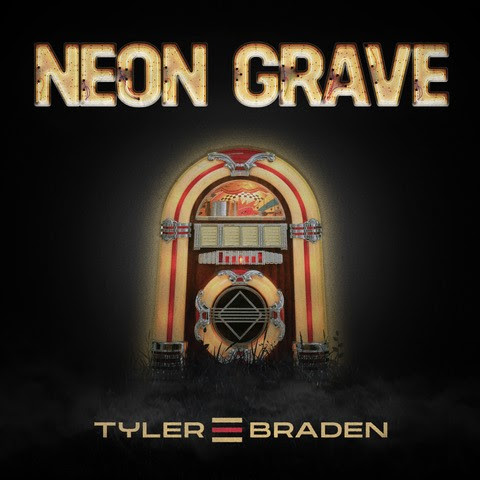 ABOUT TYLER BRADEN:
If ever there was a country artist ready to set the world on fire, it would have to be Tyler Braden. He has the gritty powerhouse vocal, the expressive pen and the ability to deliver a lyric with complete conviction worthy of a headliner. Braden grew up in Slapout, AL, with parents who fostered an early appreciation for country music, guitar-playing songwriters filling the airwaves and a group of rock-loving friends. He spent much of his life blending these early influences to craft a sound all his own. His early twenties saw him playing local shows and touring the Southeast while serving as a first responder in Montgomery, AL. A gig in Music City inspired his move north, and Braden continued firefighting in the suburbs of Nashville while preparing to take his music career to the next level. His first date at the homegrown Whiskey Jam concert series in January 2017 paved his path to today.
Two years later, he signed a major label record deal with Warner Music Nashville and soon after released his debut EP What Do They Know. With more than 186 million streams to his name and a growing list of major tour credits from Brantley Gilbert to Brooks & Dunn, he has been named by MusicRow magazine a 2023 Next Big Thing artist. Braden's debut single 'Try Losing One' is currently at U.S. country radio and has already topped SiriusXM The Highway's Hot 30 Countdown. The rising country rocker will release his new project, Neon Grave, on March 3.
CONNECT WITH TYLER BRADEN: FACEBOOK | INSTAGRAM | TWITTER | YOUTUBE | WEBSITE