TOVA
RELEASE MUSIC VIDEO FOR 'MELANCHOLY'
THE SINGLE DROPS AHEAD OF THE BAND'S SOLD OUT SHOW AT THE FIDDLER NEXT FRIDAY
WATCH HERE
Almost three months after the release of their EP Happy Music For Sad People, modern rock outfit TOVA have released the music video for 'Melancholy', which features one of the best choruses of the band's career.
The music video itself is an example of how TOVA can shift between exploring important social commentary to maintaining a sense of humour and vibrancy to their sound. The video synopsis is as follows: "With money troubles hitting TOVA like a brick in the face, the band have been forced to settle their debts by offering spots in the music video to their four Loan Sharks. Join Dick Hammerbush, Dr Vice City, Jimmy Jim Jnr and Stanley as they dance through the musical event of 2021, MELANCHOLY."
In true TOVA fashion, the four-piece have crafted something memorable here, all accompanied by dance routines, colourful outfits, and fun antics.
Next Friday, the band will play a sold-out gig at The Fiddler, London, which will set them up for next year's show at the O2 Academy2 Islington. Speaking about the shows, the band say: "Our October show sold out in 2 weeks, you guys are crazy. We are going to make this the best live show we've ever done. Bring your A-game kids, cuz we're bringing ours! We cannot wait to dance with you all this autumn in London, it's going to be the best performance we've ever done and sharing this experience with so many new people we've connected with this year is going to be incredible. Get learning those lyrics, we finally get to sing again."
TOVA will play the O2 Academy2 Islington on Sat April 2nd 2022. Tickets for that can be found here.
Band Bio:
TOVA are an off-kilter four-piece rock band from the UK. Blending the in-your-face swagger of Enter Shikari and Highly Suspect with the live energy of IDLES, TOVA's niche blend of influences immerse their rapidly growing audiences in a frenzy of intensity and emotion.
The band were awarded an Arts Council England National Lottery Project Grant to put on the Pre recorded Live Stream 'S!CK' ticketed Event & costs for their first EP set for release July 2021.The EP deals with the singer's depression, getting past toxic-masculine barriers with both aggressive social commentary and curious lyricism.
Previous single releases Headcount, Gun Dogs (produced by Steph Carter ex Gallows) & Absent were added to 57 Playlists on Spotify, Deezer & Applemusic including weeks of airplay on Kerrang! Radio. Absent & Headcount Music Video's racked up over 19K views. Featured Artist of the Week and championed by Alex Baker – Fresh Blood. They've played two London Headline shows selling out at Camden Assembly as part of their 2019 UK tour.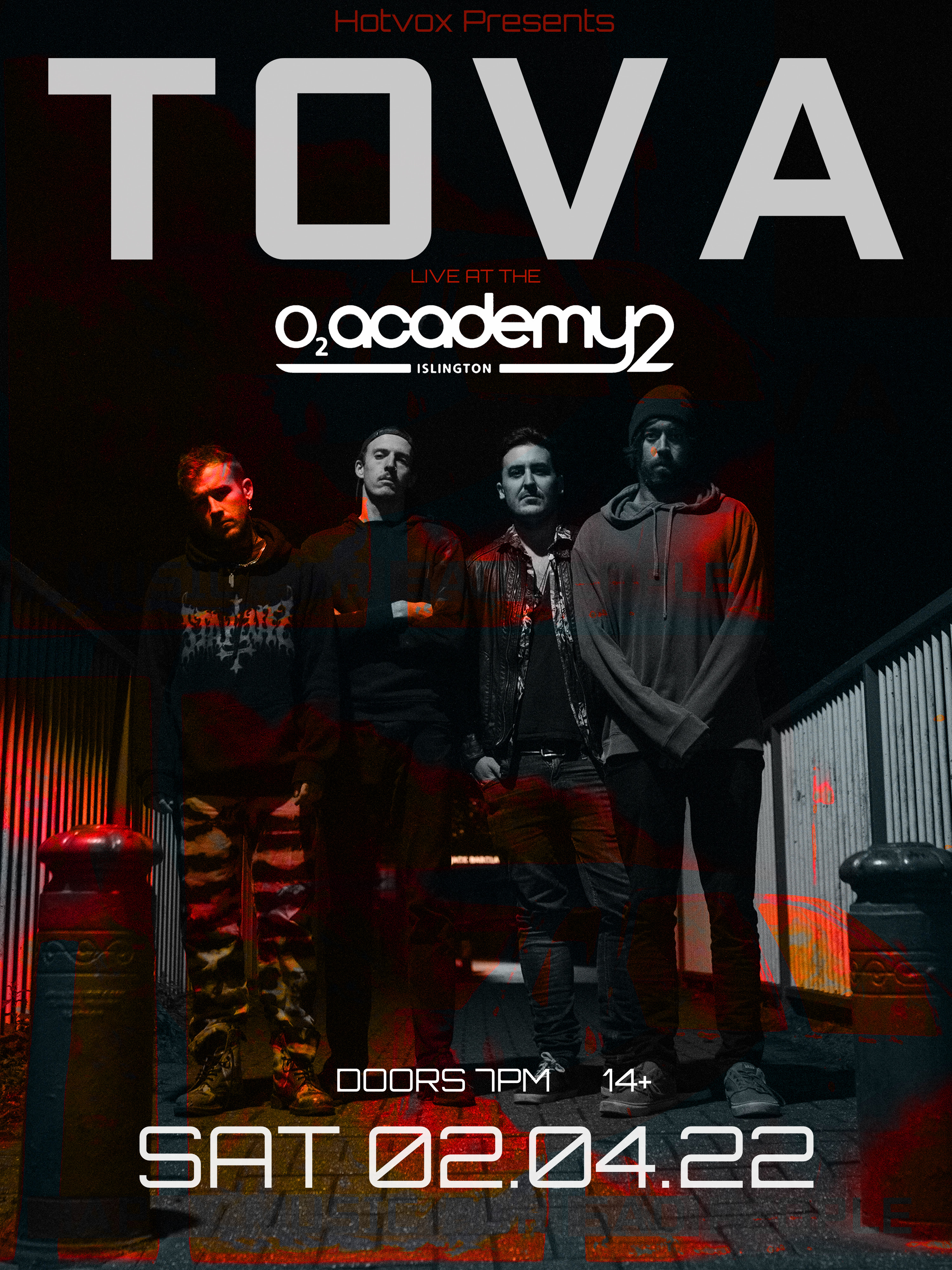 Facebook: https://www.facebook.com/tova2020
Twitter: https://twitter.com/tova_music
Instagram: https://www.instagram.com/tovamusic_/