TOMORROW'S GHOSTS FESTIVAL
COMPLETES 2022 LINE-UP
HEADLINERS:
THE LOVELESS
(A.K.A. MARC ALMOND ++ NEAL X ++ MAT HECTOR ++ BEN ELLIS ++ JAMES BEAUMONT)
+
FIELDS OF THE NEPHILIM
+
Very Special Guests
 GHOST DANCE + INTO A CIRCLE + BALAAM AND THE ANGEL
+
 EVIL BLIZZARD PRESENT 'BLIZZOWEEN'
+ BOOTBLACKS + ALL MY THORNS
@ Whitby Pavilion, Whitby
Friday 28th October – Sunday 30th October 2022
WITH POST-GIG PARTIES FROM 
CARPE NOCTUM + PLANET X


The only festival unafraid to paint the town black, Tomorrow's Ghosts Festival will return to Whitby for Halloween 2022. The ultimate celebration of all things Gothic and Alternative, the festival will return to its spiritual home between Friday 28th to Sunday 30th October 2022.
Relishing in the darkest of arts, from music to markets, performance to literature, and so much more, the festival also promises to remain central to the wider events taking place across the town, which is perhaps most famously known to be the official birthplace of Dracula…
THE MUSIC
Shaping-up to be a vintage year, Tomorrow's Ghosts is inviting some of the finest gothic and alternative sounds from across Europe & the USA to descend on the Yorkshire town.
Headlining the Friday night will be original goth rock messiahs Fields of the Nephilim. One of Goth's most significant artists, Carl McCoy and co. will be reacquainting audiences with their magnetic, macabre appeal and a boundary-pushing arsenal that includes scintillating singles such as "Moonchild", "Psychonaut", "Summerland" and so much more.
And on Saturday night, the headline honours will be left to: The Loveless. Comprising Marc Almond (Soft Cell), Neal X (guitarist of Sigue Sigue Sputnik), plus Mat Hector and Ben Ellis (Iggy Pop's rhythm section) and James Beaumont (Hammond organ), the band will be embracing their darkest tendencies and performing distorted versions of songs familiar, and not-so familiar.
Elsewhere, other incredible acts confirmed to be appearing at Whitby's premier gothic and alternative arts festival include very special guests Into A Circle, Ghost Dance, and Balaam And The Angel, as well as exclusive performances from Bootblacks, All My Thorns and Evil Blizzard present… 'Blizzoween'.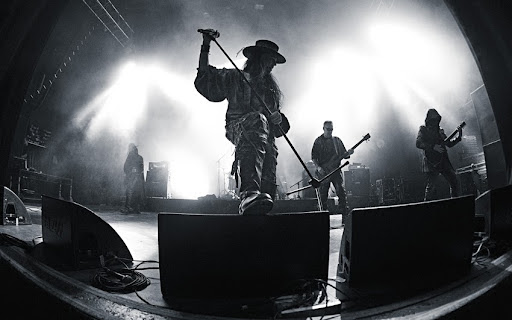 AFTER PARTIES
Keeping the candles burning into the nocturnal hours, Tomorrow's Ghosts can confirm it will be throwing post-gig parties late into the night across the weekend. Welcoming two of goth's northern DJ powerhouses to Whitby, Leeds living legends Carpe Noctum and the supernaturally talented scousers Planet X will be resurrecting goth classics for the afterdark masses on Friday & Saturday respectively.
SOPHIE LANCASTER FOUNDATION
For the first time in 2022, Tomorrow's Ghosts will be teaming up with the SOPHIE LANCASTER FOUNDATION. A charity committed to stamping out prejudice, hatred and intolerance everywhere, the ideals of the Sophie Lancaster Foundation and Tomorrow's Ghosts couldn't be any closer aligned.
14 years on from Sophie's tragic passing in a vile hate-related crime, Tomorrow's Ghosts is honoured to be aiding the exceptional work of the Sophie Lancaster Foundation as a key partner at the 2022 festival. As well as having a stall at the event and talking about their work, the Foundation will be undertaking educational workshops with local schools in the run up to the festival.
ABOUT TOMORROW'S GHOSTS FESTIVAL
Established in 2018, Tomorrow's Ghosts Festival takes place annually at The Pavilion in Whitby (UK). A celebration of all things Gothic that also embraces a wide range of alternative culture, the festival aims to host both established and up and coming bands to reflect the diversity of the goth and alternative music scene as well as similar highlights from the mediums of film, art, guest appearances and theatre. Previous editions have hosted acts including Wayne Hussey & The Divine, Peter Hook & The Light, New Model Army, Paradise Lost, Fields of the Nephilim, Pop Will Eat Itself, The Chameleons, Pink Turns Blue, Salvation, Evi Vine, The Membranes, The Eden House, Sometime The Wolf, The Society, Terminal Gods, Sweet Ermengarde Saigon Blue Rain, Christine Plays Viola, Mercury's Antennae and Clan of Xymox.
Dabbling in the dark arts to provide one of the most unique festival experiences in the country, expect diverse performances and surreal happenings aplenty when Tomorrow's Ghosts returns on Halloween weekend 2022.
TICKETS
Tickets for Tomorrow's Ghosts Festival are on general sale NOW. Links and prices are as follows:
Friday Night Tickets – 28th October 2022– £38.00 Advance STBF
General Sale: https://bit.ly/3l2LRlS
Saturday Night Tickets – 29th October 2022 – £38.00 Advance STBF
General Sale: https://bit.ly/3xiOMMd
Weekend Tickets – Friday 28th & Saturday 29th October 2022 – £70.00 Advance STBF
General Sale: https://bit.ly/3r6EjTg
* * * * *
ADDITIONAL INFORMATION:
Ages 8+
Under 14s to be accompanied by an adult over the age of 18 at all times.
Over 18s only for after show club night events.
* * * * *
LINE UP SO FAR 
Friday October 28th 2022
Headliner – Fields of the Nephilim
Special Guests – Ghost Dance
Evil Blizzard present Blizzoween
Bootblacks
Saturday October 29th 2022
Headliner – The Loveless
Special Guests – Into a Circle
Very Special Guests – Balaam And The Angel
All My Thorns
* * * * *
FOR MORE INFORMATION
w/ https://www.tomorrowsghostsfestival.co.uk
* * * * *
The Loveless
Website – https://www.theloveless.uk
Instagram – https://www.instagram.com/thelovelessuk/
Fields of the Nephilim
Website – Fields of The Nephilim (fields-of-the-nephilim.com)
Facebook – (1) Fields Of The Nephilim | Facebook
Spotify – Fields Of The Nephilim | Spotify – Listen Free
Twitter – (5) Nephilim official (@FOTNofficial) / Twitter
Instagram – Fields Of The Nephilim (@fotnephilimofficial) • Instagram photos and videos
Ghost Dance
Facebook – (1) Ghost Dance | Facebook
Twitter – (5) anne marie hurst (@a_mhurst) / Twitter
Website – Ghost Dance Official – Ghost Dance, Band, Goth Band (ghost-dance.co.uk)
Instagram – Anne Marie Hurst (@a.mhurst) • Instagram photos and videos
Into A Circle
Facebook – Into A Circle | Facebook
Twitter – (5) beefuton (@beefuton) / Twitter
Website – Music | Into a Circle (bandcamp.com)
Instagram –  Into a Circle (@in2a0) • Instagram photos and videos
Balaam And The Angel
Facebook – (3) Balaam and the Angel | Facebook
Website – Balaam And The Angel
Instagram – Balaam and the Angel (@balaamandtheangel) • Instagram photos and videos
Evil Blizzard
Facebook – Evil Blizzard | Facebook
Twitter – (5) Evil Blizzard (@evil_blizzard) / Twitter
Website – Unleash (evilblizzard.co.uk)
Instagram – Evil blizzard (@evilblizzpics) • Instagram photos and videos
Bootblacks
Facebook – (6) Bootblacks | Facebook
Twitter – (2) Bootblacks (@bootblacks) / Twitter
Website – BOOTBLACKS
Instagram – BOOTBLACKS (@bootblacks) • Instagram photos and videos
All My Thorns
Facebook – (3) All My Thorns | Facebook
Website – All my Thorns Store