THE SEAFLOOR CINEMA
RELEASE OLIVIA RODRIGO COVER
'TRAITOR'
OUT NOW ON PURE NOISE RECORDS
WATCH HERE
THE SEAFLOOR CINEMA
Sacramento, California's The Seafloor Cinema have released a cover of Olivia Rodrigo's heartbreaking hit 'Traitor'. The song, accompanied by a computer game inspired visualiser, is out now via Pure Noise Records. 
Speaking on their latest release, guitarist Seth Lawrenson comments: "We really wanted to take this song and turn it on its head, while still keeping the grit and angst of the original. Justin and I thought the song was in 4/4 when it's actually in 6/8 and we didn't realize that till we recorded it so it has a lot of weird intricacies but came out even bigger than we imagined. Plus it has trap hi-hats!! "
CLICK THE IMAGE BELOW TO CHECK OUT 'TRAITOR'
MORE ON THE SEAFLOOR CINEMA
Since forming in Sacramento, CA, in 2016,  The Seafloor Cinema have been keeping both themselves and listeners guessing with a musical blend-o-matic of Midwestern emo, pop-punk and math rock, spinning unconventional song structures and dextrous, intricate guitar work into captivating underground anthems they've brought nationwide on the Emo Night Tour.
Add to that a penchant for outrageously verbose song titles that would threaten a less-confident band with being pigeonholed as holdovers from Myspace's glory days, and it's clear the trio (vocalist/bassist Justin Murry, guitarist Seth Lawrenson and drummer Timothy Aldama) enjoy zigging where other acts might zag.
This spirit of subversion is right there from the jump on their Pure Noise Records debut, "In Cinemascope With Stereophonic Sound", as the band soup-up their sound with a hearty dose of unabashed pop charm. This pop element gives the songs a newfound warmth without losing an ounce of what made their 2018 album, "A Metaphor For Honesty," so interesting. It's all at once sophisticated and accessible, melodically replicable and musically ambitious.
"We pushed ourselves to make a record that challenged our creative boundaries, but at the same time, still giving it that Seafloor charm," Justin says.
Kickstarter backers contributed more than $20,000 to fund the album, and The Seafloor Cinema are determined to not let this goodwill fall victim to the commoditisation of modern culture and the way some acts monetise their fans. The album artwork, a beautiful vintage painting suffocated by plastic wrap, itself serves as a commentary on hyper-commercialism – which they, as always, are quick to cut with their trademark humour.
"In Cinemascope With Stereophonic Sound" is out now via Pure Noise Records HERE.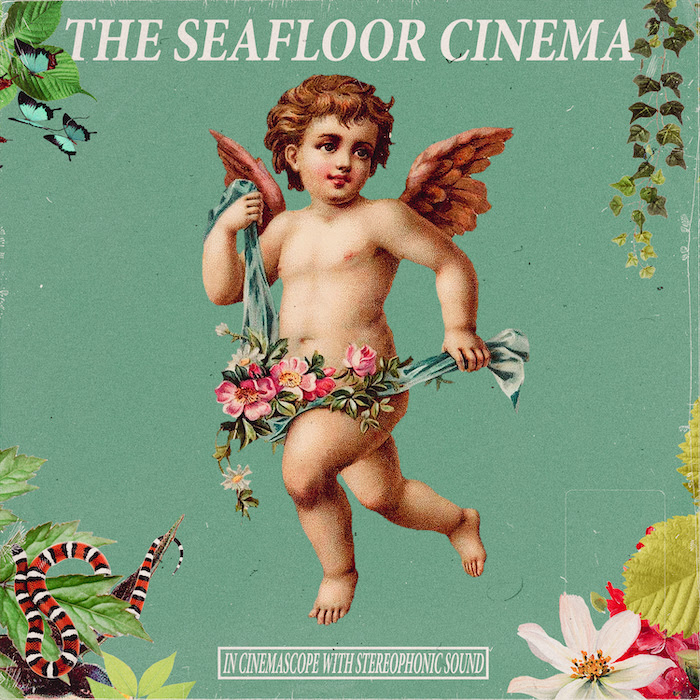 Connect With The Band