From Exile, a reimagined stripped-down version of The Menzingers' 2019 release Hello Exile, is available today via all streaming platforms. The album will be  available on vinyl November 13 and can be pre-ordered via the band's webstore, here. From Exile was recorded from the band's respective homes while in isolation during COVID-19 stay at home orders.
The Menzingers will perform a career-spanning full band livestream concert as part of the Live At Studio 4 series, curated by longtime producer and friend Will Yip at his renowned Philadelphia studio, on Saturday, October 10 at 6pm PDT/9pm EDT. The stream will be full band electric but will also feature a stripped-down portion to celebrate the release of From Exile. Tickets are on-sale now via Live At Studio 4's website here. The full livestream will be available on-demand to ticket holders for 72 hours.
From Exile Track Listing
1.     America (You're Freaking Me Out) (From Exile)
2.     Anna (From Exile)
3.     High School Friend (From Exile)
4.     Last To Know (From Exile)
5.     Strangers Forever (From Exile)
6.     Hello Exile (From Exile)
7.     Portland (From Exile)
8.     Strain Your Memory (From Exile)
9.     I Can't Stop Drinking (From Exile)
10.  Strawberry Mansion (From Exile)
11.  London Drugs (From Exile)
12.  Farewell Youth (From Exile)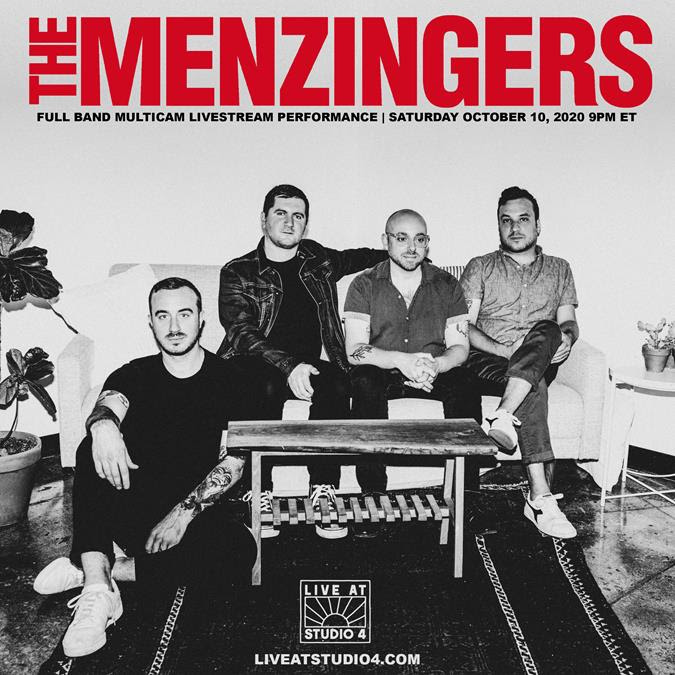 Since forming as teenagers in 2006, The Menzingers have shown their strength as rough-and-tumble storytellers, turning out songs equally rooted in frenetic energy and lifelike detail. To date, the band has released six studio albums, with their most recent, Hello Exile, released October 2019. Produced by Will Yip (Mannequin Pussy, Quicksand), Hello Exile sees The Menzingers take their lyrical narrative to a whole new level and share their reflections on moments from the past and present: high-school hellraising, troubled relationships, aging and alcohol and political ennui. With the band achieving that soul-baring intimacy all throughout the album, Hello Exile emerges as The Menzingers' most emotionally daring work to date with Fader calling the album "The Menzingers' greatest statement on adulthood to date."
The Menzingers is singer/guitarists Greg Barnett and Tom May, bassist Eric Keen, and drummer Joe Godino.