Melbourne-based Metalcore outfit,  The Gloom In The Corner, serve up their third offering with the aptly named Trinity; an impressive beast of a thirteen-track concept album, of which nine, star guest vocalists (see track listing at end of review for details).
There is a whole host of chaos in this album as it flits from character to character though it may prove an easier listen, should you already know the background from which the storyline is crafted.  "Let me paint you a picture" is the first line that features on the opening track 'From Heaven To Hell' and it certainly does with its descriptive vocals over piano and drums before the guitar riffs kick in and a satisfying growl is shed.  A sudden ending gives way to the frantic off-beat ribcage-rocker that is 'Obliteration Imminent'  which plunges in with power-strong vocals to offer a kind of warped comfort amongst the heavy shit that is apparently going down.  Previously released beat-laden single 'Ronin' has a Hardcore feel to the lyrics, some super techy riffs and the air of an alien breakdown – complete with squeals and bleeps – it may slow a little towards the end but remains enjoyably aggressive and is the last of the tracks with abrupt endings.
'Black Rot' is a slower song but certainly not miserable, with plenty of orchestral spooks, heavy guitar riffs, and all the toughness of the track before but with a welcome floaty chorus.  This is artfully chased by the previously released single 'New Order' continuing the beat-fest and adding some great tones.  Guitars churn a more traditional metal sound and there's a vague hint of 'robot'.  It's an altogether sweet song but it would probably bite you if it could. The sixth track 'Clutch' is just one alarm bell short, of a full-scale danger warning, harsh, fast, fully charged, and hell-bent on destruction "We'll all burn together" it announces.  The last of the previously released singles 'Pandora's Box' follows, this one denotes a more inward struggle.  There's an eerie muffled start and a feeling of being frozen, some well-held notes, and the song becomes clearer and heavier with the character slowly facing up to their fears.  In charge of the unyielding 'Behemoth' to redress the balance.  Fuelled by anger and full of drama, this track is definitely an album highlight and boasts of triumph.
'Gravity' gives orchestral keys, pelting drums, guitar prevalence, and guttural fight back, there's a brief calm and a sense of falling, a boundary has been crossed and the sound of rain fades it out.  Whilst 'Red Clouds' features three guest singers, some very high notes, a mournful guitar solo, and some very theatrical verses.  It obviously plays an important role in the album concept – being the second longest track – but it just doesn't seem to harbor the same energy as the other tracks and that may be why the following track 'Nor Hell A Fury' feels much more raucous in comparison, the anger is back with words bouncing off of guitar strings like bullets.  The final two tracks take on a stranger edge again, first 'Gatekeeper' seems to be a fact-filling mission to recap on the legend so far and iron out any confusion, the vocals gradually becoming harsher.  Whilst 'Hail To The King' standing at over eight minutes long, begins much like a musical stage production before launching you back into the danger zone just over a minute and a half in, with more grit to the growls than a quarry pit. The last pages of this storybook flip fast in the storm, with laughter, flesh-ripping destruction, and droves of mayhem.
One play of this album and you'll feel as though you've absorbed an entire audiobook.  All tracks are gently bathed in melody and there's an underlying rhythm that pulls everything back into line when necessary, making it a pleasurable listening experience.  It's all too easy to be beckoned back into its grip for deeper plot discovery.
REVIEW:  SUZI BOOTZ
'Trinity' is released: on 28/10/2022 via Sharptone Records/ Nuclear Blast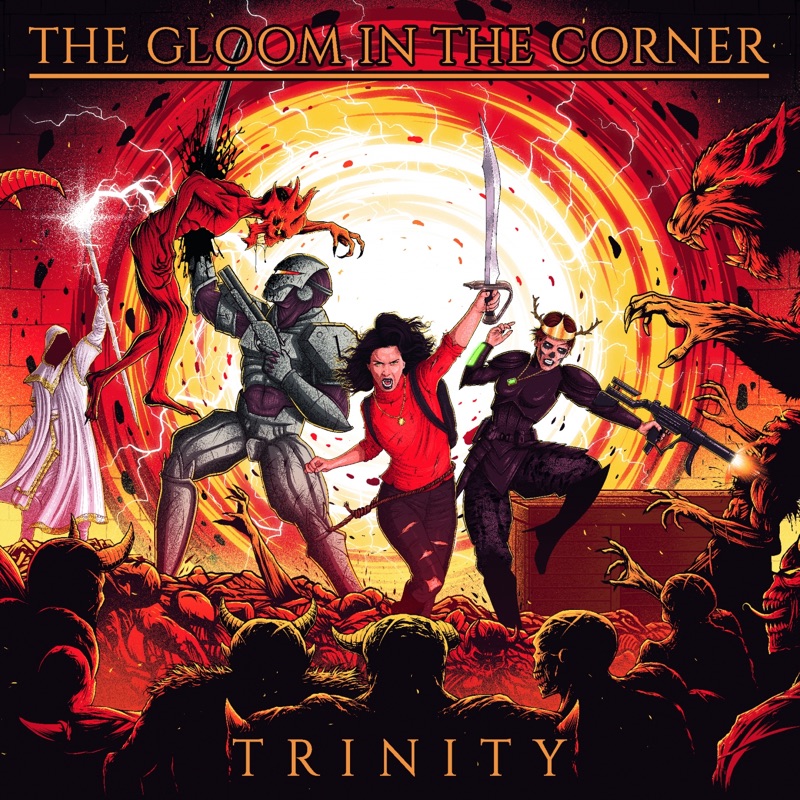 Tracklist:
From Heaven To Hell 2:25
Obliteration Imminent (ft. Monique Pym of Reliqa) 3:30
Ronin (ft. Ryo Kinoshita of Crystal Lake) 3:38
Black Rot (ft. Monica Strut of The Last Martyr) 3:48
New Order (ft. Taylor Barber of Left To Suffer) 3:56
Clutch (ft. Amelia Duffield) 3:38
Pandoras Box (ft. Lauren Babic of Red Handed Denial) 3:54
Behemoth 3:51
Gravity 3:39
Red Clouds (ft. Crystal Joilena, Elijah Witt of Cane Hill, Rachel Jeffreson) 5:23
Nor Hell A Fury 3:32
Gatekeeper (ft. Ryan Kirby of Fit For A King) 4:08
Hail To The King (ft. Joe Badolato of Fit For An Autopsy) 8:15
The Gloom In The Corner is:
Mikey Arthur –Vocals
Matt Stevens – Guitar (Left band 17th Oct 2022)
Paul Musolino – Bass
Nic Haberle – Drums
https://www.thegloominthecorner.com/?