"…sharp, hooky, chunky metal that's built for festival-sized pits" – Kerrang!
"…Tenside's sophomore opus dishes out hard riffs and socials commentary in equal quantities. This is one for the headbangers out there." – Rock Sound
TENSIDE RELEASE NEW TRACK 'ALONG WITH THE GODS'  
TAKEN FROM NEW ALBUM 'GLAMOUR & GLOOM'
 OUT NOW VIA IVORYTOWER RECORDS/EDEL
TENSIDE reveals their new video for 'ALONG WITH THE GODS'  taken from their new incendiary new album 'Glamour & Gloom' out now via Ivorytower Records/Edel. 'AWTG' sees frontman Daniel Kuhlemann taking an introspective look at the frailty of life as we know it.
"As I walked through the darkest time of my life (due to great personal loss) I became aware of my own mortality and that we are not here for eternity, but some things can endure… I realised that love and unity are greater than everything. I hope that this song gives people out there the strength and positive energy needed to get through these trying times and growing global crises."-  Daniel Kuhlemann
CHECK OUT ALONG WITH THE GODS BELOW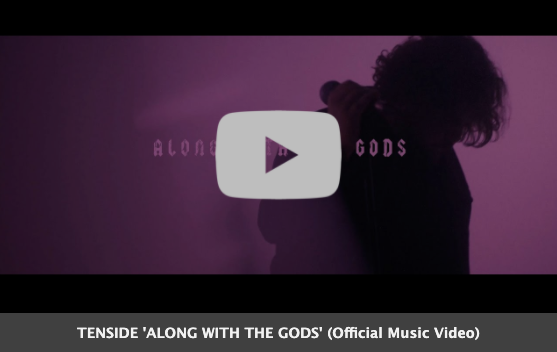 The band locked themselves away in a remote cottage close to Saarbrücken where they were able to work on the album relentlessly without any distractions. Galvanised by the strongest lineup in the bands history, TENSIDE's thunderous sound and energy has been faithfully captured on 'Glamour & Gloom' and can be accredited to collaborator and co-producer Christoph Von Freydorf (vocalist of Emil Bulls) mixed by Simon Frank (Any Given Day) and mastered by Alex Kloss (Emil Bulls, Any Given Day) at Marweg Studios Köln, Germany.
TENSIDE is a 4 piece metal band from Munich, Germany with a hard-edged and uncompromising sound that truly resonates with people. "We don't want to be Metalcore" is the clear statement of frontman Daniel Kuhlemann. "It is important to us to establish and hone our sound" and TENSIDE has kicked this ethos up several notches with 'G&G'. Since their inception, the band has played hundreds of sweaty club shows, some of the biggest metal festivals in Europe and Asia (Wacken, Summer Breeze, With Full Force and Midi Festival) and shared stages with the likes of Bad Wolves and Trivium.
PRE-ORDER 'GLAMOUR & GLOOM' HERE
TENSIDE 
Daniel Kuhlemann – Vox & Guitar // Michael Klingenberg – Guitar //  Jonas Hölscher – Bass // Johannes Jörg – Drums
'GLAMOUR & GLOOM' 
Tracklist
01. GLAMOUR & GLOOM
02. AS ABOVE SO BELOW
03. ALONG WITH THE GODS
04. CANNIBALS
05. THE DEVIL WITHIN
06. THE LAST ANTHEM
07. ONLY THE BRAVE
08. VOYAGE OF THE DAMNED
09. WRITTEN IN BLOOD
10. OVERCOME
11. ALL BLACK EVERYTHING
Follow The Band
PRE-ORDER 'GLAMOUR & GLOOM'
HERE