TALLAH LAUNCH PATREON MODEL FOR FANS AND ROUSE DISTURBING SELF-PRODUCED VIDEO FOR 'COTTONMOUTH'
[For Immediate Release]
CLICK HERE TO LISTEN TO MATRIPHAGY NOW
FFO: Code Orange, Korn, Slipknot
Tallah – Matriphagy 
OUT NOW  via Earache Records
Tallah – 'Cottonmouth'
********************
WHAT THE MEDIA SAYS ABOUT TALLAH
"TALLAH takes nu-metal to gruesome new heights on Matriphagy with its unsettling lyrical themes and crushing breakdowns."
Distorted Sound
"This is the most explosive, disturbing and genuinely exciting debut album in the last decade."
Rock Sins – 9/10
"Nu Metal is shaping up as the most influential sound of 2020 and Tallah are here to prove it"
Metal Hammer
"Strong Slipknot vibes! Fresh talent: an unnerving display of sonic/visual art"
Guitar World
A message from Tallah about Patreon…..
Nu-Core is the genre on the tip of everyone's tongue right now, and Pennsylvanian outfit Tallah continue to lead the charge. Fronted by Justin Bonitz, whose versatile and unhinged vocal stylings have attracted the attention of the masses, and backed by second generation drummer Max Portnoy, the two musicians have combined their musical and artistic influences to create a 13 track nu-metal-meets-hardcore opus that ended up on many end of 2020 album of the year lists.
Following the successful album release of 'Matriphagy', Tallah have announced news to their fans that they have launched a Patreon.  Tallah have also fortified and roused the video for Cottonmouth with the album version of the track and a new cut of the video, highlighting its frenetic visuals, and pinpointing it as one of the first ever self-produced videos that Tallah made.
Max Portnoy says this about Cottonmouth – 
 "The Cottonmouth video was the first self produced video we've done, and we wanted to make it as visually disturbing as the song sounded. It's also the first time we showed anything revolving around Lobifu, so it's exciting to be able to revive these visuals in album version form and further enhance this video to make it even more unsettling."
Tallah have launched a subscription model for fans over at Patreon as a way for the band to directly connect and compensate fans directly for their support in the form of exclusive content and other benefits as listed below.
Justin Bonitz says this about the launch of their Patreon
"We wanted to give the fans an opportunity to be a part of the content. We have so many awesome followers, so we wanted to give something more exclusive to the ones who support us directly. We have a lot of crazy, dark, new projects in the works, and now fans have a chance to be a part of the process and get a sneak-peak as it unfolds."
"Welcome to Tallah's Lair. This is the inner-inner sanctum, where Tallah lives and held Kungan captive for over two decades. Here, you get access to exclusive content you cannot get anywhere else. Your support will help us keep creating new music, new videos, new merch, help us on the road/in the studio, and give you more overall content!"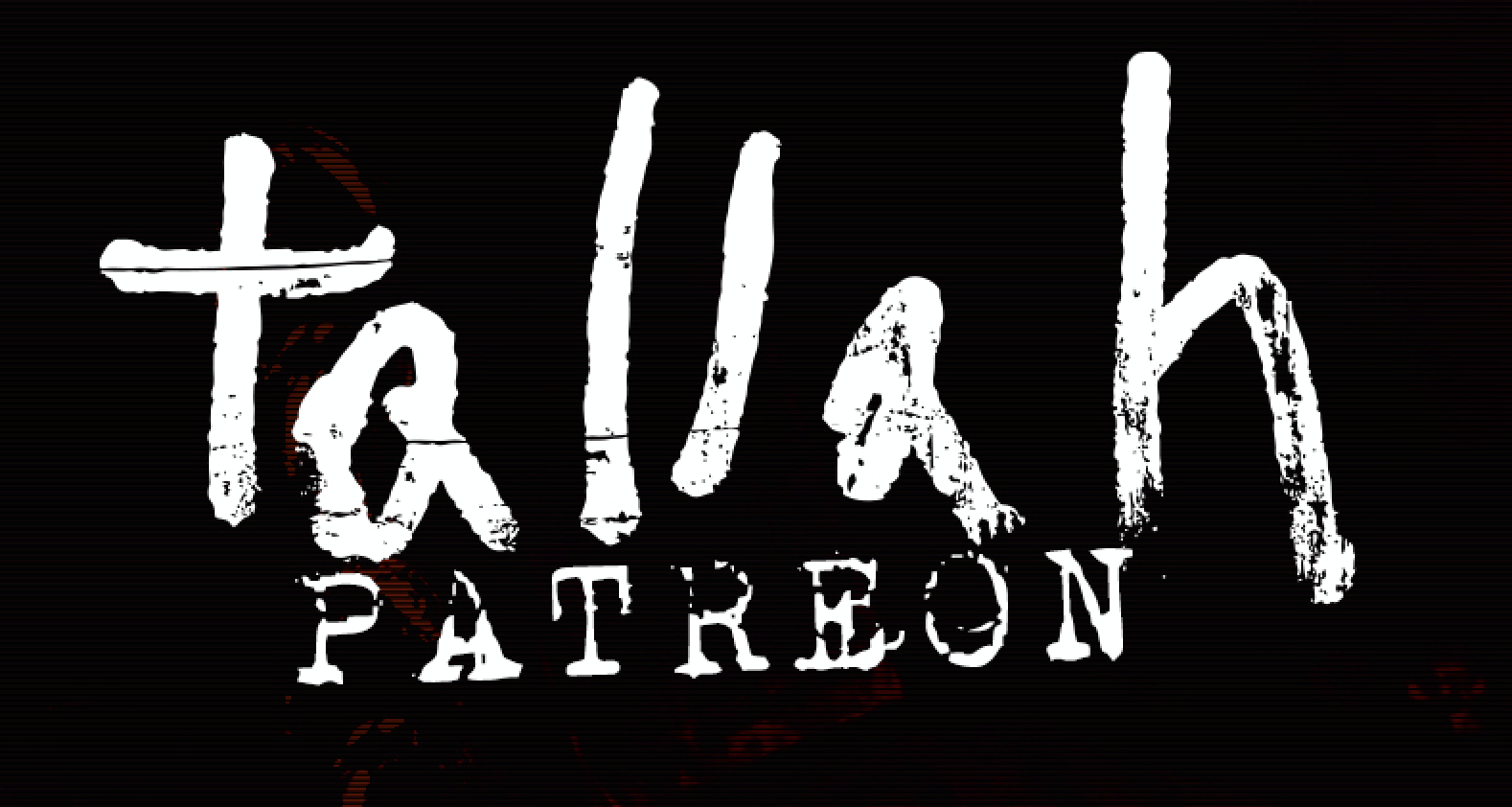 There are 5 tiers available in total:
Scribbles – $3 per month
-Full access to exclusive and confidential fan feed.
-Early access to YouTube videos and other content before it goes live.
-Early access to concert tickets (once we can tour again).
-Confidential updates about upcoming projects.
-The comfort of knowing you are helping support one of your favourite bands and assisting in bringing new projects to life.
The Sad – £10 per month
-All Previous tier rewards.
-Exclusive, behind-the-scenes vlogs, and teasers regarding upcoming projects.
-Exclusive live Q&As.
-The ability to vote on polls regarding decisions the band makes about certain projects and events.
Lobifu – $30 per month
-All previous tier rewards.
-When it is your birthday, if you can provide proof, we will have 1+ band members send you a personalised birthday video-message!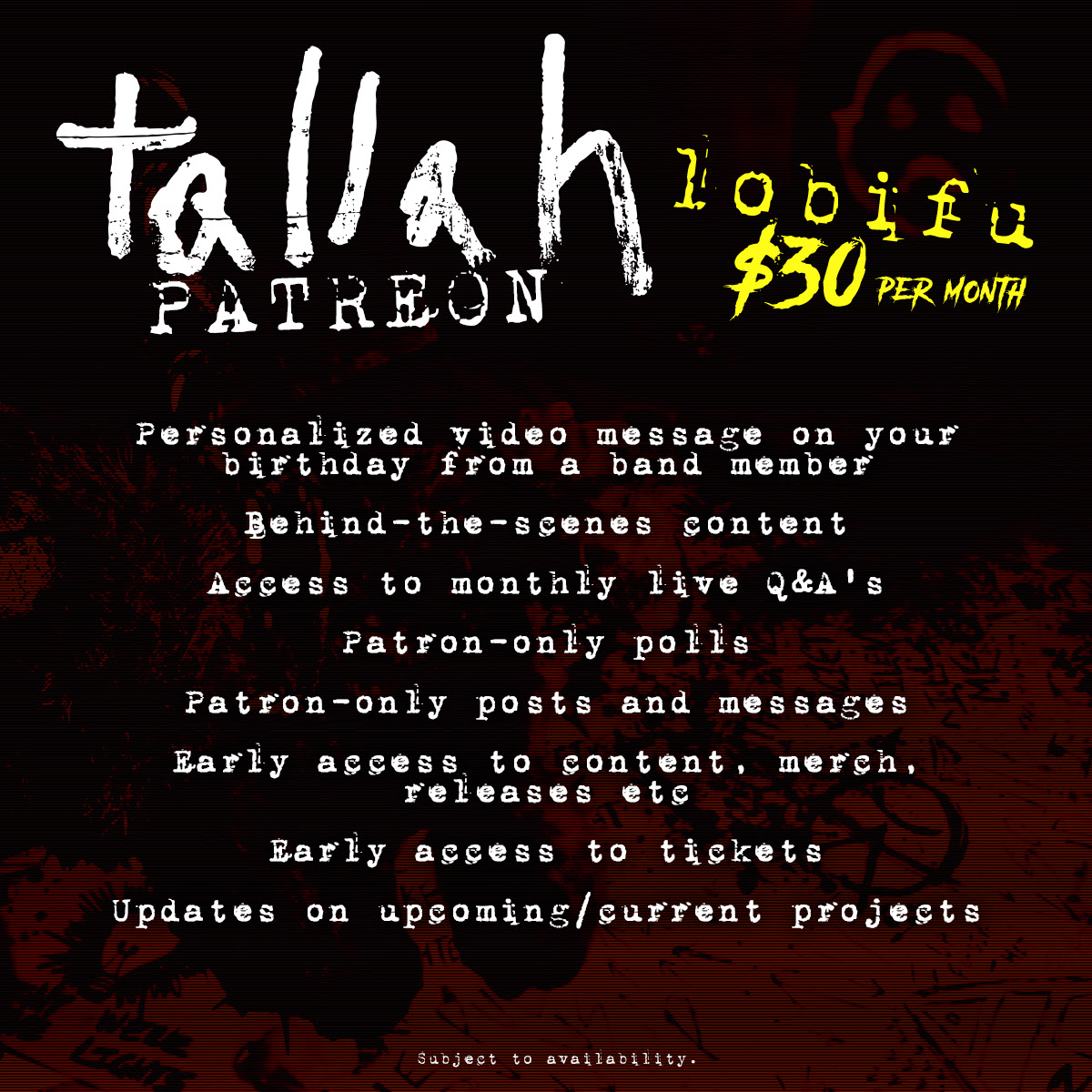 Kungan – $50 per month (Only 10 available)
-All previous tier rewards.
-Once a month, you can participate in an online, forty-five-minute Zoom call with the band and other VIP members.
Tallah – $75 per month (Only 5 available)
-All previous tier rewards.
-Once a month, you can get in a Zoom call with 1+ band members, and they will give you live feedback on one of your songs.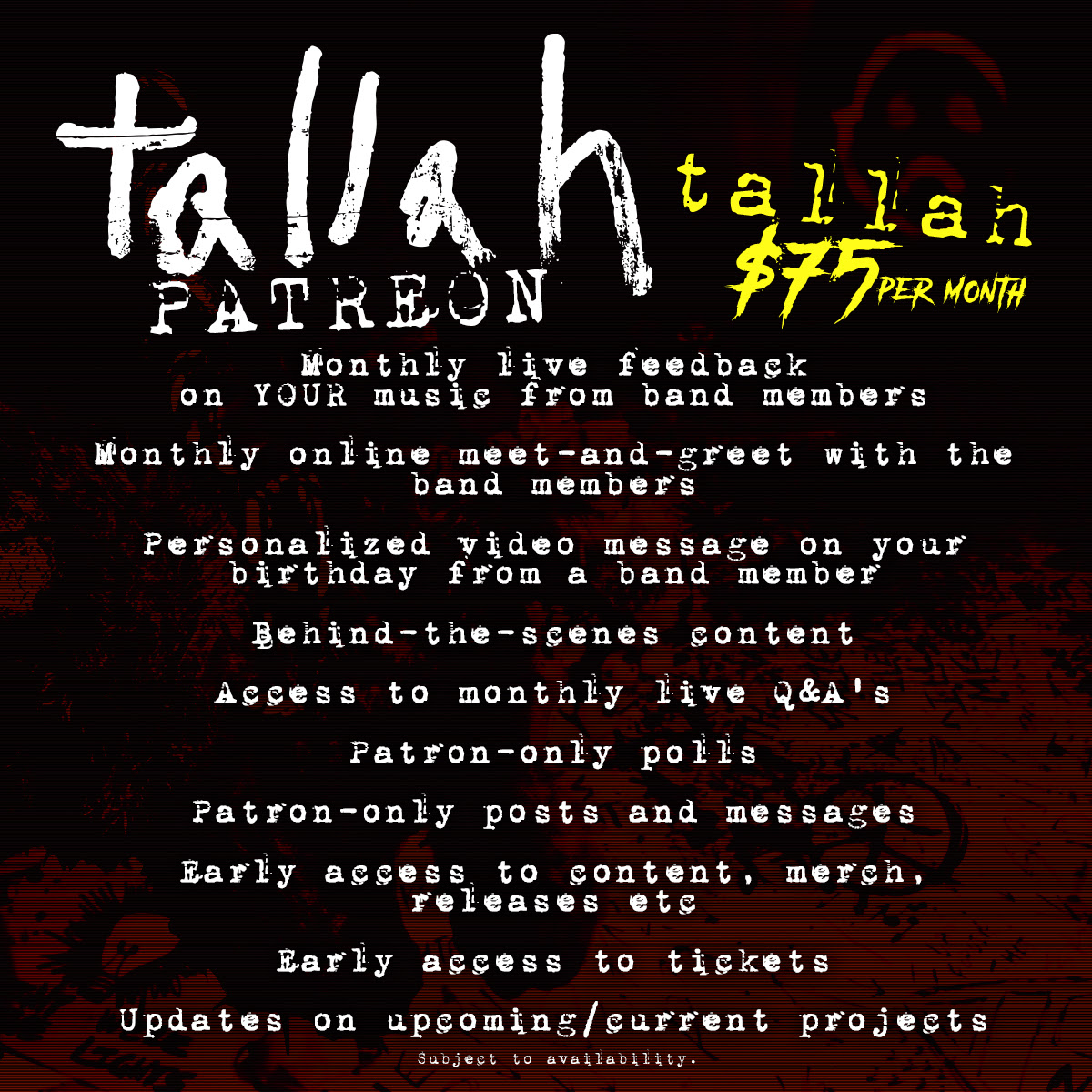 Matriphagy is OUT NOW via Earache Records and can be purchased from the Earache Records store, and streamed on all DSP's.
TALLAH – OVERCONFIDENCE (Official Music Video)
TALLAH IS
Justin Bonitz – Vocals
Max Portnoy – Drums
Derrick Schneider – Guitar
Andrew Cooper – Bass
TALLAH ONLINE
EARACHE RECORDS ONLINE