SVÄRD, new band project featuring members of AHAB & IN MOURNING, premieres first song from upcoming debut EP!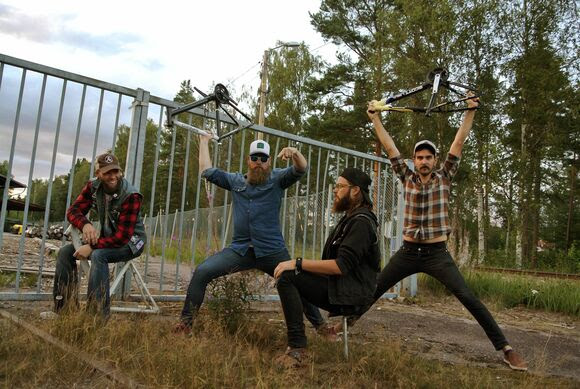 The Rift coming July 3rd on Argonauta Records!
Just recently, members of German Doomsters AHAB and Sweden's death metal unit IN MOURNING, have unleashed the news of a brand new band project. SVÄRD, featuring Cornelius Althammer on drums, guitarists and vocalists Tim Nedergård, Björn Pettersson as well as bassist and vocalist Pierre Stam, got together for some extensive jam sessions in the Swedish summer of 2017. What started as a fun music project but longtime, common dream of these 4 friends, turned out into a first debut EP, titled The Rift, and which is slated for a release on July 3rd with powerhouse label Argonauta Records! SVÄRD mix the elements of stomping heavy metal, crushing Sludge Rock with an extra dose of the psychedelia. Today, the band is premiering a first track from their upcoming EP – which seems to appear as a super tasty appetizer of a full-length album to follow in the not so distant future.
Says the band: "With Palaeocene Flames we are ironing the shit out of the maiden, really melting our differences together. It's four minutes of fast, no holding backish heavy rock music in the name of Svärd."
Watch SVÄRD's brand new lyric video to the heavy as hell "Palaeocene Flames" HERE!

The Rift Tracklisting:
1. Hallowed Grounds
2. A Rift in the Green
3. Palaeocene Flames
4. The Burning Asylum
5. The Portal
The Rift was mixed and mastered by Jonas Kjellgren (Sabaton, Hypocrisy, In Mourning, October Tide, Amorphis + many more ), and is set for a digital release on July 3rd 2020 via Argonauta Records, with Vinyl formats to follow. Better watch out for many more tunes and news to be revealed in the weeks ahead, as SVÄRD came to conquer your heavy music world!
For More Info Visit:
www.facebook.com/svardsweden
www.instagram.com/svardsweden
www.svardsweden.bandcamp.com
www.argonautarecords.com
SVÄRD is:
Tim Nedergård – Guitars, Vocals
Björn Pettersson – Guitars, Vocals
Pierre Stam – Bass, Vocals
Cornelius Althammer – Drums