ST. PAUL & THE BROKEN BONES
UNVEIL NEW SONG 'CITY FEDERAL BUILDING' HERE
NEW ALBUM 'ANGELS IN SCIENCE FICTION' OUT ON 21 APRIL ON ATO RECORDS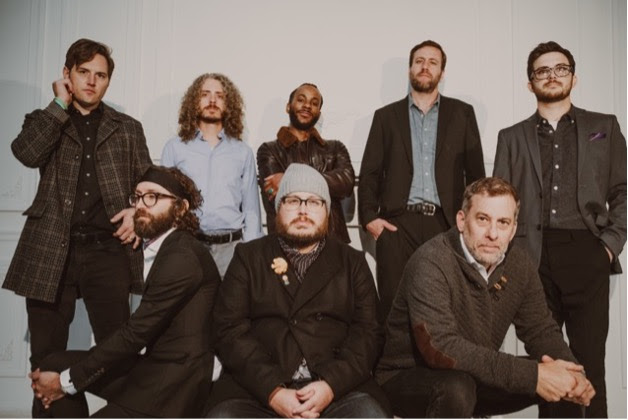 Photo credit: Paige Sara
'City Federal Building', the new single from St. Paul & The Broken Bones is out now. The song is taken from the band's forthcoming album, 'Angels In Science Fiction', set for release on 21 April via ATO Records.
Throughout the new song, bandleader Paul Janeway shares a message to his daughter: "Don't let them take your Holy Ghost. Don't let them take what's precious to you. Find meaning, and don't let people take whatever that meaning is," he says. "There is sometimes a desire that you want your child to grow up to do what you do, but ultimately you just want them to find happiness and some sort of meaning."
LISTEN TO 'CITY FEDERAL BUILDING' HERE
'City Federal Building' follows previously released singles, '
Lonely Love Song
'—named "a prayerful and powerful lullaby" by Garden & Gun—and '
Sea Star
', which debuted to critical praise from NPR, Relix and Glide Magazine, alongside a video directed by Gus Black. Watch/share the video—an homage to the band's home state of Alabama—
here
.
'Angels In Science Fiction' was written in the span of a few weeks after Janeway learned that his wife was pregnant with their daughter, Marigold. Following the examples set by greats like Aristotle, William James and John Steinbeck, Janeway penned the album as a series of letters to his then-unborn daughter.
"A few people told me it would be a good idea to write letters to my yet-to-be-born daughter before she arrived into the world," says Janeway. "That is what 'Angels In Science Fiction' is. Themes throughout the album are faith, nature vs nurture, anxiety and beauty. This is a record I would have written whether I did this for a living or not. I don't know if those records come along all the time."
The new album was recorded at Sam Phillips Recording Studio in Memphis, Tennessee and was produced by Matt Ross-Spang (Jason Isbell, John Prine, Elvis Presley). It follows the band's critically acclaimed 2022 album, The Alien Coast.
In celebration of the new music, St. Paul & The Broken Bones—hailed "one of the nation's best live bands" by NPR—will take their dynamic live performances to the U.S., Europe and Australia on a run of headline dates throughout the year—see below and visit 
stpaulandthebrokenbones.com/shows
 for complete tour routing.
Founded in Birmingham, Alabama in 2011, St. Paul & The Broken Bones consists of Paul Janeway (vocals), Jesse Phillips (bass), Browan Lollar (guitar), Kevin Leon (drums), Al Gamble (keyboards), Allen Branstetter (trumpet), Chad Fisher (trombone), and Amari Ansari (saxophone). The eight-piece ensemble burst into the world with their 2014 debut, Half the City, establishing a sound that quickly became a calling card and landing the band a slew of major festivals including Lollapalooza, Coachella and Glastonbury. Critical praise from The New York Times, Rolling Stone, SPIN and NPR followed, leading to shared stages with some of the world's biggest artists—Elton John and The Rolling Stones among them—and launching an impressive run of headlining tours behind what Esquire touted as a "potent live show that knocks audiences on their ass."
The group has continued to expand their sound with every record, branching out well beyond old-school soul into sleek summertime funk and classic disco on albums like 2018's Young Sick Camellia. Their forthcoming LP, Angels in Science Fiction, stretches their limbs further afield, building on the shadowy psychedelia and intricate, experimental R&B of 2022's The Alien Coast. The new record finds Janeway at his very best. With Angels in Science Fiction, St. Paul & The Broken Bones have crafted their most moving, comprehensive work—spanning their entire sonic and emotional scope.
ST. PAUL & THE BROKEN BONES—ANGELS IN SCIENCE FICTION
1. Chelsea
2. City Federal Building
3. Magnolia Trees
4. Sea Star
5. Heat Lightning
6. Angels In Science Fiction
7. Wolf in Rabbit Clothes
8. South Dakota
9. Oporto-Madrid Blvd
10. Lonely Love Song
11. Easter Bunny
12. Marigold
TOUR DATES
April 6-10—Tyagarah, Australia—Byron Bay BluesFest
April 10—Melbourne, Australia—Forum Theatre
April 11— Melbourne, Australia—Northcote Theatre†
April 13—Sydney, Australia—Enmore Theatre†
April 21 – Waverly, AL—Standard Deluxe
April 29—Decatur, GA—Amplify Decatur Festival
May 20-21—Knoxville, TN—Southern Skies Festival
May 21—Greenville, SC—Peace Pavilion
May 23—Augusta, GA—Miller Theatre
May 25—Wilmington, NC—Greenfield Lake Amphitheater
May 25-28—Cumberland, MD—DelFest
May 25-28—Martinsville, VA—Rooster Walk 13
June 17-18—Los Angeles, CA—Hollywood Bowl Jazz Festival
June 18 – Napa, CA—Blue Note Summer Sessions
June 23—Greenfield, MA—Green River Festival
July 8 – Saskatoon, Canada—Sasktek Saskatchewan Jazz Festival
July 9—Calgary, AB—Calgary Stampede
July 23—Stuttgart, Germany—Jazz Open Stuttgart
August 11—Telluride, CO— Telluride Jazz Festival 2023
August 25—Tisbury, MA—Beach Road Weekend
† with Nathaniel Rateliff and The Night Sweats
WATCH 'SEA STAR' VIDEO HERE
LISTEN TO 'LONELY LOVE SONG' HERE
PRE-ORDER 'ANGELS IN SCIENCE FICTION' HERE