SPARKS SHARE FIRST SINGLE AND TITLE TRACK, WITH VIDEO STARRING CATE BLANCHETT, FROM UPCOMING 26TH STUDIO ALBUM, THE GIRL IS CRYING IN HER LATTE
THE GIRL IS CRYING IN HER LATTE ALBUM ARRIVES FRIDAY, MAY 26 VIA ISLAND RECORDS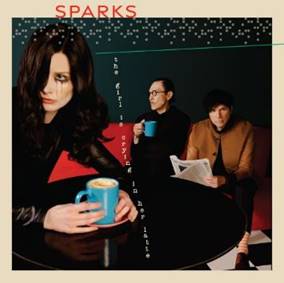 March 2nd 2023. Sparks have shared 'The Girl Is Crying In Her Latte', the first single and title track from their hugely anticipated 26th studio album, The Girl Is Crying In Her Latte, due Friday, May 26 via Island Records. An official music video starring Cate Blanchett will premiere on YouTube on Friday 3rd March at 5pm GMT. The Girl Is Crying In Her Latte is available now for pre-orders/pre-saves.
PRE-ORDER/PRE-SAVE THE GIRL IS CRYING IN HER LATTE ALBUM
LISTEN TO 'THE GIRL IS CRYING IN HER LATTE'
The Girl Is Crying In Her Latte marks Sparks' first release on the venerable Island Records label in close to five decades, following such classics as 1974's landmark Kimono My House, highlighted of course by the indelible hit single 'This Town Ain't Big Enough For Both Of Us'. The new album is described by Ron and Russell Mael as a record that is "as bold and uncompromising as anything we did back then or, for that matter, anytime throughout our career."
The album includes such instantly intriguing new musical vignettes as 'Mona Lisa's Packing, Leaving Late Tonight' and 'Nothing Is As Good As They Say It Is', songs which once again display Sparks' seemingly ceaseless ability to craft complete, intricately detailed stories within perfect three-and-a-half minute pop masterpieces. Both characteristically timeless and unequivocally modern, The Girl Is Crying In Her Latte once again affirms that, after more than a half century making such masterpieces, Sparks remain inimitable, ingenious and, as ever, utterly one of a kind.
WATCH THE PREMIERE OF THE OFFICIAL MUSIC VIDEO STARRING CATE BLANCHETT
"We met Cate Blanchett in Paris at the César Awards last year, little knowing that a year later, one of the great actors of our time (and a splendid person!) would graciously consent to lending her bootie-shaking skills to the first video from our new album, 'The Girl Is Crying In Her Latte'. Dreams really do come true. We will sleep well tonight knowing that forever we can say we co-starred in a film with Cate Blanchett!" say Ron and Russell Mael.
Sparks will celebrate The Girl Is Crying In Her Latte and much more with an extensive world tour that sees the band playing some of the biggest venues of their incredible career, with highlights including a pair of sold-out headline shows at London's historic Royal Albert Hall (May 29 and 30) and the biggest headline show of Sparks' more than fifty-year career, taking place on July 16 at the world famous Hollywood Bowl in their beloved hometown of Los Angeles. For complete details and ticket information, please see allsparks.com/#tour.
"We are thrilled to be back on tour again and to be able to share our joy with so many Sparks fans around the world," say Sparks. "See you all soon! It's a Sparks show, a Sparks show, a Sparks show tonight!"
SPARKS TOUR 2023
MAY
23 – Oxford, UK – New Theatre Oxford
24 – Liverpool, UK – Liverpool Philharmonic Hall
26 – Glasgow, UK – SEC Armadillo
27 – Manchester, UK – Bridgewater Hall
29 – London, UK – Royal Albert Hall
30 – London, UK – Royal Albert Hall
JUNE
2 – Barcelona, Spain – Primavera Sound Barcelona *
8 – Madrid, Spain – Primavera Sound Madrid *
10 – Porto, Portugal – Primavera Sound Porto *
13 – Paris, France – Le Grand Rex
14 – Utrecht, Netherlands – TivoliVredenburg, Grote Zaal
16 – Copenhagen, Denmark – Store Vega
18 – Berlin, Germany – Tempodrom
20 – Brussels, Belgium – Cirque Royal
22 – Wolverhampton, UK – The Civic at The Halls
27 – New York, NY, USA – Beacon Theatre
28 – Philadelphia, PA, USA – Keswick Theatre
30 – Washington, DC, USA – Lincoln Theatre
JULY
1 – Boston, MA, USA – The Wilbur
3 – Toronto, ON, Canada – Danforth Music Hall
5 – Chicago, IL, USA – Copernicus Center
6 – Milwaukee, WI, USA – Pabst Theater
8 – Kansas City, MO, USA – Arvest Bank Theatre at The Midland
9 – Boulder, CO – Boulder Theater
12 – Dallas, TX, USA – Texas Theatre
13 – Austin, TX, USA – ACL Live at the Moody Theatre
16 – Los Angeles, CA, USA – Hollywood Bowl †
24 – Osaka, Japan – Namba Hatch
25 – Tokyo, Japan – Line Cube Shibuya
* Festival Appearance
† w/ Special Guests They Might Be Giants
The Girl Is Crying In Her Latte tracklisting:
1 The Girl Is Crying In Her Latte
2 Veronica Lake
3 Nothing Is As Good As They Say It Is
4 Escalator
5 The Mona Lisa's Packing, Leaving Late Tonight
6 You Were Meant For Me
7 Not That Well-Defined
8 We Go Dancing
9 When You Leave
10 Take Me For A Ride
11 It's Sunny Today
12 A Love Story
13 It Doesn't Have To Be That Way
14 Gee, That Was Fun
The Girl Is Crying In Her Latte formats:
LP, Clear LP, Picture Disc, CD, Cassette
About Sparks
Levels of interest in the work of Sparks are at heights unsurpassed in their more than fifty year career, with the ultimate cult band now centerstage in the full beam of the spotlight.
Most people, with even a passing acquaintance with Sparks, will know the basics by now. How Californian brothers Ron and Russell Mael, both students at UCLA, began making music together in the late Sixties, originally under the name Halfnelson. How their Top Of The Pops debut with "This Town Ain't Big Enough For Both Of Us" stunned a generation and nearly scored them a UK #1. How their career moved through many phases, including (but not limited to) art rock, glam, big band swing, electro-disco, new wave and synthpop, taking in collaborations with Todd Rundgren, Les Rita Mitsouko, Tony Visconti, Franz Ferdinand and Giorgio Moroder.
How keyboardist and songwriter Ron's intricate staccato arrangements combine with the acrobatic vocals in which Russell delivers his brother's always-on-point lyrics. How Ron's stillness and stern, intimidating visage contrasts onstage with Russell's hyperactivity. How their popularity has spiked unpredictably in different territories at different times: Britain, France, Germany, Scandinavia, Japan, and their homeland the United States. And how the influence of "the greatest band you've never heard of," or "your favorite band's favorite band," has been recognized by successive generations of artists from Joy Division to Duran Duran to Depeche Mode to Bjork to Beck and beyond. Their influence on music cannot be overstated – as super-producer Jack Antonoff recently declared,  "All pop music is re-arranged Sparks."
Now into their sixth decade of making music, Sparks have never been more relevant, with studio albums Hippopotamus (2017) and A Steady Drip, Drip, Drip (2020) both reaching #7 on the UK Official Albums Chart amidst global acclaim. Released in 2021, the lauded career-spanning documentary film The Sparks Brothers, directed by Edgar Wright (Shaun Of The Dead, Hot Fuzz, Baby Driver), brought an awareness of Sparks to parts they previously hadn't reached.
Sparks' 2021 film musical Annette, directed by Leos Carax and starring Adam Driver and Marion Cotillard, has been showered with awards, especially in France where the film won three Lumières Awards and five César Awards, including "Best Original Music" for Ron and Russell. In addition, the film's "So May We Start" was shortlisted for "Best Original Song" at the 94th Academy Awards. Focus Features have recently announced plans to develop X-Crucior, a new musical epic written by Ron and Russell.
CONNECT WITH SPARKS: