SONGS TO ROUND UP YOUR WEEK
Unprocessed, Anthony Vincent, Acolyte, Jonathan Young, Obsidious
Anthony Vincent (Ten Second Songs) has launched his rendition of 'Running Up That Hill' by Kate Bush – but there's a twist, it's in the style of Killswitch Engage. 
Anthony says this about his take – "After watching Stranger Things, and seeing the entire music social media world put their spin on Running Up That Hill, there was one version I kept hearing in my head that I knew I couldn't expect anyone to do, so I did it myself with the help of Jonathan young. A Howard Jones era Killswitch Engage version.
Maybe it's because "End Of Heartache" and "As Daylight Dies" always pop up in my shuffled songs on Spotify. I still listen to those albums frequently. Sometimes when I hear music I like to style swap it in my own mind. Every now and then it makes it to my YouTube channel, other times it doesn't. In this case, it bugged me too much to not do it."
Unprocessed have launched the single 'Fabulist', taken from their forthcoming album 'GOLD' out August 12th. The band says this about the album.
"Both joyful and devastating impressions had their impact on the music and lyrics of GOLD. A lot of influences are displayed in a way in which we believe no one has ever interpreted modern guitar-driven music before. While our goal was never to technically shine on our instruments, the result is that the music gave a voice to our own emotions and we hope that they have a lasting impact on those who hear it. The lyrics are intended for the listener to find their demons and strengths within.
The album consists of 16 tracks and each of them has their own identity and character. Our new album is what we feel is our most diverse album to date, and we 100% stand behind it. Every song is pure UNPROCESSED."
This is GOLD. Out August 12th via Airforce1 Records and Spinefarm.
Pre-save now – https://ffm.to/unprocessed_gold
Obsidious's Rafael Trujillo released a blistering guitar playthrough of their track 'Bound By Fire' this week via Season of Mist. The band will perform at Metaldays. New album Iconic out October – details coming soon.
Rafael says this about the playthrough –  "I'm happy to finally show you the guitar playthrough of our single "Bound by Fire". I used my Kiesel Osiris 7-string and the Neural DSP Archetype Petrucci guitar plugin. This is the perfect combination for the guitar sound I have always been looking for."
Jonathan Young is a new breed of musician. Taking the internet by storm since 2014 with his dark & deep 'villain' voice – writing, producing & playing every instrument himself, and leading a new generation into a fantasy world of epic & cinematic heavy metal – one viral video at a time.
Jonathan Young has unleashed his debut original offering of 2022 in the form of 'Wolf Within' a song that challenges the relationship between the American heavy music and video game generation.
Jonathan says this about the track featuring guest vocals from Caleb Hyles:
"The American rock/metal scene is still wearing a leather jacket, desperately holding on to a dying memory of "sex, drugs & rock n' roll" or "the good old days" – the younger generations can't relate to that. We don't miss the good old days because we weren't even alive. We're watching the world fall apart around us and trying to escape into fantasy or science fiction, and we need music that understands that."
Stream 'Wolf Within' on streaming platforms HERE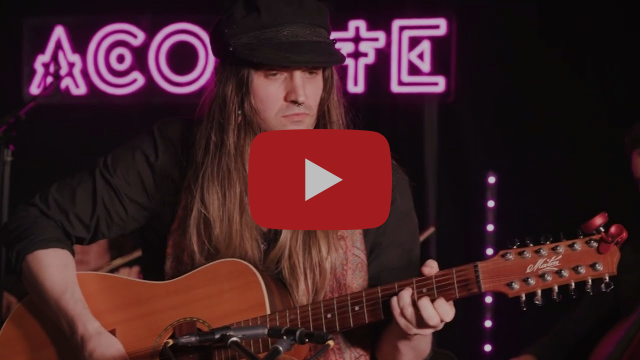 Melbourne power prog outfit ACOLYTE recently hit Oaklands Recording Studios to record a spectacular orchestral arrangement of songs now unleashed into the world as 'Recovery' (Unplugged). Out Now via Blood Blast Distribution. 
The video for 'Space and Time' is out now and you can watch it HERE
Stream EP 'Recovery' (Unplugged) HERE
Explorative & Progressive Metal act Acolyte says this about the Recovery EP
"There's an intimacy, rawness and atmosphere to both the music and emotive narrative on 'Entropy', which includes a lot of cinematic and orchestral elements. As we re-emerged from the long lockdowns here in Melbourne in late 2021 we felt we wanted to showcase some of the more mellow tunes on the record in a raw and acoustic performance setting, which was in the end quite a therapeutic way for us to reconnect as a group after what was quite a tumultuous time – Recovery is indeed an apt title for the release."