SON LITTLE
NEW SINGLE '6 AM' OUT NOW
NEW ALBUM 'LIKE NEPTUNE', OUT 9TH SEPTEMBER VIA ANTI-
EU/UK TOUR CONFIRMED FOR SEPTEMBER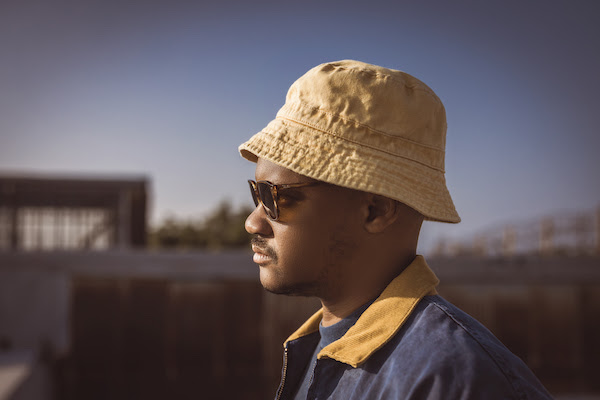 Photo credit: Cynthia Perez
Son Little presents a new single, '6 AM', off of his forthcoming album, 'Like Neptune', out 9th September on ANTI-. Like early singles 'deeper' and 'stoned love', "6 AM" is noticeably confident from the opening note, with Son Little prioritizing his signature rasp as the chief instrument. Describing 'Like Neptune' as "my inner R&B Boy Band" where "a different version of me takes lead on each song," "6 AM" invokes the anxious worrisome version, the one who stays up all night worrying they'll sleep through the alarm, and describes a constant effort to repair a fraught relationship with sleep.
"'Dawn' is my favorite Octavia Butler book," says Aaron Livingston (aka Son Little). "It's also my favorite time of the day— the time I have my clearest most exciting ideas and also the time when I sometimes spiral into emotional/mental chaos. Wrote a song about it."
Conceived in a cabin overlooking the Delaware River in upstate New York, 'Like Neptune' is an open and vulnerable portrayal of unbridled joy and self-acceptance. In this verdant space of freedom, Son Little transmutes the chronic pain of self-doubt into a beautiful opus about overcoming generational trauma, decorating the altar of the primordial blues and elevating the labour of healing to high art.
"In the beginning of lockdown, I went into a closet full of junk and found a couple of boxes full of my old writing books," Livingston explained. "There turned out to be 72 books in there. The oldest book, I got as a Christmas present when I was 9. In it, I wrote letters to myself about what was happening in my life. One page refers to a neighbor in Queens who abused me sexually around age 5. It was the first and only time I'd ever acknowledge this fact until after my 19th birthday, when I told my mother what had happened. She begged me to go to therapy. I went under protest. My attempt wasn't sincere. I wasn't ready. I thought I could just power through it."
Years of anxiety, depression, panic attacks and existential dread ensued, often dulled or numbed by the effects of alcohol, drugs, or sex. A frightening car crash and arrest finally led him back into therapy in 2017. Aggressively employing progressive methods like EMDR and somatic healing, Livingston, with the help of a trusted therapist, began identifying the roots of his trauma, and where it lives in the body. But the biggest breakthrough came from Internal Family Systems, a methodology that recognizes responses to trauma triggers as distinct entities or 'parts' within the person, and requires the patient essentially have conversations with the different traumatized personalities within them.
Delving into his journals and happily cooped up inside due to the pandemic, Son Little returned to beat making to craft the core of Like Neptune using apps on his iPad—  a method originally tasked with satisfying the nagging urge to create on a daily basis on the road; later he fleshed out the programming and added live instrumentation in Ableton live— while micro-dosing LSD and immersing himself in the sounds of '70s era David Bowie and psychedelic Amazonian cumbia of the same period.  Like Neptune establishes Son Little as the polyglot translator and rightful torchbearer of the celebrated musical tradition known as rhythm and blues. With it, he completes the daunting tasks of confronting himself and pushing his sound to completion. The result is a timeless body of work reflective of his deep internal desire to inhabit the most radiant version of himself and become a positive force in the lives of people around him.
Son Little will return to Europe and the UK in September, starting the tour in Madrid, ES on September 2nd, followed by shows in Germany, Switzerland, Benelux, France and the UK. See below for the full list of dates. Tickets & info at 
www.sonlittle.com
02 Sept 2022 Madrid, ES – Sala Clamore
03 Sept 2022 Zaragoza, ES – Rock & Blues Cafe
04 Sept 2022 Barcelona, ES – La Nau Locales de Ensayo
07 Sept 2022 Hamburg, DE – Bahnhof Pauli
08 Sept 2022 Berlin, DE – Privatclub
09 Sept 2022 Cologne, DE Helios 37
10 Sept 2022 Zurich, CH – Exil
12 Sept 2022 Antwerpen, BE  Kavka
14 Sept 2022 Amsterdam, NL – Paradiso Noord
15 Sept 2022 Rotterdam, NL – Bird
16 Sept 2022 Paris, FR – La Maroquinerie
17 Sept 2022 London, UK – The Garage        
18 Sept 2022 Brighton, UK The Hope & Ruin
'Like Neptune' Tracklist
1. drummer
3. like neptune
4. bend yr ear
5. inside out
6. Didn't Mean a Thing
9. no friend of mine
10. Playing Both Sides
11. gloria
12. what's good
PRE-ORDER 'LIKE NEPTUNE' HERE