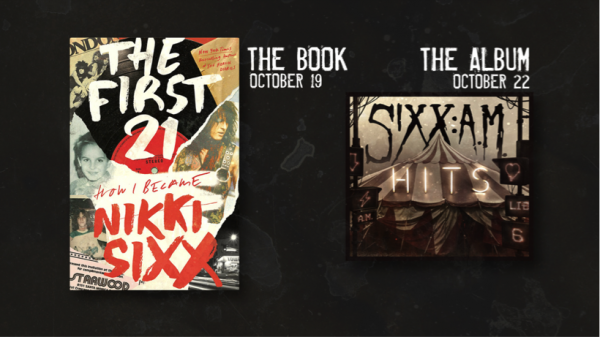 Sixx: A.M. initially started out in 2007 as a side project from Motley Crue bassist Nikki Sixx, to do a one-off soundtrack album to coincide with the release of his autobiography "The Heroin Diaries: A Year In The Life Of A shattered Rockstar". If you haven't read that book I strongly recommend that you do.
The album was so successful that the band decided to carry on and after fourteen years, have five studio albums; "The Heroin Diaries Soundtrack" (2007), "This Is Gonna Hurt" (2011), "Modern Vintage" (2014), "Prayers For The Damned" (2016) and "Prayers For The Blessed" (2016), as well as three EPs; "X-Mas In Hell" (2008), "Live Is Beautiful" (2008) and "7" (2011).
We now arrive in 2021 with "Hits". The album features fourteen tracks from their back catalogue, four brand new tracks and two reworked versions of past recordings, making the album twenty tracks in total.
A lot has been said over the years of their music and I've sure reviewed it hundreds of times, which is why the main focus of this article will be the four new tracks and the two remixes. What I will say of the fourteen tracks (the hits section of the album) is that if you have never really listened to the band before, then these fourteen tracks make for a great introduction to their music.
The first of the new tracks "The First 21" is a track that accompanies the new book of the same name, by Nikki Sixx. The song is a great rock track with pleasant harmonies and is a reflective look back to our youth and discovering ourselves.
The next of the new tracks is "Talk To Me". Another great song. It's a song about addiction, struggle and hope. That there is someone out there that can help you if you reach out for it and accept it. At this point in time and with the current situation in the world I am sure that there are a lot of people out there that could really do with listening to this one and taking it onboard.
The next one is called "Penetrate". Probably the heaviest of the new songs. It a great hard rocking track with a good solid hook and melodic chorus. Possibly my favourite of the new songs.
The new tracks are rounded up with "Waiting All My Life". Another solid hard rocking track. Very catchy and somewhat anthemic (is that even a word?) with a killer guitar solo by DJ Ashba.
Now onto the two remixes. The first is "Skin", which originally featured on their second album "This Is Gonna Hurt". I was very curious to hear this new rock version as I personally rate the original version in my top five favourite songs of all time. Lyrically it is such a beautiful and emotional song and was so well crafted. Originally this song was performed mostly on piano. This new version amps things up a bit and makes it more of a hard rock song, but does so in a way that it still holds on to the emotion and feeling of the original.
The album finishes with a new piano version of "Life Is Beautiful". The song was originally a hard rock song that appeared on their debut album and was a huge single for the band. This version slows it way down and is a vocal and piano performance. I really like it but personally preferred the raw energy of the original.
Singer James Michael has stated that this is very likely the last release from the band. I personally hope that they change their minds and release more music in the future. But if not, then this is a good send-off from a band that initially only formed to do a one-off project but ended up being one of my personal favourite bands in the modern rock era.
Hits Is out now via Better Noise Music 
Review: David Stewart
Hits Tracklist:
SIXX:A.M. UNVEIL 'HITS'ALBUM, A COMPANION PIECE TO NIKKI SIXX'S NEW MEMOIR 'THE FIRST 21'
LISTEN TO THE ALBUM| ORDER THE BOOK
WATCH 'THE FIRST 21' TRAILER
ABOUT SIXX:A.M.
It's a universal truth that true artists will always busy themselves creating, and that truly great artists will always find an audience for that work. It is little surprise then that despite storied individual histories playing in and working with some of the most iconic bands ever to have walked the planet, Nikki Sixx, Dj Ashba and James Michael—collectively known as SIXX:A.M.— are set to unleash a collection of their hits featuring new material onto their forever loyal fan-base, that has already taken them firmly to their hearts.
Sixx:A.M., an American rock band from Los Angeles, California, formed in 2007, is best known for their #1 hits, "Life Is Beautiful" and "Lies of the Beautiful People". The name Sixx:A.M. is a combination of all of the members' last names (Sixx, Ashba, Michael).
To date Sixx:A.M. have three U.S. Billboard top 20 albums and a string of hit singles already under their belts, with their full catalogue consisting of five studio albums: The Heroin Diaries Soundtrack (2007), This Is Gonna Hurt (2011), Modern Vintage (2014) Prayers for the Damned and Blessed (2016), and three EPs; X-Mas In Hell (2008); Live Is Beautiful (2008) and 7 (2011).
SIXX:A.M.Hits is a collection of songs that will fire up both the head and heart in equal measure – a band who found their true sound and producing art that refuses to be led by anything but their own desires.
From the songwriting and musicianship to James Michael's production and mixing and Dj Ashba's captivating artwork, Sixx:A.M. have crafted a style in music as much of a mission statement for the band as it is an impassioned call to arms.
CONNECT WITH SIXX:A.M.
Website: www.sixxammusic.com           FB: www.facebook.com/sixxammusic
IG: www.instagram.com/sixxam/            Twitter: www.twitter.com/SixxAM
ABOUT BETTER NOISE MUSIC
BETTER NOISE MUSIC is the premiere independent music label under BETTER NOISE ENTERTAINMENT, a content creation and marketing company that produces music, books, films, documentaries, TV shows, theatrical productions, and tours. Better Noise Music (formerly Eleven Seven Music), founded in 2006 by music industry veteran and independent pioneer Allen Kovac, focuses on artist development and has grown into a music industry independent powerhouse, with a roster including Mötley Crüe, Five Finger Death Punch, Escape The Fate, AWOLNATION, All Good Things, From Ashes To New, Asking Alexandria, Cory Marks, Papa Roach, Bad Wolves, Nothing More, and The Hu. Partnering with FUGA, AMPED and Membran, the company operates a global marketing and distribution platform with offices in New York, Los Angeles, Nashville, London, Berlin, Toronto and Sydney.
For information, visit: http://betternoise.com/
CONNECT WITH BETTER NOISE 
Facebook| YouTube| Spotify| Instagram| Twitter| TikTok
"HITS" Includes a 20 Song Best of Track Listing from Sixx:A.M.'s Albums Plus Five New and Unreleased Tracks, Including Recently Released Song "The First 21," Named After Sixx's New Memoir | STREAM HERE
New Unreleased Track "Waiting All My Life" and Official Lyric Video Out Now
STREAM/DOWNLOAD TRACK | WATCH NEW LYRIC VIDEO
Fans Celebrate Band's Iconic Discography on Spotify with New "Sixx:A.M. 101" Playlist – STREAM HERE
Exclusive 'HITS' Merch Lines Available Now: Official Band Store & Label Store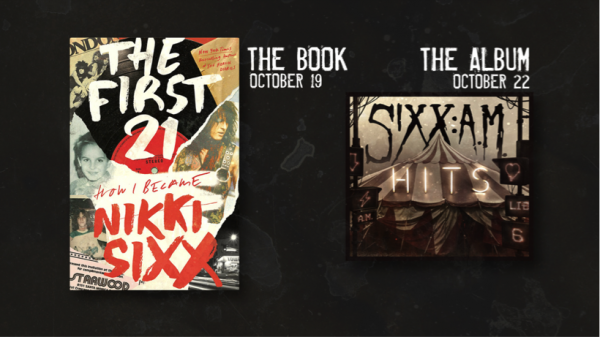 SIXX:AM // "HITS" // ALBUM REVIEW