SHOW ME THE BODY SHARES NEW SINGLE/VIDEO "LOOSE TALK"
KICKS OFF HALF-A-USA TOUR THIS WEEK
HEADLINED CORPUS' FIRST EVER, BI-COASTAL IN BROAD DAYLIGHT FESTIVAL LAST NIGHT IN NYC, LA DATE THIS SATURDAY
After headlining at the first-ever, CORPUS-produced IN BROAD DAYLIGHT Festival last night in Queens, New York City's own Show Me The Body shares the new single "LOOSE TALK." The kick-in-the-teeth track teases the explosive sound of what is to come from the trio later this year. Paired with the new song's arrival are black and white visuals directed by Julian Pratt.
Watch the video for 'LOOSE TALK' HERE or by clicking the image below.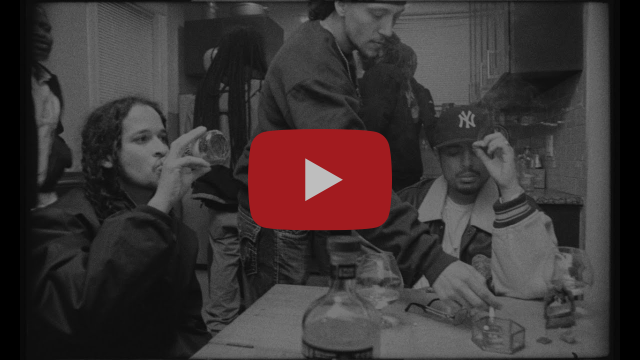 LISTEN: https://found.ee/LooseTalk
Tomorrow night, Show Me The Body will begin their Half-A-USA Tour with support from SOUL GLO and WiFiGawd in Columbus. The 23-date run will bring their powerhouse live performance to stages in Dallas, Oakland, Seattle, and Denver before wrapping up in Baltimore on August 13th.
This Saturday, Show Me The Body will make a stop in Los Angeles for the west coast date of the new bi-coastal IN BROAD DAYLIGHT Festival at The Belasco Theater, which includes performances from Queens rapper and viral sensation Shawny BinLaden, Detroit rapper and Bruiser Brigade member ZeLooperz, New York rapper RxK Nephew, Philadelphia hardcore quartet Soul Glo, DMV rapper WiFiGawd, musician and designer LustSickPuppy, and more. There will also be DJ sets from multidisciplinary artist Slauson Malone and sonics curated by CORPUS Public Radio, the label's monthly show on NTS Radio.
About Show Me The Body:
Show Me The Body started as a band in 2009 and consists of Julian Cashwan Pratt (banjo and vocals), Harlan Steed (bass), and Jack McDermott (drums). Their unique sound is heavily influenced, both sonically and in attitude, by the city that reared them: New York. The band has been at the forefront of the city's underground since the release of their 2014 EP Yellow Kidney. Over the ensuing years Show Me The Body established themselves as one of the most exciting bands in the city, through their torrid live show and distinctive sonics.
Dog Whistle, Show Me The Body's most immediate and critically acclaimed body of work to date, is heavy yet honest. The album was produced by Chris Coady, Show Me The Body, and Gabriel Millman (original drummer and current in-house producer). Dog Whistle was written in Long Island City, Queens and recorded in Los Angeles, California in the summer of 2018. "Dog Whistle is a call-to-arms directed at the community, its sonic urgency reflecting the mounting challenges of surviving in the city," writes The FADER. The album was released on March 29th, 2019 and follows Show Me The Body's debut album Body War. In 2021, Show Me The Body released their EP Survive.
Show Me The Body has spent the last several years building and elevating a community of like minded artists and creative collaborators called Corpus. The first Corpus release was an eponymous mixtape featuring Denzel Curry, Princess Nokia, Eartheater, Moor Mother, and more. Corpus has also released projects from Trippjones, Dreamcrusher, and Dog Breath.