SHADOWS (feat. members of Immolation and Goreaphobia)premiere advance stream of new EP
Click through the link below and check what Immolation's guitarist and Goreaphobia co-founder Alex Bouks has in store for metal fans on SHADOWS' debut six-track endeavor. The band is about to release its self-titled EP this Friday, February 26th on Agonia Records. Listen to the advance stream of the entire material at:
SHADOWS – Shadows (Official EP Stream)
SHADOWS
is a new dark avant-garde metal band from
Immolation
and ex-
Goreaphobia
guitarist
Alex Bouks
, who brought other former
Goreaphobia
members to the table. As founding member of the Philadelphia death metal band
Goreaphobia
,
Alex
has been involved in the extreme underground music scene since the late 80's. His technical style of aggressive, melodic guitar work has resulted in worldwide recognition, being a member of such acclaimed acts as
Immolation
,
Incantation
,
Master,
Ruinous
and
Funebrarum
. Now
Alex
has returned to his musical roots in
SHADOWS
, with classic influences featuring
Pink Floyd
,
Celtic Frost
,
Sisters of Mercy
,
Black Sabbath
,
Mercyful Fate
or
Voivod
, and with musicians he always felt chemistry with, including
Henry Piotrkowski
and
Jake G
of the split-up
Goreaphobia
and
Lance Walter
of another Philadelphia unit,
Dominance
. Their debut EP was produced at
Rhawn Street Studios
in the US and mastered by
Tore Stjerna
(
Mayhem
,
Watain
) at
Necromorbus Studio
in Sweden.
Tracklisting:
01. Ghosts of Old
02. Shadows
03. Night of the Goat Winter Moon
04. Elders
05. Seas of Dust
06. Ancient Eyes
Album formats:
– Digipak CD
– Jewelcase CD
– Black LP
– Red LP
– Gold LP
– Splatter LP
– Digital
Line-up:
Alex Bouks – Lead guitar
Henny Piotrowski – guitar
Jake G – vocals
Lance Walter – drums, bass, lead guitar

Photo credit: Verrecchio Photography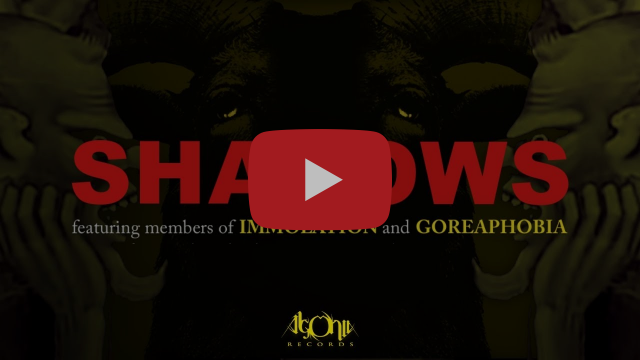 SHADOWS – Ghost Of Old (Official Music Video)