SELFISH THINGS RELEASE NEW VIDEO 'MIND'
DEBUT ALBUM 'LOGOS' OUT TODAY
KUBLAI KHAN TX RELEASE NEW SONG '
THE TRUEST LOVE
'
NOVACUB RELEASE NEW SONG 'WE DON'T CARE'
TIGER ARMY RELEASE NEW VIDEO FOR 'DEVIL THAT YOU DON'T KNOW'
JUST FRIENDS RELEASE NEW SINGLE 'FEVER'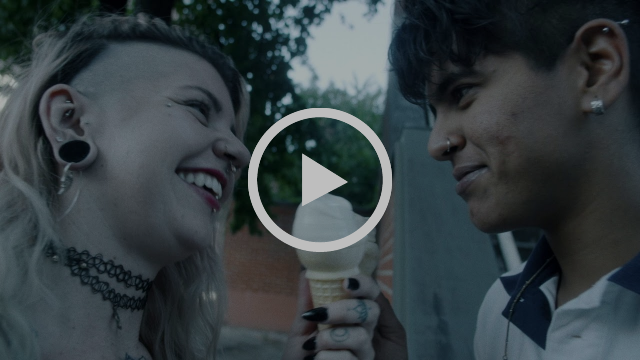 Selfish Things have released a brand new video for track 'Mind,' the track is taken of their highly-anticipated debut album which is out TODAY via Pure Noise Records. The video was directed by Miguel Barbosa, who also created a series of moving visuals for every song on the record which you can view on the Pure Noise Record YouTube here.

Selfish Things debut full-length, Logos is a collection of 11 tracks that dive right into the psyche of frontman Alex Biro. "I want people to know that there is strength in your faults. It's just as important to suffer as it is to find moments of joy and happiness. Darkness and light need one another" shares Biro on the upcoming album.

'Mind' joins previously released singles 'Blood' 'Hole', 'Pride',  'Flood' and 'Drained (ft. William Ryan Key)' from the album, which was produced entirely by WZRD BLD (Lil Peep, I Prevail, IDKH, Motionless In White, Beartooth).
Texas metalcore mainstays Kublai Khan TX have shared the video for the new song 'The Truest Love.'
"'The Truest Love' is a statement surrounding the cultural norm of the single-parent household," says singer Matt Honeycutt. "It challenges and questions what it means to be a man and still abandon a family you took part in creating. We hope it provokes thought and unfiltered conversation."
The song lives on the band's forthcoming album Absolute, out 4th October via Rise Records. Absolute is available for pre-order here.
The band previously shared the new song "Self-Destruct," watch the video here.
NOVACUB, the indie pop foursome, heralding half of seminal Brit rock legends,
Bloc Party have release new single 'We Don't Care.' Taken off the recently announced debut EP 'FUTURE ECHOES' will be released via LAB Records on 3rd October 2019.  The EP was produced by Steve Osbourne (New Order, Suede, U2), Brad Mair & NOVACUB.
Listen to 'We Don't Care' HERE.
FUTURE ECHOES EP TRACKLISTING:
I Still Need It
Wait Up
Strike
We Don't Care
End of the World
NOVACUB will be hitting the road later this month in support of the record.
Supporting The LaFontaines
29th September Cluny 2, Newcastle
30th September Leadmill, Sheffield
1st October Headrow House Leeds
2nd October Deaf Institute Manchester
3rd October The Venue Derby
5th October Academy 3 Birmingham
6th October Mothers Ruin Bristol
7th October Patterns Brighton
8th October Oslo London
NOVACUB supporting My Vitriol
31st October The Castle & Falcon Birmingham
1st November Islington Assembly Hall London
Tiger Army have released the band's music video for "Devil That You Don't Know,"taken from their brand new studio album, Retrofuture. "'Devil That You Don't Know' exists because I read a bio about The Cramps," frontman Nick 13 said of the song's inspiration. "Lux & Ivy lived in Ohio after abruptly leaving CA under the shadow of legal trouble, prior to starting the band in NYC. While in Ohio, Ivy bought an old fuzz pedal in a pawn shop. I did some research, figured out what it would've been and tracked one down. When I plugged it into an early-'60s Fender Amp with the tremolo way up, this song poured out."

Directed by Travis Shinn, the video for "Devil That You Don't Know" employs a psychedelic, '60s approach, using experimental short films as inspiration. "I've long been a fan of Kenneth Anger and I threw out the idea of using his films as references, especially 'Inauguration of the Pleasure Dome' and 'Scorpio Rising', Nick continues."Travis loved the idea and really ran with it, mixing the Anger influence with his own ideas until he'd created something unique and beautiful." 
Mayday Parade have released there B-Sides to latest album Sunnyland. Sunnyland B-Sides is available to stream here.
Funk-punk collective Just Friends have shared their latest single "Fever", out now via Pure Noise Records.
Just Friends is made up of Sam Kless (vocals), Brianda Goyos León (vocals), Avi Dey(trumpet), Chris Palowitch (trombone, keys), Brandon Downum (guitar), MattYankovich (guitar), Kevin Prochnow (bass), Ben Donlon (drums), Eric Butler (trombone, vocals), Ryan Ellery (audio engineering, live sound, guitar), and occasionally BartThompson (bass) and Kent Soliday (guitar). Their musically diverse sound combines a unique range of punk, brass, hip hop, funk, and emo influences.