Scythe Gang 666 – Drop New Single & Video – "Ice Cream Song"
Scythe Gang 666 put out our first single in May of last year and have since gotten 800,000+ audio streams and 4000+ hrs of video watch time on our own Youtube channel. We're a DIY project with our content now produced almost fully in-house. Our music is recorded and mixed by our guitarist Maezi Kacey and our videos have done in-house also.
King Zabb (bass): The idea for this single all started when my friend Victor reached out to me offering us an ice cream truck for a video. I didn't know how we'd use it, but it was too good of an opportunity to pass up. I brought it up to the gang and they started writing for it.
What's sick about this release is it's the first one we've done completely in-house except for filming. I shoot music videos for a living but the Triple Six Champion of the world can't film a video when he's gotta be in the thing, so I called up our friend Brian who did a phenomenal job capturing everything you see there.
Michael Vanson (vocals): So Zabb hits me up and he's like: "We have access to an ice cream truck.  I dunno how we can use it but we should" 
I wasn't sure what to do at first, but the great thing about Scythe Gang is you can kind of make it work with anything, even if it's completely ridiculous.  
I loved the image of the gang rolling around in a stolen ice cream truck selling drugs and doing drive-by shootings and getting into car chases. So that's basically what I wrote about haha  
I tried to fit as many ice cream puns into the lyrics as I could.  It was a little weird to think about in the beginning, but overall I'm super happy with how everything played out.  The video shoot was super fun and messy.  Everything you see in the video was basically shot in the middle of a suburban neighbourhood.  We got a ton of weird looks and even got to a point where we had to wrap up filming for worry of complaints.  It's always an eventful day when Scythe Gang is around. 
Maezi Kacey (guitars): So when I knew we had the ice cream truck I felt the great inspiration for the song about the ice cream truck. I just wanted it to be like a Scythe Gang 666 (triple six) ice cream type beat. Like basically I just imagined what the sickest Ice cream music would sound like and then I took what was in my head and put it into Cubase. I always liked ice cream music so this was a very natural thing for me to do. The interesting thing though about Ice Cream Song is that I actually don't really like Ice cream very much, in fact, I am lactose intolerant. So eating Ice Cream is a really bad time. I really hope nobody finds out that I don't like Ice Cream because then I will be seen as a fraud. 
Ski mask the Drumgod (drums): As soon as we knew we had an ice cream truck it was obvious we had to do something over the top with it. When we started spitballing concepts for the video I was taken back to a few years ago when I and Zabb had a house together, we used to sit around watching all these ridiculously high-budget Kpop videos and the one that really stuck in my memory was Ice Cream by Hyuna. I wanted to bring something similar to that vibe but coat it in a thick layer of dirt and grime to make it fit with us more.
It was also a blast getting all the props together, initially, I just googled "inflatable ice cream" and ran with whatever I found, which led to the whole human sundae thing in that ice cream cone pool (shoutout to Jordan, real MVP of the video). I went for a "trap 50s ice cream shop soda jerk" costume because of the mental image of a guy in a ski mask hanging out the back of an ice cream truck with an AK47 in a goofy-ass apron/hat combo was hilarious to me. This was by far the funniest on-set experience we've had with a video with all the whipped cream flying all over the place, at one point this car full of dudes pulled up yelling at us blasting AK47 on their stereo, they must have heard the shoot from nearby and looked us up or something, but yeah overall this was a ton of fun to put together and it's some of the most ridiculous footage we've ever put together.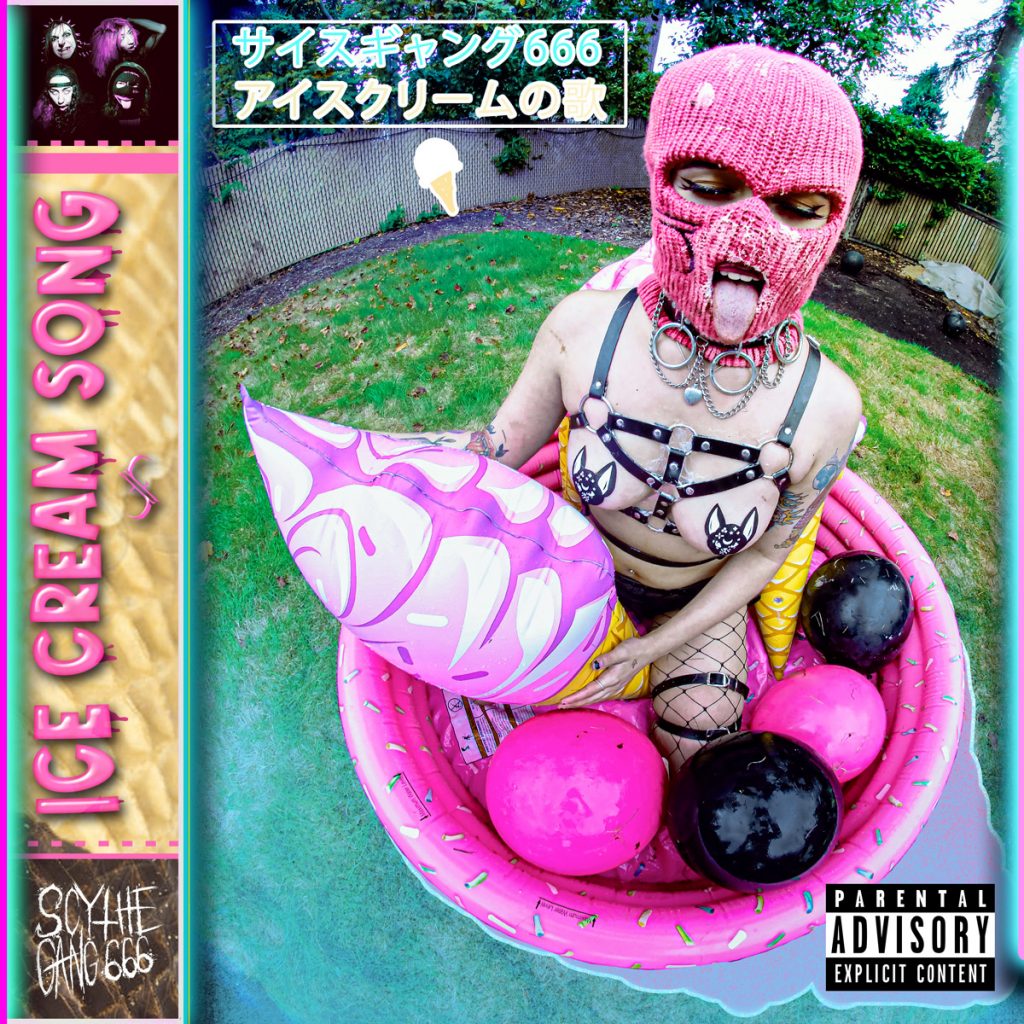 Vocals: Michael Vanson
Guitar: Maezi Kacey
Bass: King Zabb
Drums: Skimask The Drumgod