ROLO TOMASSI (HIGH RES PRESS SHOT)
ROLO TOMASSI will be releasing their brand new album 'Where Myth Becomes Memory' on February 4th through MNRK, pre-order – HERE Brand new single and video 'Drip' is out now, watch the video – HERE
The band have already announced a full UK and EU headline tour for February 2022, with support from Pupil Slicer. Tickets on sale
now – TICKET LINK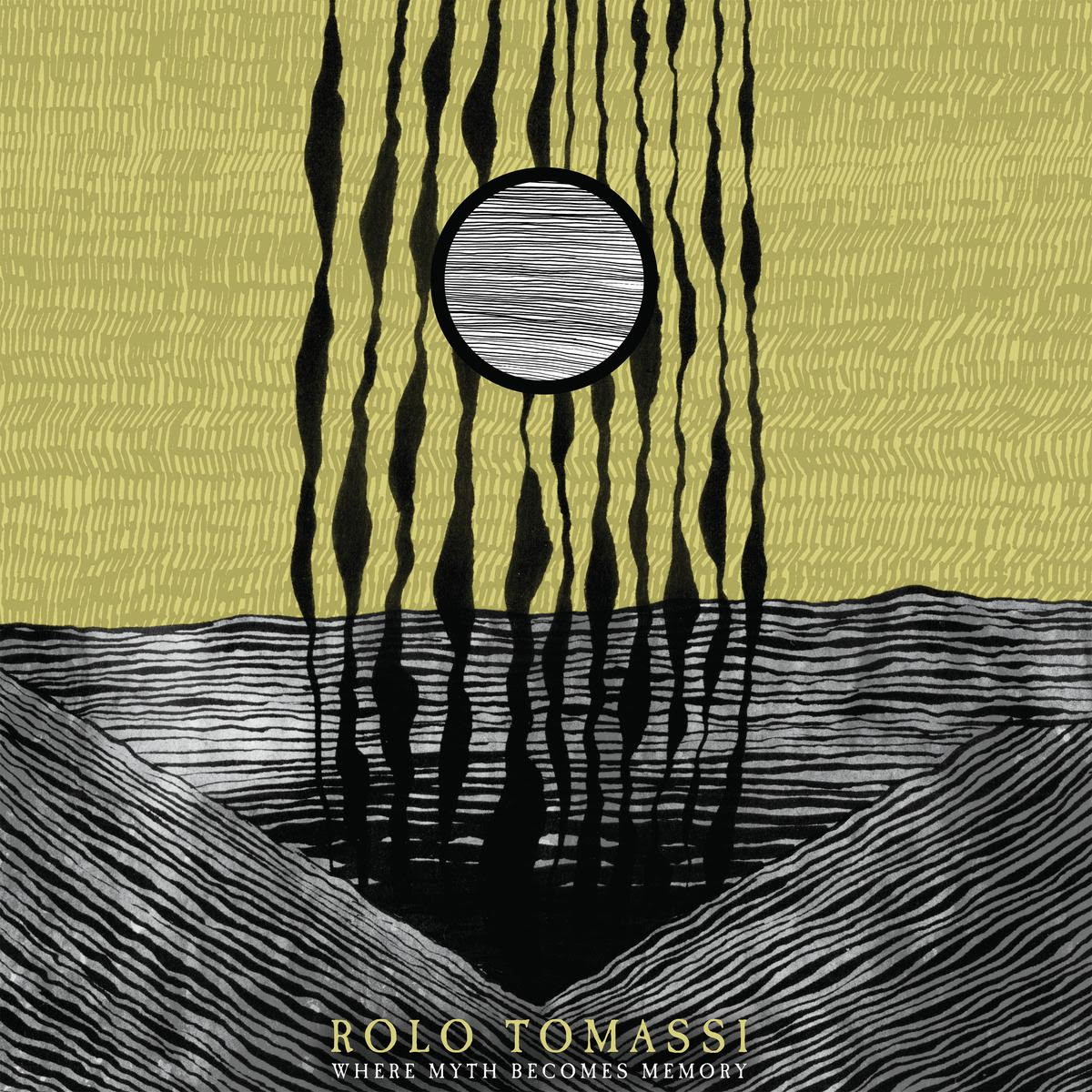 'Where Myth Becomes Memory' (HIGH RES ART)
ROLO TOMASSI will release their huge, expansive and ambitious, brand new album 'Where Myth becomes Memory' on February 4th 2022 through MNRK. The band, who are currently gracing this weeks cover of Kerrang! (read that cover feature – HERE), returned in August with the single 'Cloaked', their first new music since 2018's 'Time Will Die And Love Will Bury It'. The band today also release a brand new single and video 'Drip', which is out now on all streaming platforms. Watch the video – HERE
You can check out all the brilliant 'Where Myth Becomes Memory' pre-order bundles, vinyl variants, album + live show ticket bundles and more – HERE
ROLO TOMASSI have spent 17 years leading the pack rather than following and 'Where Myth Becomes Memory', sees them lead with more poise and determination than ever before. The new album serves as the final part in an unintended trilogy that began with 2015's 'Grievances' and continued with 2018's 'Time Will Die And Love Will Bury It', the most critically acclaimed album of the band's career, up to now. Every ROLO TOMASSI album shows signs of growth, but 'Where Myth Becomes Memory' serves as a culmination of a period of creativity that has exalted ROLO TOMASSI to their loftiest status so far as a band, with a singular vision where the most savage, unhinged sonics can co-exist harmoniously with epic cinematic elegance and grace.
Describing exactly what ROLO TOMASSI do and how they do it has always been incredibly difficult. Atmosphere is created through brutal and punishing guitars, with abrasive vocals at war with all around them, taking no prisoners and bending to no one. And yet, it is also created through a constant feeling of calm, reflection and intimacy, almost washing over the listener like welcome waves through sparse, skeletal piano, genuinely haunting melodies and melancholic musical reflections. A song like new single 'Drip' (possibly one of the most exciting and forward thinking singles to be released this year) drags the listener into a barrage of excitement of noise, hope, dreams and feelings of optimistic caution. It's astounding, and unlike anything else you will hear.
Guitarist Chris Cayford explains a bit about the importance of 'Drip' "When we start the writing process for each record, we always wait for the first song that clicks. It feels similar to our music but is also intangibly different to the extent we know it's the next step and we need to build the album around it. This was the song that did that"
'Where Myth Becomes Memory' is filled with these beguiling journeys, with moments of non stop aggressive motion like 'Prescience' sitting besides the cinematic, broken down and bare emotion of 'Stumbling'. Or (possibly) the album's heaviest and most direct song 'Labyrinthine' giving way to the album's true centre-piece, the stunning 'Closer', which feels like an album mid-way warm blanket of sadness, love and hope. At each turn, when you think you have this album figured out, the band decide to take a different turn, a more interesting path, and it is all the better for it.
"This is a really important album for all of us," explains James (Spence), "Of anything we've done, it's the one I'm most proud of. I think it's the most ambitious and creative that our band has ever sounded and something that we've all needed to get through the last few years. We can't wait to share it and to have you help us bring it to life."
Full track-listings for 'Where Myth Becomes Memory'
1. Almost Always
2. Cloaked
3. Mutual Ruin
4. Labyrinthine
5. Closer
6. Drip
7. Prescience
8. Stumbling
9. To Resist Forgetting
10. The End Of Eternity
Live wise, ROLO TOMASSI will be playing a sold out, hometown show at Chalk in Brighton on November 12th, they have also already been announced on next years Complexity Festival on 12th Feb 2022 in Haarlem, Netherlands AND at next years 2000trees Festival (as a UK festival exclusive for 2022). The band have also announced a full UK and EU tour for February 2022, which includes their biggest headline show to date, at Oval Space in London. Tickets for all dates are on sale now.
Full list of all ROLO TOMASSI UK and EU dates are below, support on all dates
will be Pupil Slicer: Tickets can be bought – HERE
February 2022
Thursday 10th – Antwerp Trix, Belgium
Friday 11th – Péniche Antipode, Paris, France
Saturday 12th – Complexity Fest, Haarlem, Netherlands – *FESTIVAL*
Monday 14th – Cassiopeia, Berlin, Germany
Tuesday 15th – Strahov 007, Prague, Czech Republic
Weds 16th – A38, Budapest, Hungary
Thursday 17th – Vienna Arena, Austria
Friday 18th – Feierwerk, Munich, Germany
Saturday 19th – MTC, Cologne, Germany
Monday 21st – Nottingham Rescue Rooms
Tuesday 22nd – Manchester Club Academy
Wednesday 23rd – Bristol Fleece
Thursday 24th – London Oval Space
——-
MORE ON ROLO TOMASSI:
Formed in 2005 this quintet's early material blended hardcore with kitschy synths and nonsensical song structures. However, the group shaved off its more oddball qualities in favour of shoegaze and dream-pop on subsequent releases.This sound is beautifully demonstrated with Dillinger-style freak-outs transition to lush soundscapes at a moment's notice. Anchored by the Spence siblings' complementary singing voices, the group perfectly blur the barrier between tranquility and destruction.
They have worked with US super producer Diplo and performed on Channel 4 TV live with Biffy Clyro (watch that HERE), they have played the SXSW Festival, released an album through IPECAC after catching the ear of Mike Patton and their last album is on around 7 million streams on Spotify alone. This most recent album from 2018 'Time Will Die And love Will Bury It' was released to a flurry of praise an acclaim, landing it as the 2nd highest review score for the year on Metacritic (gaining a 92/100). Following previous tours and shows with the likes of Faith No More, Biffy Clyro, Dillinger Escape Plan, Architects, The Bronx and Gojira in 2019 (as main support), the band have established themselves as a live tour-de-force, now a headline prospect not only in their home territory of the UK and the EU, but also Australia, Japan, Russia and the USA. 
There is no band on Earth quite like ROLO TOMASSI.
——-
ROLO TOMASSI are:
Eva Korman – vocals
James Spence – keyboards, piano, vocals
Chris Cayford – guitars
Nathan Fairweather – bass
Al Potts – drums——-
ROLO TOMASSI 'DRIP' (Official Music Video)