REDHOOK
UNVEIL NEW SINGLE 'SENTIMENTAL SURGERY'
Single had first play on Alex Baker's Fresh Blood Show
for Kerrang! Radio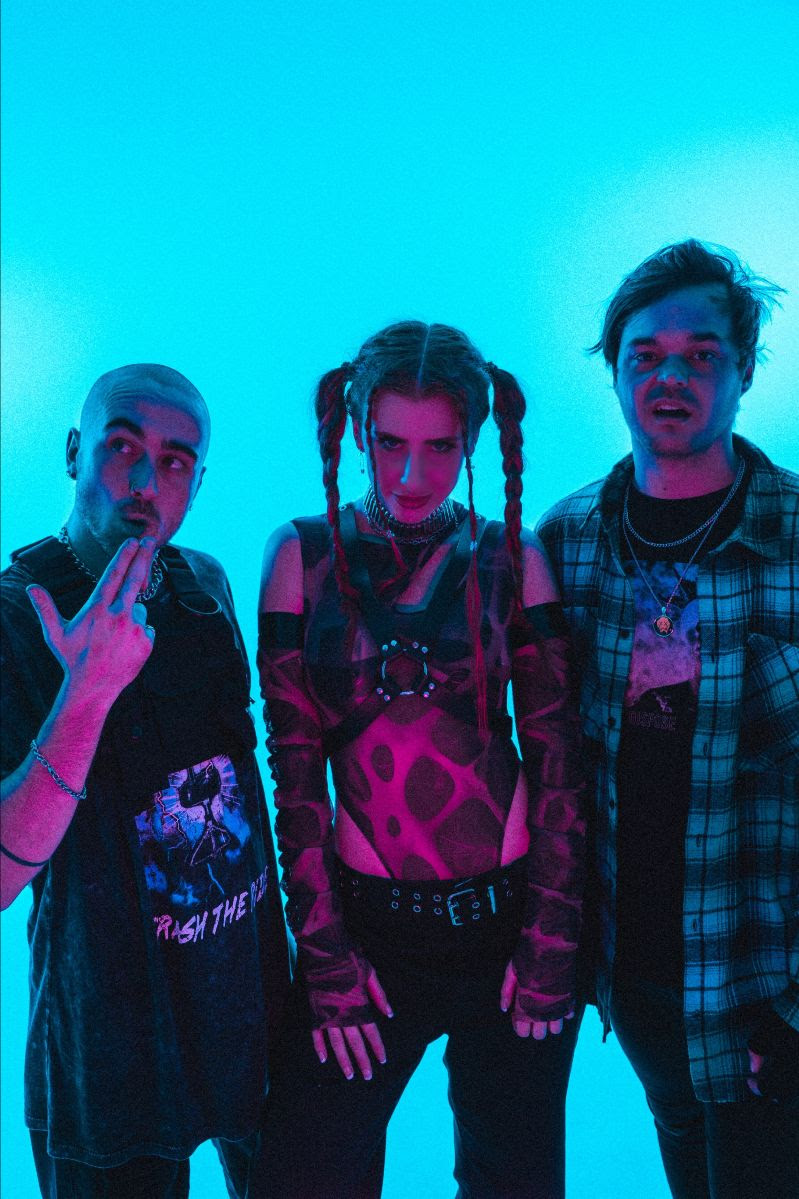 REDHOOK – WEB PHOTO
Sydney-based alternative-rock trio RedHook today unleash their new single 'Sentimental Surgery' – produced by Stevie Knight (Stand Atlantic, Yours Truly, Trophy Eyes), and mixed by James Paul Wisner (Paramore, Underoath).
Listen to Sentimental Surgery HERE or by clicking the image below.
A loving tribute to the emo music that shaped RedHook's teen years, 'Sentimental Surgery' lyrically brims with lead singer Emmy Mack's trademark self-deprecating, tongue-in cheek humour. 90's-inspired funk rhythms set the stage for a feverish collision of musical elements from pop-punk and modern emo-trap, continuing RedHook's celebrated affection for sonic alchemy. Though arguably their most pop leaning song to date, 'Sentimental Surgery' encapsulates the band's elastic, song-by-song approach to their musical storytelling, and defiant refusal to be pinned down by outmoded classifications of sub-genres within the alternative rock space.
Mack explains the inspiration behind the track:
"Given what we've all been going through these past 18 months, I found it really difficult to write a song about literally any other topic. But I also didn't wanna be THAT artist writing yet another sad song about the shared grief of our covid-crushed dreams. So instead, I decided to embrace the cliche and create a piece of music that expressed those sad feels, but also flipped them in a way that hopefully cheers people up and puts a smile on their face.
So many of us are struggling hard right now, and possibly even regressing into the past a little to distract ourselves from the uncertainty of the future… I really just wanted to write something that helped us all enjoy that regression & hopefully feel a bit better."
To coincide with the release, the band has also shared an outrageously fun music video directed by Kim Quint (Polaris, In Hearts Wake), which sees RedHook invite their fans from all over the world to embrace their sadboy/sadgirl roots and party like it's 2005, taking part in a global emo-themed lockdown dress-up party that celebrates how fun it once was to be sad.
'Sentimental Surgery' follows on from the release of RedHook's celebrated debut EP 'Bad Decisions' which arrived in April of 2021. The record has already notched up close to 3 million streams on Spotify and earned praise from Kerrang! (UK), Rock Sound (UK), Rolling Stone (AUS), Hysteria Magazine and more, with multiple video clips being added to rotation on ABC's Rage.
Singles off 'Bad Decisions' have been widely embraced by the likes of Spotify, Apple Music and Amazon Music, with 'Cure 4 Psycho' being added to rotation on triple j, along with further radio support from SiriusXM (USA), Kerrang! Radio (UK), triple j Unearthed, The Faction, 4ZZZ and Aussie Music Weekly.
The band has just been announced on the line up for UNIFY Gathering 2022 alongside The Amity Affliction, Violent Soho and Yours Truly, as well as the inaugural Full Tilt Festival with Northlane and In Hearts Wake, and with Hooligan Hefs at extreme sports festival District X. This continues on from the band's largely SOLD OUT 2021 national headline tour, as well as appearances at Download UK, Download AUS, Good Things, BIGSOUND and Stonefest.
'Sentimental Surgery' will be available worldwide on Friday 24th September.
SENTIMENTAL SURGERY ARTWORK