PULCHRA MORTE – Unveil "The Serpent's Choir"
Featuring Members of Immolation, Exhumed
and More on New Album
Following the announcement of their brand new album 'Ex Rosa Ceremonia' out November 6th via Transcending Records. Death Doom overlords Pulchra Morte are pleased to reveal their brand new track "The Serpent's Choir".
The track opens the stellar new offering from the band immediately setting the tone for the aural journey to come. Combining the best elements of Black Metal with signature Death Metal flair Pulchra Morte create a sound that will echo long after its final notes have finished.
With a title as ostentatious as "The Serpent's Choir" it was imperative to the band that its members are of a stature to match! Featuring members Immolation, 1349, Uada, Exhumed, Mondo Generator and Black Tusk and many many more, "The Serpent's Choir" is the latest example of just what is to come on the band's brand new album 'Ex Rosa Ceremonia'. 
Leader of the choir and vocalist of Pulchra Morte, Adam Clemans had the following to say about the song : 
"Lyrically, it deals with the power of the written word and how beautiful and sometimes destructive amassing many voices behind those words can be. We decided it might be an interesting idea to mirror that sentiment physically by adding as many voices to the song as possible. We are honored to have had as many people participate as we did. The result is of pure power."
Adds guitarist/producer Jarrett Pritchard :
"Assembling 'The Serpent's Choir' was really gratifying but challenging. I have had the privilege of working with so many fantastic people over the years, so I feel really lucky to have been able to reach out to people, one by one, that I wanted to participate, as well as my normal friends who of course are always there, ready to go. We got people from all over, and not all 'metal people.' The Choir sees the return of Jason Avery (Eulogy, Monstrosity) to the microphone, backing up Adam with Andrew Gerrity (Wolvhammer, No Fraud) on the line, 'a lifeless corpse of a world.' And I had Blaine Accüsed (The Accüsed, Toe Tag) and Nick Oliveri (Mondo Generator, Queens Of The Stone Age) sing the line, 'what music we shall make.' It was really exciting. There were very unique sounds in the mix as well: Jake (Uada) gave me some fantastic texture that is blended together with Ravn (1349), which is more of a howl, that you can hear a little more distinctly at the end of the track."
Brooklyn Vegan had the following to say about the single :
"It's another very promising taste of this album, thick and heavy and with a perfect balance between melody and aggression, and Pulchra Morte really nailed it on assembling that choir."
You can find out the full listing of "The Serpent's Choir" members right HERE and can preorder the album digitally here, where you'll also find singles "Knife of The Will" and "Ex Rosa Ceremonia" for your listening pleasure.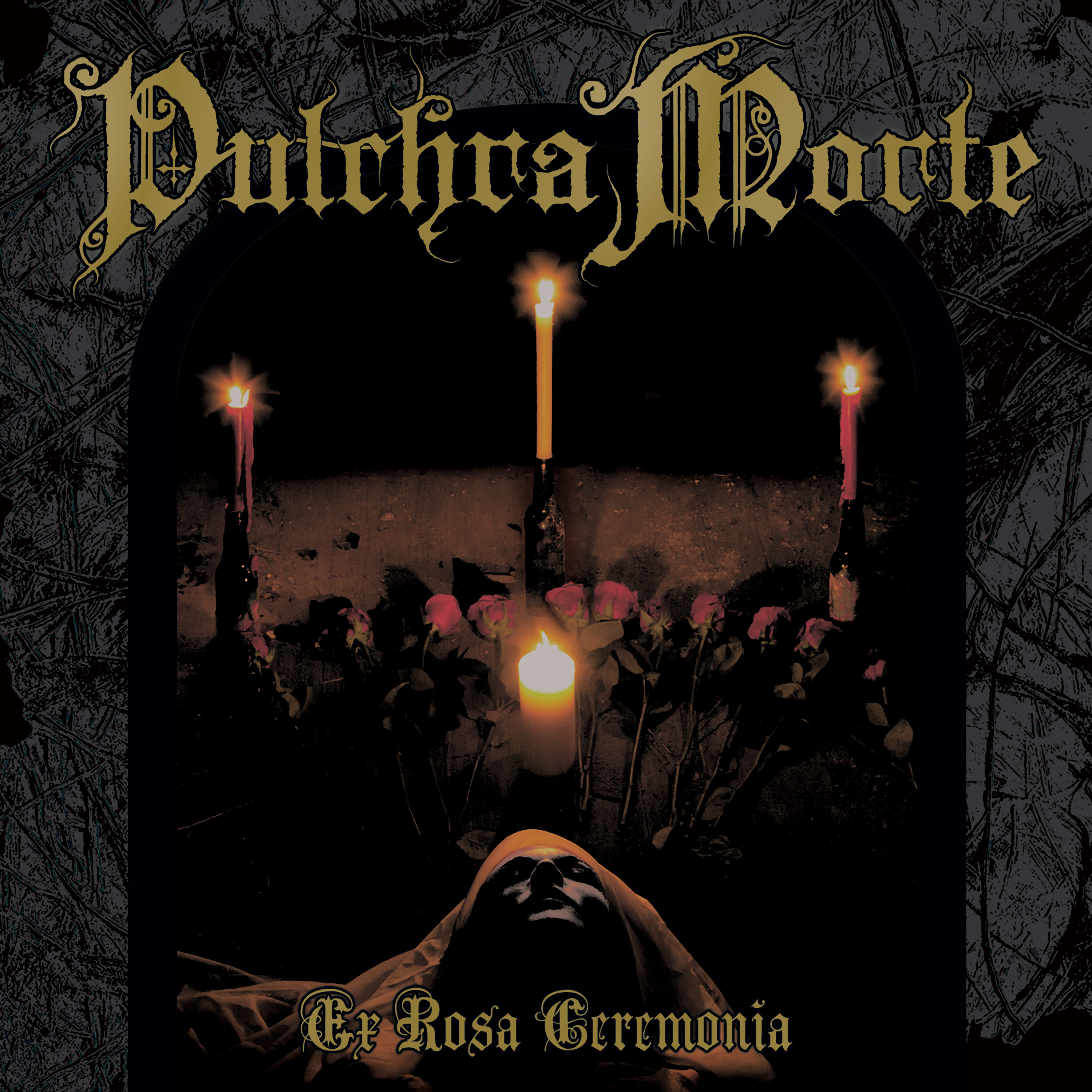 'Ex Rosa Ceremonia' – Track Listing :
"The Serpent's Choir"
"Fires of Coil"
"Knife of The Will"
"In The Mourning Light"
"Prince Among Shadows"
"The Archer & The Noose"
"To Suffer (The Way You Do)"
"Locust Humanity"
"Ex Rosa Cermonia"
About Pulchra Morte :
PULCHRA MORTE (ˈpul.kʰra / ˈmɔr.te)  – comprised of Adam Clemans (Skeletonwitch, Wolvhammer), John Porada (Wolvhammer, Abigail Williams), Jarrett Pritchard (Eulogy), Clayton Gore (Eulogy, Harkonin), and Jeffrey Breden (Leagues Below) – began in 2017 with the intent to recapture the purpose of greats from the late-'80s through early-'90s doom-laden death metal scene, a point where feeling superseded technicality.
The band released their debut full-length Divina Autem Et Aniles in 2019. The record reaped critical accolades both Stateside and abroad. Decibel Magazine wrote, "With Pritchard behind the knobs… the record's in capable hands to conjure the somber serenades of early Anathema. But with PULCHRA MORTE, Pritchard takes melodic death-doom oddities like Visceral Evisceration's Incessant Desire For Palatable Flesh or Pyogenesis' Ignis Creato and polishes their rough casket wood." Brutalism hailed the band's, "Brilliant riffs, beautiful melodies, and haunting atmosphere" while Grizzly Butts gushed, "I did not merely collapse under its striking invocations of sorrow or the plodding, romanesque strings of melodic lead that highlight each track, PULCHRA MORTE's sourly dire debut pressed life's most troubling concerns as a rifle against my temples."
The band played various shows throughout the US in support of Divina Autem Et Aniles, including the Full Terror Assault Open Air V festival, as well as several sold-out shows in support 1349's North American tour with Uada and Cloak before entering the studio in September of that year to record their next chapter: Ex Rosa Ceremonia.
Pulchra Morte Online :
http://www.PulchraMorte.com
http://www.facebook.com/pulchramorte
http://www.instagram.com/pulchramortemetal
http://www.twitter.com/pulchramorte666
Transcending Records Online :
http://www.transcendingrecords.com
http://www.facebook.com/transcendingrecords
http://www.instagram.com/transcendingrecs
http://www.twitter.com/transcendingrec