Psych-pop rockers Spaceface get scientific 
on new single and video "Piña Collider"
Photo Credit: Erika Mugglin | Download
"Psych-pop collides with disco-pop to form one trippy and delirious number." – The Revue
"This is the kind of buoyant ear-candy I think most of us need after a year of lockdown." – Riff Magazine
 "A fantastical and kaleidoscopic fantasy."  – Gig Goer
July 20th, 2021 – Keeping up their own brand of summer fun, today psych-pop act Spaceface share their new single and video, "Piña Collider." The quirky track blends funky basslines with synth driven tones and some added grooves courtesy of Nathan Price (BRONCHO). Inspired by an experience vocalist Jake Ingalls (also guitarist of The Flaming Lips) had partying with scientists at the CERN Hadron Super Collider, beneath the France–Switzerland border, the song centers around a mythic drink that discombobulates your matter and makes you realize that we are all connected as one unified human experience. The video for the track keeps up with the scientist theme and was virtually directed by Maris Jones who had to send props and filming instructions to each actor, making for an innovative piece. The song marks the second release for the band this year, following the dreamy "Happens All The Time." You can watch the video for "Piña Collider" here now and stream the song here.
Speaking more on how the song came together, Ingalls stated:
"I was playing a show somewhere nearby and CERN has a whole outreach program to bring artists in to show them what it's all about and what it looks like. We got to go inside the Super Collider, take pictures in front of a dark matter factory, and even drink a little with the scientists. I learned that the crew who showed us around are, in fact, in their own band, which we named the song after. When it was mostly ready, I sent the track off to those same scientists and asked them to record the group vocal parts at the top of every section – "Everyday! Gamma Ray! Boomerang!", etc. They even sent me samples of particle beam dump sounds and other weird noises you hear around the facilities for us to put into the song. A lot of backstory for such a romp of a tune, huh?"
For those who want to test out a Piña Collider themselves, the band has put together a drink recipe:
1.5 oz Clear Rum
.75 oz Lime Juice
.75 Simple
1 oz Coco Lopez (Coconut Cream)
.75 oz Pineapple Juice
Combine All Ingredients in Shaker Tin w/ Ice and Shake
Double Strain over ice into collins glass or larger glass (Or Coconut)
Garnish w/ Pineapple stem or wedge and lime wheel
Dash of Cinnamon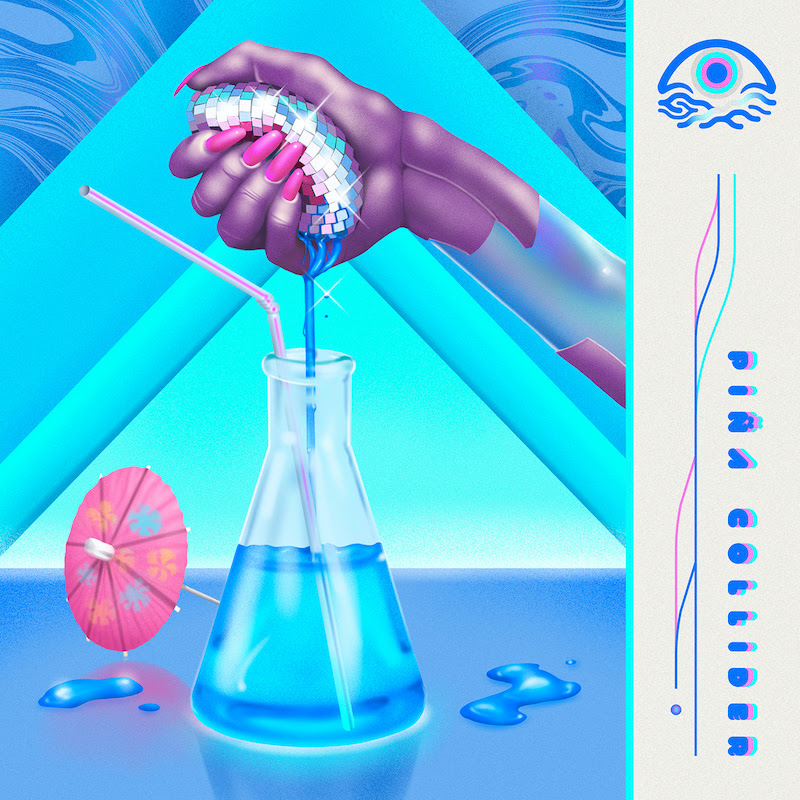 Single Artwork | Download
About Spaceface
Spaceface is a self-described "Retro Futurist Dream Rock" (but you can call them psychedelic-pop) band from Memphis, TN and Los Angeles, CA, active since 2012. Always eavesdropping on the Universe whispering its chaotic will, the groovy bunch harnesses the transcendent pulse of the spacetime continuum into catchy songs that whirl and twirl, bend and stretch, attract and propel. Their unique alloy of dream-pop, funk-rock and post-disco, charged by the Sun, ultimately shines way past our collective bedtime, akin to a glow-in-the-dark Slime Science Lab kit.The project's founding members include Jake Ingalls (also of The Flaming Lips), Matt Strong, Eric Martin, and Daniel Quinlan, but the lead research team recently enrolled Los Angeles-based musical mind, Katie Pierce from Pierced, with whom sonic experiments continue. Ultimately, Spaceface's goal is to acknowledge the blurred pain that lurks in the corners of one's vision on a day-to-day basis while providing a brief escape for anyone who needs or desires it. In light of years of thorough research (or a dream to that effect) that have confirmed music, as an artform, to be a potent medicine for both your mind and your feet, the psych-rockers abide.
Over the course of eight years, the collective has toured all over the United States, as well as Canada, with stops at international festivals such as SXSW, Desert Daze, Canadian Music Week, Treefort Music Fest, Hangout Music Festival, God Save The Queen City and Distorsion Psych Fest. Always equipped with a state of the art light-show and/or projectors, sometimes accompanied by weirdish stage props and/or gadgets, the ever-evolving American act provides their dedicated following with thrill-inducing D.I.Y. performances that only get crazier as they perfect their experimental craft.
Since forming, Spaceface has offered timely releases that include a self-titled EP, a full-length album entitled Sun Kids, as well as a small zoo of singles and remixes featuring notable collaborations with artists such as Okey Dokey, Julianna Barwick, Mikaela Davis, Julien Baker, Penny Pitchlynn (Broncho), Phantogram, and Matt Duckworth of The Flaming Lips. After recently working with SixTwelve, an Oklahoma City education non-profit, to assist in the production of a fundraising album with several local OKC musicians, Spaceface is back with two new singles that mark the first taste of new music to come from the band in 2021.