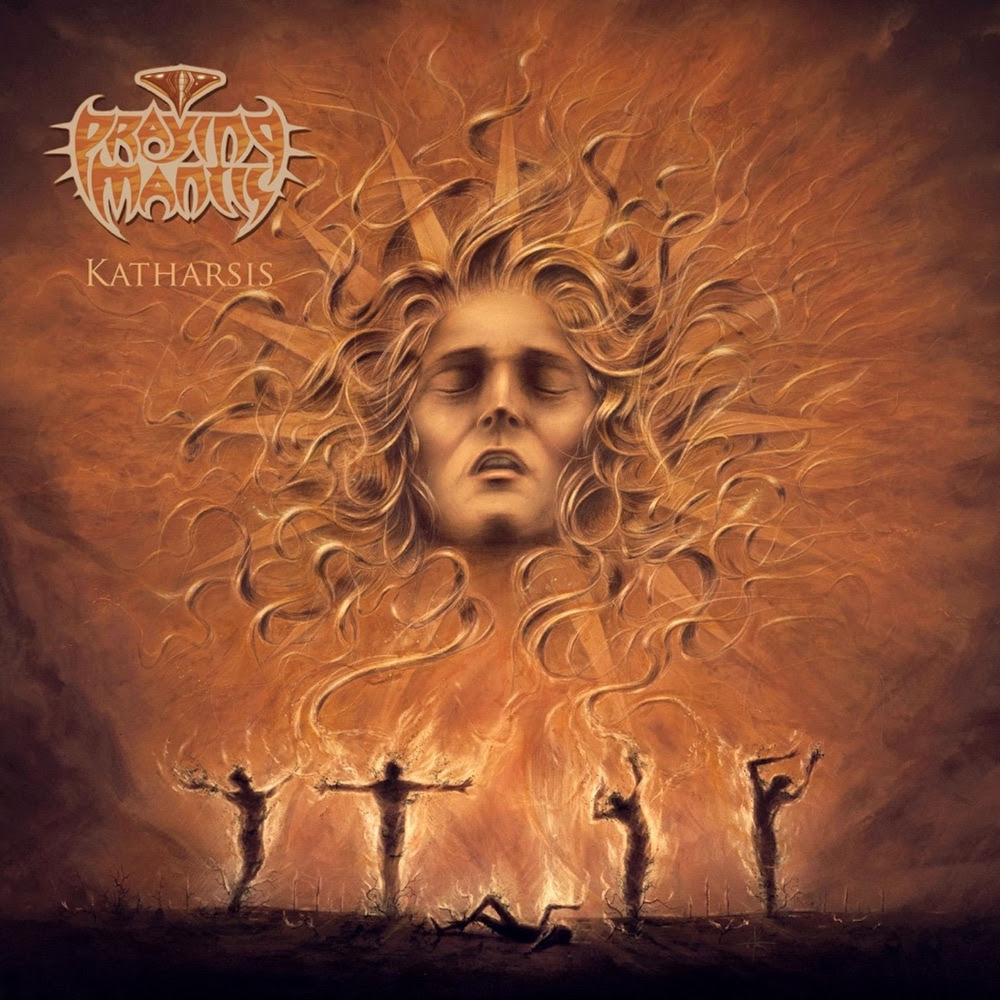 PRAYING MANTIS
KATHARSIS
new album
out 28.01.22
(Frontiers)
pre-order link
orcd.co/katharsis
includes the single
CRY FOR THE NATIONS
video
youtu.be/bJD4b4-W4jI
Frontiers Music Srl is excited to announce the upcoming release of the new album by veteran UK hard rockers Praying Mantis. 'Katharsis' is their 12th studio record and sees the quintet steadily progressing from the sonic signatures of their previous release, 2018's 'Gravity'. Out on 28th January 2022, fans can get a first taste of the band's latest music now with the release of a single and video for the song 'Cry For The Nations'.
'Katharsis' is the third Praying Mantis in a row to feature an identical line-up, with vocalist John 'Jaycee' Cuijpers and drummer Hans in 't Zandt further cementing their places in the band's ongoing legacy. Together with founding members Tino and Chris Troy and guitarist Andy Burgess, who has been with the band since 2008, they have added a further dimension to the group's songwriting, musical performances and production process. To hear and see them now, fans will experience both the spirit and energy of the early '80s together with a technical style that has helped bring the band into the modern era.
Praying Mantis are a long-established hard rock band. Formed by brothers Tino and Chris Troy in 1973, they spearheaded the NWOBHM (New Wave Of British Heavy Metal) movement together with the likes of Iron Maiden, Def Leppard and Saxon. While they did not enjoy the same dizzying heights of success as some of their contemporaries, they nevertheless became one of the most influential bands in that scene. They have remained active over the years and still record and perform live on a regular basis, while their music has gradually evolved into a more melodic hard rock style.
KATHARSIS
TRACKLISTING
1  Cry For The Nations
2  Closer To Heaven
3  Ain't No Rock 'N' Roll In Heaven
4  Non Omnis Moriar
5  Long Time Coming
6  Sacrifice
7  Wheels In Motion
8  Masquerade
9  Find Our Way Back Home
10  Don't Call Us Now
11  The Devil Never Changes
PRAYING MANTIS
Tino Troy – guitars & vocals
Chris Troy – bass & vocals
Andy Burgess – guitars & vocals
John 'Jaycee' Cuijpers – lead vocals
Hans in 't Zandt – drums
prayingmantis.rocks
facebook.com/prayingmantisukrockmetal
instagram.com/mantisofficial
ABOUT FRONTIERS MUSIC SRL
Originally founded in Naples, Italy in 1996 by Serafino Perugino and his father Fernando as a distribution company, Frontiers has developed into one of the premiere independent rock labels in the world. Synonymous with quality music across a broad spectrum of rock and metal genres, the company works with multiple genre heavyweights and fan favourites. However, in addition to providing an outlet for classic and established acts, it has also become home to a wealth of young, up and coming talent whose musical prowess, when combined with the label's savvy and forward thinking A&R and marketing approach, will be developed into the future of rock and metal. With a deep commitment to and passion for THE MUSIC and the artists who create it, plus massive global distribution, sales, marketing and promotion channels, Frontiers is the leading home for both established and emerging rock and metal artists.
Head Office: Naples, IT | U.S. Office: Nashville, TN
Subscribe to be alerted when new videos are added:
radi.al/SubscribeFrontiers
Follow the 'Newest From Frontiers' playlist on Spotify:
spoti.fi/1rQz5Zm