PIERCE THE VEIL
DROP "PASS THE NIRVANA" VIDEO — WATCH
SONG MARKS THE FIRST NEW MUSIC FROM THE BAND SINCE 2016
PIERCE THE VEIL HI-RES  – CREDIT CELINA KENYON
Pierce the Veil  — guitarist/vocalist Vic Fuentes, guitarist Tony Perry, and bassist Jaime Precadio — have shared the video for their explosive comeback single "Pass the Nirvana."
Watch the official video here or by clicking the image below.
The song was a juggernaut from the start — landing play listing at Rock This, Rock Hard, Rock Rotation, All New Rock, Rock Out, New Noise, Volume Máxim, Breaking Rock, Rock Arena, and more. It also netted over 6 million streams in the month since release.
Pierce the Veil, which Rolling Stone once described as "hyperactive, progressive post-hardcore," have truly served up a new track full of fuzzy guitars, massive melodic hooks, and PTV's distinct emotional heart. "Pass the Nirvana" is quite the riff fest and it marks Pierce the Veil's first new music since 2016. It was worth the wait — and then some. It is destined to become a fan favorite that the PTV faithful will scream the lyrics to at their live shows.
"'Pass the Nirvana' is about the many horrible traumas that the youth of America have endured over the past few years," said frontman Fuentes previously about the song's powerful, relatable, and topical subject matter. "COVID, no proms, no graduations, an insurrection, school shootings. The list goes on. Their lives have been tossed around like clothes in a dryer, as the tensions within our country have infiltrated our own homes, friends, and families. To me, the song represents a euphoric detachment from all of that anxiety and stress and about finding some form of peace or nirvana."
Beloved San Diego band Pierce the Veil will make their long-awaited return to the UK later this year this winter- their first UK tour in six years and is completely sold out.
The tour kicks off 1st December and runs through to 10th December and will see them do two nights at the prestigious O2 Forum, London.
Support comes from Against The Current and Caroles Daughter.
PIERCE THE VEIL UK TOUR:
1st December – The Great Hall, Cardiff SOLD OUT
2nd December – O2 Forum, London SOLD OUT
3rd December – O2 Forum, London SOLD OUT
5th December – SWG3 Galvanisers , Glasgow SOLD OUT
6th December – The Boiler Shop, Newcastle SOLD OUT
8th December – Manchester Academy, Manchester SOLD OUT
9th December – O2 Academy, Birmingham SOLD OUT
10th December -O2 Academy, Leeds SOLD OUT
The time is right for Pierce the Veil's comeback as one of their classic and most beloved songs is also having a pop culture resurgence.
A decade after its release, the already platinum single "King for a Day" shot to No. 1 on Billboard's Hard Rock Streaming chart, driven by the viral #KingForADay hashtag on TikTok. The song has enjoyed quite a pop culture moment, as global music superstar Lizzo used the track in a video on the platform. It demonstrates how vital PTV's iconic catalog is — and how vital the band and its new material remains.
Pass The Nirvana single is out now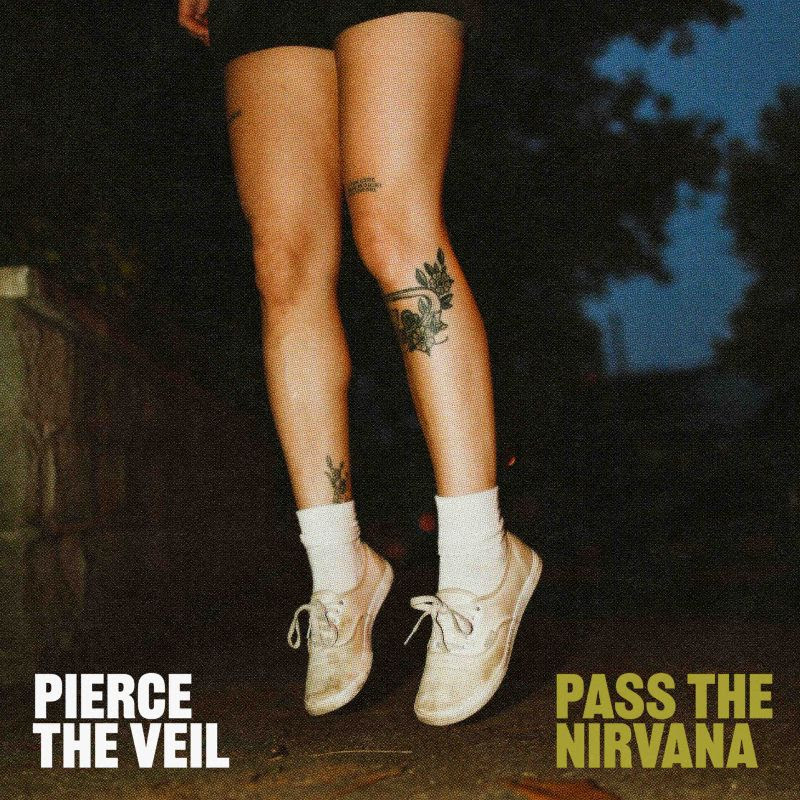 PASS THE NIRVANA SINGLE ARTWORK