Paul Gilbert is back! The six-string wizard returns with his latest offering, the as ever bat-shit crazy titled "Werewolves Of Portland"! Paul has always had one hand in being quirky, throughout his musical career he never shy's away from being that "individual" kid and that has always been part of his charm as a musician, something so many of us can relate to finding out comfort zone in the arms of an instrument. 
For me, Gilbert was always one of the four major guitar players of my youth, Malmsteen, Vai, Satriani, and Gilbert was my Mount Rushmore of guitar players growing up, the genus of Racer-X and those blistering tracks that helped establish Paul as a force to be reckoned with before the formation of one of Rock's best supergroups in Mr. Big. The combination of the Gilbert, Sheehan fusion against a melodic backdrop of Eric Martin's vocal delivery and the amazingly talented and late, great Pat Torpey on drums gave us all a flavor of how a majestic player like Gilbert could work within the parameters of an easy on the ear Rock band. 
Gilbert's latest offering may be his 16th solo studio album, but it did take Paul quite a long time to step out into a fully instrumental guise, which was quite surprising given his reputation and unwavering ability to shred. It is always fascinating to see how artists such as Gilbert express themselves instrumentally, Gilbert is leaning heavily on the slide on this album as he uses it for the vocal expression of the songs, replacing lyrics with the guitar that breaks up the intensity, amazingly Gilbert plays all the instruments on this album. Lockdown 2020 providing its challenges and boredom no doubt, gave Paul the impetus to move ahead with the project and take the reins on this one himself. Clearly far more talented than even I knew he was beyond the guitar, the songs are packed with intricate time changes and funky, bluesy vibes that showcase Pauls stunning musical muscle-flexing to the fore. 
As you would expect the guitar work is sublime, we were never going to doubt that, it is more the insight into a guitarists mind like Gilbert that we get laid before us on these ten tracks, Paul's unique and quirky take means that you never quite know where a track is going, what starts off with a bluesy vibe at a canter sprints off into the distance without warning, so you are constantly kept on your toes track after track. There are glimpses of Gilbert of old in songs like 'Argument About Pie' which are signature PG but the album as a whole represents a more mature version of the man, melodically focused and embracing the bigger picture musically beyond saying " Hold My Beer" & Wait till you see what I can do" 
Werewolves Of Portland whilst packed with ten tracks of stunning guitar work does not fatigue the ears as some instrumental albums can, the songs are very fluid, easy on the ears, and before you know it you'll be reaching for that repeat button or for you millennials asking Alexa to repeat!
For sure I am grateful that the likes of Paul Gilbert & Co. came into my life and enriched it for the better, for those who get it, you'll know what I mean. Albums such as Werewolves Of Portland will always be welcome in my world and I for one look forward to see where Mr. Gilbert's journey takes us next. 
Werewolves Of Portland is out June 4th via Mascot Label Group / Players Club.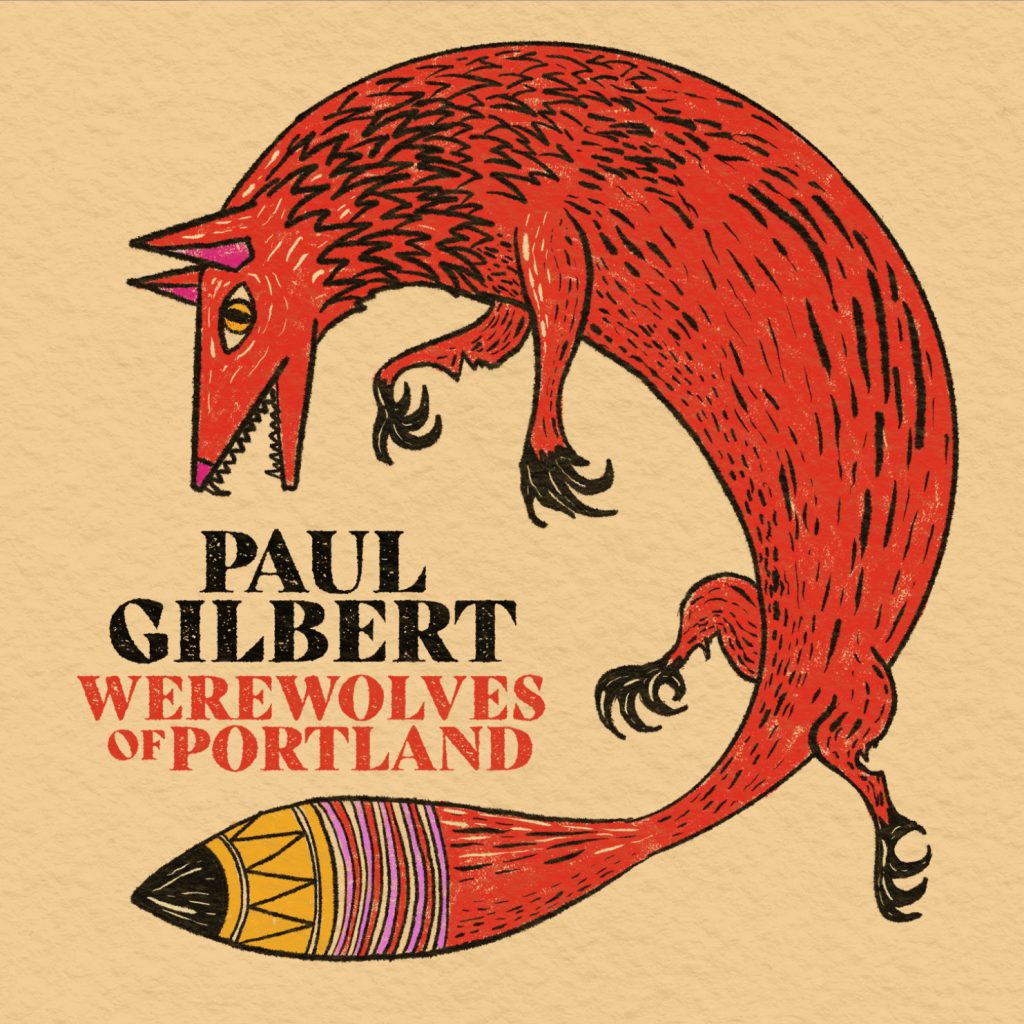 Tracklisting:
1.Hello North Dakota!
2. My Goodness
3. Werewolves of Portland
4. Professorship At The Leningrad Conservatory
5. Argument About Pie
6. Meaningful
7. I Wanna Cry (Even Though I Ain't Sad)
8. A Thunderous Ovation Shook The Columns
9. Problem-Solving People
10. (You Would Not be Able To Handle) What I Handle Everyday
Paul Gilbert
New Album: Werewolves of Portland
Released 4 June via The Players ClubWatch The Animated Video For 'Argument About Pie'
Paul Gilbert // Werewolves Of Portland // Album Review