NASHVILLE'S ADAM "DITCH" KURTZ RELEASES STORMS OF STEEL, INSTRUMENTAL TRIBUTE TO RANDY TRAVIS' STORMS OF LIFE
---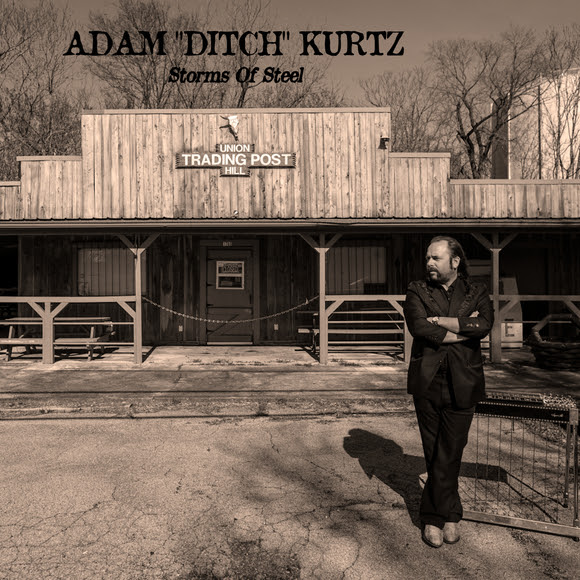 Adam "Ditch" Kurtz's Storms of Steel is out now.
May 22, 2020 – Nashville pedal steel revivalist Adam "Ditch" Kurtz pays tribute to Randy Travis' 1986 debut album Storms of Life on his new solo album Storms of Steel, a track-by-track instrumental homage to to Travis' classic LP.
"I wanted to create a modern version of an eighties country classic featuring the most iconic of country music instruments: the steel guitar, which is sadly absent in much of today's 'country,'" Kurtz says. "That, and I wanted to shred."
With society as a whole going through its own storm of life, if you will, we could all use the emotion and connection that only the pedal steel can bring, those weeping, yearning and twangy tones that identify any true country song — especially those of Randy Travis. Ditch Kurtz, a household name in the East Nashville Americana/honky-tonk scene, tackles Travis' 1986 album with musical adeptness and humor, keeping the familiar melodies intact while exploring the full range of the versatile, mysterious 10-stringed sit-down instrument some call "keyboard" or "table top guitar" or "what is that thing?"
Kurtz, a self-taught pedal steel player who honed his chops in his hometown of Boston before moving to the Music City, has recorded and toured with American Aquarium, Sarah Shook and the Disarmers, Chris Shiflett of the Foo Fighters, Joshua Ray Walker, Zach Schmidt, Jason Hawk Harris, and his own Nashville-based rock band, Buck 'N' Stuff. On Storms of Steel, he places the focus solely on his instrument. Sometimes it sounds like he's playing a Hammond B3 organ ("Send My Steel") or a ripping lap steel ("Diggin' Up Steels"), but he's not: other than some MIDI drums and bass and acoustic guitar tracks, Storms of Steel is all pedal steel guitar.
"Just the way it should be," Kurtz says.
---
STORMS OF STEEL PRODUCTION CREDITS
Recorded in Nashville, Tenn. at Halfway Rock Studios
Adam "Ditch" Kurtz – pedal steel, acoustic guitar, bass, drums
Justin Francis – drums on "Diggin' Up Steels"
Produced and Engineered by Adam Kurtz
Mixed and Mastered by Justin Francis in Nashville, Tenn.
Photography by Ashley Richardson
STORMS OF STEEL TRACK LISTING
1 – "On the Other Steel"
2 – "The Steels of Life"
3 – "My Steel Cracked (But It Did Not Break)"
4 – "Diggin' Up Steels"
5 – "No Steel Like Home"
6 – "Nineteen Steely-Two"
7 – "Send My Steel"
8 – "Messin' With My Steel"
9 – "Reasons I Steel"
10 – "There'll Always Be a Pedal Steel Somewhere"