79.5
Announces Self-Titled Sophomore LP
Due Out May 5 via Razor-N-Tape
Unleashes Dancefloor Ready Soul-Pop Single + Video:
"Our Hearts Didn't Go That Way" (Feat. Durand Jones)
Available across platforms here.

Catch Them Live This Spring!
5/8: Seattle, WA @ Madame Lou's
5/11: San Francisco, CA @ Rickshaw Stop
5/12: Los Angeles, CA @ The Paramount
6/2: Brooklyn, NY @ Brooklyn Made
6/24: Philadelphia, PA, @ Johnny Brenda's
"The six-person ensemble sound like Donna Summer and
Evelyn (Champagne) King playing a Steve Rubell club." – The New Yorker
"79.5 Spins Sounds of the '70s" – American Songwriter
"Inspired by divas like Grace Jones and Donna Summer,
"Club Level," is a glittery disco bop." – Cool Hunting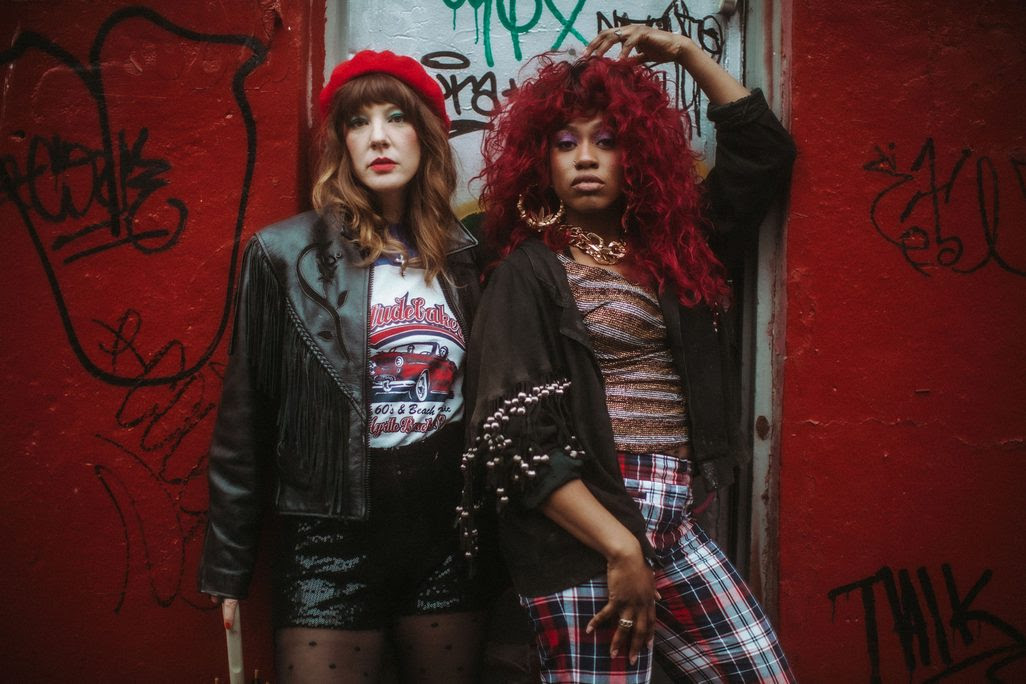 Credit: Rosie Cohe 
79.5 is the sound of New York City. The Brooklyn-based band has announced their forthcoming self-titled album, due out May 5 on Razor-N-Tape. Soulful and psychedelic, the new collection's masterful melodies may be hard to categorize, from 70's underground disco to acid jazz to sugary sweet pop. Its very existence is a protest of the old boy's club in the music industry. And, a personal triumph against all odds, while illuminating the most beautiful collaboration between friends. Current lineup includes singer, songwriter and composer Kate Mattison, singer and rapper Lola Adanna, drummer Caito Sanchez (Charles Bradley, Lee Fields), bassist Andrew Raposo (Midnight Magic, Hess Is More) and sax player + flautist Izaak Mills.
Lead single, "Our Hearts Didn't Go That Way" (Feat. Durand Jones), released today alongside an official video, is two minutes of pure hot neon sugar. 80's sax shimmers throughout the bouncy track, as the vocal duet of Jones and Mattison brings to mind epic past collaborations like Michael McDonald and Patti Labelle, or the late greats Ronnie Spector and Eddie Money. Although heartbreaking in nature, the song evokes a feeling that true love can never be broken.
Watch / Share: "Our Hearts Didn't Go That Way" (Feat. Durand Jones)
Named after an imaginary radio station, 79.5 was started in 2010 by Kate Mattison. With only a self released 12" in circulation, 79.5 was written up in The New Yorker twice based on the eminence of their live sets alone. In 2016, the band released the now classic 45, "Terrorize My Heart (Disco Dub)" a staple in DJ sets, getting spins from Gilles Peterson, Q-Tip, Just Blaze and Natasha Diggs. In February 2021, Questlove added the Mattison-penned track to his 100 Essential Songs You Should Know playlist, which includes legendary musicians Sade, CHIC, Patrice Rushen, and Prince.
Recently touring with Durand Jones & The Indications, fans will have new opportunities to experience the soulful quintet's euphoric live show as they have just announced a slew of new tour dates. Stay tuned for more news and tour dates coming soon!