INTRODUCING: ALTERNATIVE METAL OUTFIT MOLYBARON 
MOLYBARON listens to:  Mastodon, Alter Bridge, Gojira, Clutch, Muse, Therapy?, Shinedown
MOLYBARON – Lucifer
********************
WHAT THE MEDIA SAYS ABOUT MOLYBARON
"MOLYBARON, TOP 5 ALBUMS OF THE YEAR"
— HARDFORCE Magazine
"This collection of ten songs quickly becomes as addictive as it is essential. Go get it!"
— ROCKHARD MAGAZINE
"MOLYBARON recently created a surprise with a dense and beautiful first album. Sometimes dark, sometimes bright, always fascinating, this music seduces"
— Charlélie Arnaud – ROCKHARD Magazine
"MOLYBARON RAISE THE BAR"
— Le PARISIEN – France
"Sometimes dark, sometimes bright, always fascinating, this music seduces."
ROCKHARD MAGAZINE
MOLYBARON – Twenty Four Hours (Featuring Whitfield Crane)
MOLYBARON are an alternative metal band with roots in Ireland and France. They take their cues from the powerful melodic sounds that influence them: from Alter Bridge, Mastodon, Therapy? through to Muse.
The band's three latest singles, Lucifer, Twenty Four Hours (feat. Whitfield Crane) and Something For The Pain, have gained over 1.3 million streams on Spotify.
MOLYBARON arrived on the scene in mid 2017, with the release of their eponymous debut album. On its release, the album was widely praised by critics. 'RockHard' magazine named MOLYBARON 'Best Discovery Act of 2017'.
In a short time, the band have played many notable concerts, including the legendary Elysée Montmartre in Paris, Metal Days Festival, Slovenia and a thirteen date European tour with A Pale Horse Named Death (ex Type O Negative) in late 2019.
– STAY TUNED FOR MORE INFO ON MOLYBARON'S ALBUM SOON AND CHECK OUT THEIR RECENT SINGLES NOW –
MOLYBARON is
Gary Kelly (vocals and guitar)
Steven Andre (guitar)
Sebastien De Saint-Angel (Bass)
Camille Greneron (drums)
MOLYBARON ONLINE
FACEBOOK
TWITTER
INSTAGRAM
YOUTUBE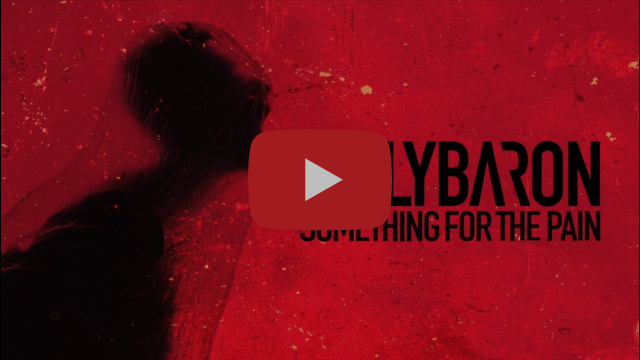 MOLYBARON – Something For The Pain