The US black metal scene is full of surprises. Just when you least expect it, comes a band with fresh ideas and remarkable execution. California-based Imperialist are one such band. Check out No Clean Singing's stellar premiere of their new song AT THIS LINK.
"The melodies in the song also evolve, rising and falling with a mood of implacable bleakness, shimmering in a way that's both melancholy and poisonous, and shivering the skin through long, dismal reverberations."
– "greatest kind of metal music available" – Independent Voice (UK) 5/5
– "an exceptional album" – The Metal Wanderlust (US) 4.5/5
– "immediately gratifying" – Grizzly Butts (US) 4.5/5 
– "riveting" – No Clean Singing (US)
– "a great Black Metal soundtrack" – Trvefrykt Zine (Germany)
– "a juggernaut" – Toilet ov Hell (US) Premiere
– "a must have" – The Dirty Room (US) 
– "a very remarkable debut" – Broken Tomb (Spain) 8/10 
– "An impressive offering" – Heavy Blog Is Heavy (US) Premiere
– "classy, vicious black metal" – Head-banger Reviews (US)
– "a great album" – The Doorway To (US)
– "powerful" – Black Metal Ist Krieg (Italy)
– "really enjoyable" – Nattskog (UK) 
– "beautiful" – Rock'n'Load (UK) 8/10
– "very impressed" – Metal Bulletin (US) 
IMPERIALIST (US) – 'Cipher' (October 20th, 2018)
> LP Box Set
> Gatefold LP
> Digipak CD Box Set
> 8-Panel Digipak CD
> Merch
> Digital 
Genre – Black Metal
Release Date – October 20th, 2018
Record Label – Transcending Obscurity Records (India)
For fans of – Dissection, Thulcandra, Uada, Vektor, Sacramentum, Sathanas, Aura Noir, Necrophobic
US black metal band Imperialist have conjured up a brilliant sci-fi themed album that stands out both conceptually as well as musically. Rooted in the early Swedish black metal sound of luminaries like Necrophobic, Dissection and Sacramentum,Imperialist hone it up further to suit their futuristic theme by adding touches of thrash metal without diluting the rich aura. 'Cipher' is backed by a visually stunning artwork by Adam Burke (Vektor, Lurk) that extends into a continuous two-panel work depicting the grand theme. It's rare to find bands that have a bold vision and at the same time creating the perfect blend for music that is at once atavistic and forward-thinking. This is one of the finest examples of meticulously written black metal counterbalancing aggression with melodies and thrashy sections.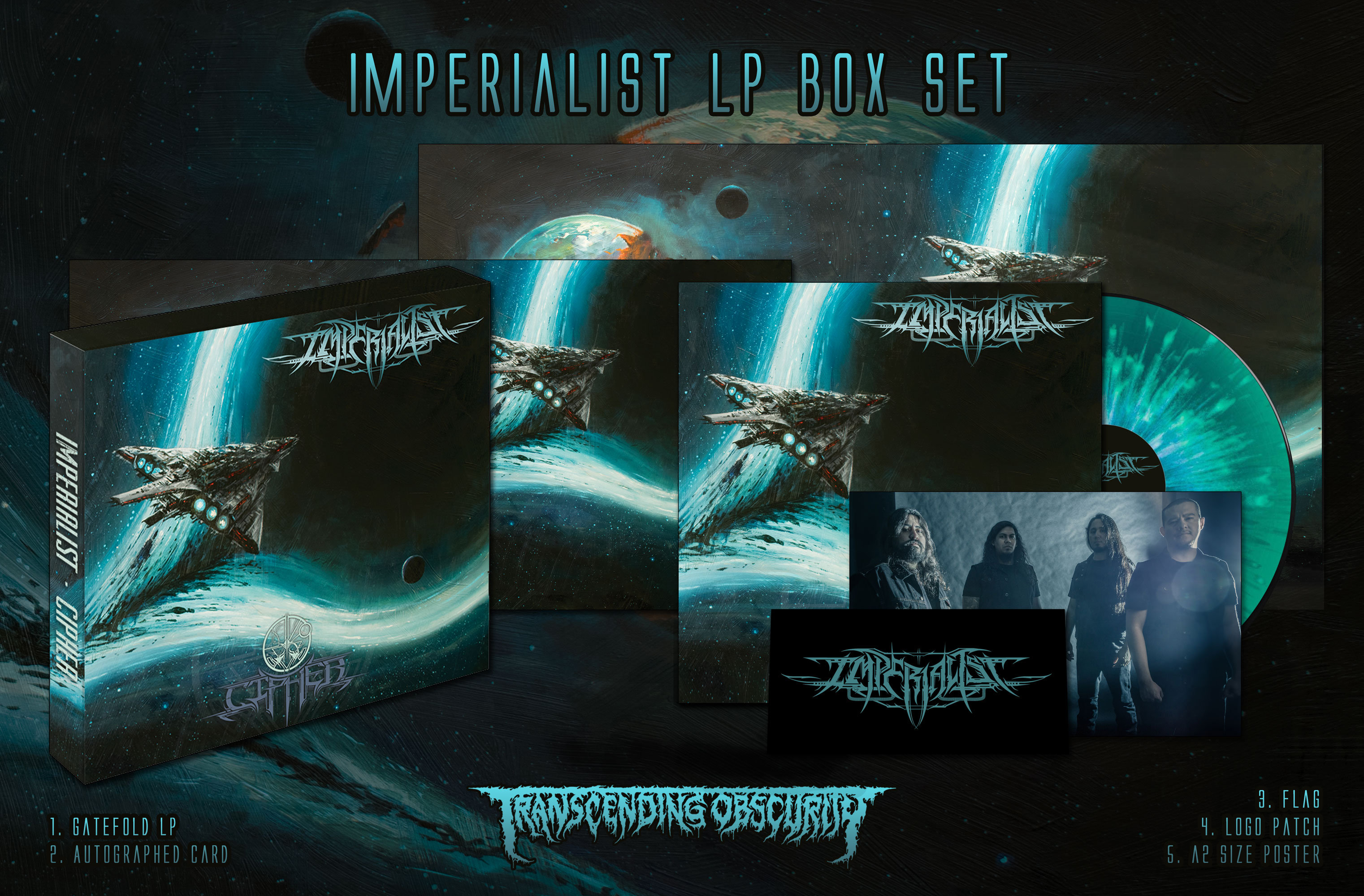 Band lineup – 
Sergio Soto – Guitar & Vocals
Rod Quinones – Drums
Bryant Quinones – Guitar
Joshua Alvarez – Bass
Album artwork – Adam Burke (Lurk, Vektor, Loss)
Art design and LP layout – Francesco Gemelli (Master, Towards Atlantis Lights)
Track listing – 
1. Continuum
2. The Singularity
3. Advent Anathema
4. Splendor Beneath An Ancient Permafrost
5. Umbra Tempest
6. Chronochasm
7. Binary Coalescence
8. The Dark Below
9. Mercurian Dusk
Transcending Obscurity Official Site
Transcending Obscurity Records Facebook
Official Transcending Obscurity YouTube Channel
Transcending Obscurity Records 
Official Site –  Facebook – Bandcamp (main) – YouTube Channel
[youtube https://www.youtube.com/watch?v=jO4Hwg1F8Ds]