"LET'S MAKE THE WORLD ROCK" – LONDON'S NEON ANIMAL RELEASE A NEW VIDEO SHOT DURING LONDON'S LOCKDOWN 
London rockers Neon Animal, the band responsible for the critically acclaimed "Bring Back Rock 'N' Roll From The Dead" (Cargo Records, 2018) and their latest effort "Make No Mistake" (Cargo Records, 2020) have just released a new video/single entitled "Let's Make The World Rock".
The video was shot during London's lockdown on a beautiful summer day around Central London with the band taking advantage of the city's empty streets, using many famous landmarks as props. To fight the current state of separation, in the spirit of Rock 'n' Roll's inclusiveness, the band invited some musician friends from all over the globe, movers and shakers who have contributed with footage from all around the world. Guests include Vicky Hamilton – former manager of Guns & Roses & Mötley Crüe and author of "Appetite For Dysfunction" – and musicians from various other Rock 'n' Roll acts such as Warrior Soul, Jizzy Pearl's Love/Hate, The City Kids, The Last Vegas, amongst many others.
You can watch "Let's Make The World Rock" now by clicking here.
More about Neon Animal's second album "Make No Mistake", released June 2020:
Last May, Neon Animal released "Rock 'n' Roll War", the first single & video out of the band's second album "Make No Mistake".
"Rock 'n' Roll War" showcases Neon Animal's new incarnation as a novel Rock 'n' Roll machine, setting the tone to a more sophisticated and diverse album than their garagy, straight up punk rock 'n' roll debut.
Heavier, dirtier, loaded with textures & with added progressive touches, "Make No Mistake" presents 9 new tracks that explore the sex, the drugs & the rock 'n' roll endeavours of the London unit & its decadent entourage, whilst the band blatantly exhorts the genre's tradition with no regards for the politically correctness of the current times.
"Make No Mistake" was produced by Miguel Martins & recorded in London & Porto between 2018-2019. The album was Mastered by John Davis at Metropolis Studios, London.
The album will be released worldwide on June the 26th on vinyl, CD & digital formats by Cargo Records.
"Bring Back Rock 'n' Roll From The Dead" [LP]
"Songs that sound like they were made to melt jukeboxes" – Classic Rock Magazine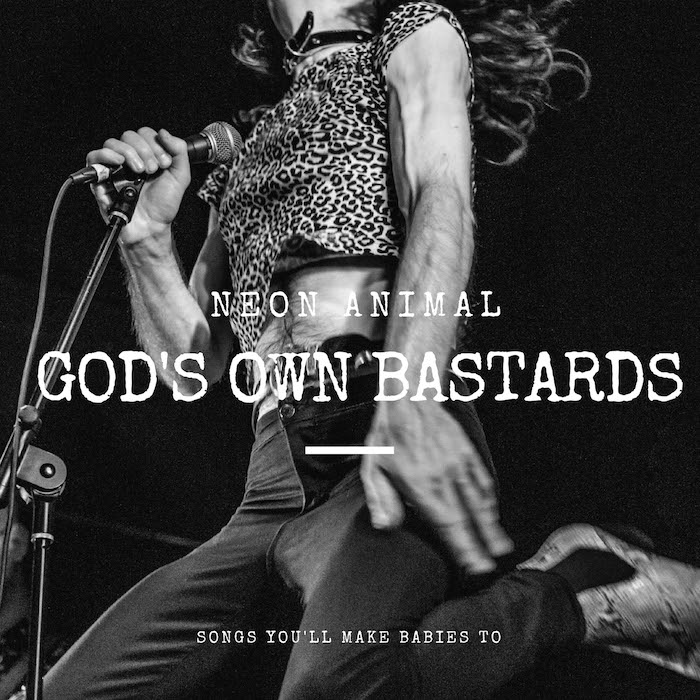 "God's Own Bastards" [EP] [Cargo Records, 2018]
"A riotous celebration of the spirit of rock " roll" – Vive Le Rock Magazine