NECK DEEP release new single 'When You Know'
NEW ALBUM 'ALL DISTORTIONS ARE INTENTIONAL' IS OUT JULY 24TH ON HOPELESS RECORDS
Neck Deep have today released, 'When You Know', the second single from their highly-anticipated fourth album, 'All Distortions Are Intentional', set for release on July 24th on Hopeless Records.
After the current COVID-19 crisis derailed the band's plans for the song's music video shoot, the band took to the internet to ask fans, friends and fellow artists to help them create a one-of-a-kind lyric video for the track.
Speaking of the track, singer Ben Barlow says, "When You Know is about realising you're in love. The old saying "when you know, you know" was in my mind with this one."
"In the timeline of ADAI this is where Jett realises, after a wild night out, and another night talking about how they see the world and realising they share similar feelings, that he is in love with Alice," reveals Barlow. "The mutual feeling of not belonging, the difficulties of their day to day lives and battling their inner insecurities, yet now having each other to ease the pain and giving a sense of purpose is the key take-away from this song. It's a pretty straight up summer love song, but one that's mega catchy and feel good – a stark contrast to some of the more emotionally heavy songs on the record."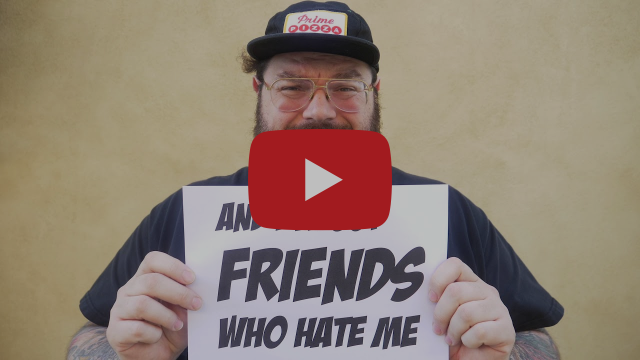 NECK DEEP – 'When You Know' (Official Music Video)
The Wrexham based quintet recently announced their fourth album, alongside a six date UK headline tour that boasts two nights in Manchester and Glasgow, at the o2 Victoria Warehouse and Barrowland Ballroom respectively, a show in their native Wales at Cardiff's Motorpoint Arena, before culminating at London's Alexandra Palace.
Full dates for the tour are below:
SEPTEMBER
12: MANCHESTER o2 Victoria Warehouse
13: MANCHESTER o2 Victoria Warehouse
15: GLASGOW Barrowland Ballroom
16: GLASGOW Barrowland Ballroom
18: CARDIFF Motorpoint Arena
19: LONDON Alexandra Palace
Tickets on sale now:
https://www.livenation.co.uk/artist/neck-deep-tickets
On the heels of the trio of records that turned them from underground heroes to breakout stars, All Distortions Are Intentional is the biggest and boldest step yet in the creative evolution of Neck Deep.
No mere collection of songs, All Distortions Are Intentional is conceptually rich, with themes of disconnection, existential confusion, and the search for meaning. The album tells the story of a loner named Jett, who lives in a place dubbed Sonderland, a combination of "Wonderland" and the somewhat obscure word "sonder": the realisation that each random passerby is living a life as vivid and complex as your own, with their own ambitions and worries. "It's that strange existential realisation that you are not the entire world," explains singer Ben Barlow. "Everyone around you feels and lives the same way that you do. You're just an extra in their story."
The aforementioned concept was born following the writing of lead single 'Lowlife', which welcomes fans into Sonderland alongside Jett and Alice. Jett feels disconnected and disillusioned, until he falls in love with Alice. But even this new relationship brings its challenges; Jett is a victim of limerence – the only thing he loves about the world is this person. The songs explore Alice's view of Jett, as well, as a story unfolds that is ultimately about the importance of meaning and purpose for each and every individual.
As Barlow shares, "Modern music is so much based around 'the single' and writing a record isn't held in nearly the same regard as it used to be. All Distortions Are Intentional presents a whole story, where there is meaning from every angle of it," the singer continues. "All of our records have their themes, but I wanted to create characters, scenes, a world, and have it mean something in the real world, too."
Although the songs on All Distortions Are Intentional are told through the lenses of characters, they are also uniquely reflective of the lives that each member of Neck Deep has lived. "Writing 'Lowlife', it was like I was tapping into this part of my own personality, my own psyche" shares Barlow.
To create ADAI, Neck Deep enlisted the talents of Grammy nominated A-List producer, Matt Squire (Panic! At The Disco, Ariana Grande, One Direction), and tucked themselves away at the world famous residential studio, Monnow Valley (a recording home for the likes of Oasis, Led Zeppelin and Queen in the past), in the gorgeous but remote Wye Valley in the heart of the band's native Wales. The decision to create the album 'at home' was an important one; on the eve of what's certain to be Neck Deep's greatest exposure to the world yet, it's a grateful and decisive acknowledgment of where they've come from, both literally and figuratively.
Moreover, ADAI marks an epiphany of true self-belief for its creators: "Everyone wants to be seen as good at what they do, as creative, interesting, ambitious," Ben asserts; "That's what we wanted, for people to see that we are more than just some guys in a band. We truly lived and breathed this album, and wove unique perspectives, storytelling, and ideas into its fabric. We have crafted a sound that is ours, it is totally, unapologetically Neck Deep."
All Distortions Are Intentional is the follow up to 2017's, 'The Peace And The Panic', a transatlantic Top 5 album.
All Distortions Are Intentional Track Listing
1. Sonderland
2. Fall
3. Lowlife
4. Telling Stories
5. When You Know
6. Quarry
7. Sick Joke
8. What Took You So Long?
9. Empty House
10. Little Dove
11. I Revolve (Around You)
12. Pushing Daisies
Neck Deep is:
Ben Barlow – Vocals
Matt West – Guitar
Sam Bowden – Guitar
Seb Barlow – Bass
Dani Washington – Drums