MEMPHIS MAY FIRE
SHARE VIDEO FOR NEW SONG "BLEED ME DRY" — WATCH + LISTEN
BAND TOURING WITH BREAKING BENJAMIN + PAPA ROACH
THIS SEPTEMBER IN THE USA
MEMPHIS MAY FIRE 
MEMPHIS MAY FIRE — Matty Mullins (vocals), Kellen McGregor (guitar), Cory Elder (bass), and Jake Garland (drums) — have spent the past few months dropping banger after banger and thrilling fans with each subsequent song and video. The band closes out the summer with the video for new single "Bleed Me Dry." It's a full on riff fest, backed by unforgettable melodic firepower.

Watch the video here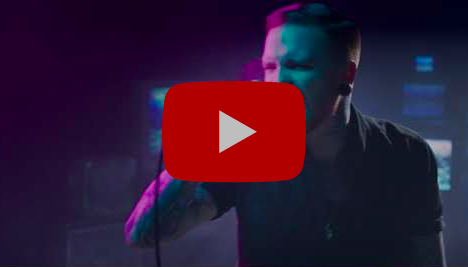 "Our third single of the year, 'Bleed Me Dry,' is my favorite yet," explains Mullins. "It's an anthem for anyone feeling beaten down by the negative voices around them. We're so excited to announce that we will be donating 100% of the proceeds from the 'In Your Eyes' tee in our online merch store to one of our favorite non-profits — Heart Support! Every year, Heart Support helps men and women brave their wounds, find purpose, and discover healing. I am so stoked for everyone to hear this song and get involved with a great cause!"
"Bleed Me Dry" follows the one-two punch of the explosive tracks "Blood & Water" and "Death Inside," all of which have been released via longtime label Rise Records. The former is one of the fastest growing hits of the Memphis May Fire's career, accompanied by a powerful video while cruising onto the SiriusXM Octane airwaves. Revolver called it a "return to form" and noted that the song boasted an "absurdly melodic lead lick that cuts through the chugging breakdowns like a hot knife on butter." Meanwhile, the latter will remind fans of the band's sonic heft and is evidence of why Memphis May Fire have remained one of the scene's standouts.
Together, the two new tracks have accumulated over 10 million streams combined across platforms.
Memphis May Fire will hit the road this September, supporting Breaking Benjamin and Papa Roach for a run of East Coast shows. All dates are below.
MEMPHIS MAY FIRE TOUR DATES:
WITH BREAKING BENJAMIN + PAPA ROACH
9/11 — Gilford, NH — Bank of New Hampshire Pavillion
9/12 — Montclair, NJ — The Wellmont Theater
9/14 — Columbus, OH — Express Live!
9/15 — Toledo, OH — Huntington Center
9/17 — Uncasville, CT — Mohegan Sun Arena
9/18 — Scranton, PA — The Pavillion at Montage Mountain
9/21 — Youngstown, OH — Covelli Centre
9/22 — Hutnington, WV — Mountain Health Arena
Over the course of their career, Memphis May Fire have channeled a generation's worth of angst, frustration, and pain, with a focused blend of gigantic melodic hooks and crushing aggression. Even after topping Billboard's Hard Music Albums chart, having an album debut at No. 4 on the Billboard Top 200, and breaking into radio's Active Rock Top 20, Memphis May Fire refuse to sacrifice who they are or the people who made them.

A new season unfolds for the band, and it's filled with revitalisation and renewal. Stripping things down to their core elements, hearkening back to the days when they created the music their fans most cherish, Memphis May Fire rekindled the spark within to build an inferno of riffs and inspirational words. They have returned to their roots with the seasoned polish earned through years of touring and making music together. "Blood & Water" is proof positive of this fact.

Memphis May Fire have toured with a vast list of important rock and metal acts that include Killswitch Engage, Sleeping With Sirens, Black Veil Brides, Sevendust, and Atreyu. They've co-headlined with Yellowcard and The Devil Wears Prada, regularly appeared on Warped Tour, and at major rock festivals. The band's previous six albums' continued relevance is a testament to the energiSed connectivity between the band and their audience. Songs like "Miles Away," "No Ordinary Love," "Beneath the Skin," and "Carry On" account for 100 million views and millions of streams.

Expect more anthems for the broken and beyond from Memphis May Fire in due course.