PRESS RELEASE MASCOT LABEL GROUP/PLAYERS CLUB

Marty Friedman
New Album  'Tokyo Jukebox 3' Out Now via The Players ClubFriedman Originals & Takes On J-Pop hits including '"Grunge" (From Netflix's Demon Slayer), DA Pump, Momoiro Clover Z, Sekai No Owari and more.
You can listen to the full album via Spotify HERE
Embed code:

Marty Friedman – Tokyo Jukebox 3 OUT NOW!
Marty Friedman's new studio album Tokyo Jukebox 3  is released today via The Players Club / Mascot Label Group.
The record is the third in a series that began with Tokyo Jukebox in 2009, and then Tokyo Jukebox 2 following in 2011.  The trilogy presents Friedman's inspired performances to Japanese repertoire he's chosen to cover.  Friedman has also included "The Perfect World," which he wrote, recorded and originally released in 2018. This is the only track on the album with vocals.  He reflects, "Back then I did the song with Jean-Ken Johnny from Man With A Mission on vocals, and that was used as the main theme for the Netflix series B: The Beginning. On the day of release, the song went straight to the top of the Japanese iTunes chart." This recording is a new, fresh interpretation with Alfakyun, one of Japan's premier female J-Pop singers performing the vocals. As Friedman offers, "It's really a self-cover, so it fits in with the idea of this being a covers album."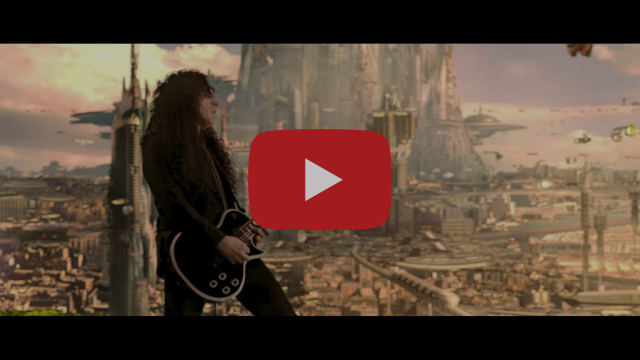 Marty Friedman (ft. Alfakyun) – The Perfect World 
Marty Friedman – Makenaide (Official Video)
Friedman has also included "Japan Heritage Theme Song," another of his own compositions on which he worked with the Tokyo Philharmonic orchestra. He reflects, "I was asked by the Japanese government to compose an official song to be played at government sponsored events which celebrate Japanese heritage. This was a huge honor, and it was wonderful to be able to work with such a prestigious orchestra which, rather conveniently, my wife plays cello in. Doing this was a little different from what I am used to, because instead of playing a completed track to record company people I had to face Japanese government officials. I recall looking at their stony faces after they heard it and sweating anxiously awaiting their reaction. Thankfully, they liked what I'd done. I felt this was a great, uplifting way to close the album."
On 'Jukebox 3', Friedman takes J-Pop hits and offers his own charismatic interpretations of contemporary repertoire that includes LiSA's "Gurenge" and Official Hige Dandism's "Shukumei," alongside Da Pump's dance track "U.S.A.," Sekai No Owari's ballad "Sazanka," and the vocaloid hit "Senbonzakura." Japanese old school standards, Zard's "Makenaide" and Every Little Things's "Time Goes By" are also given Marty`s modern overhaul to round out the album's track list to cover the full scope of his take on the Japanese music scene.  In closing Friedman offers, "I am so happy with the way this turned out. And I am also grateful for how it's been received so far. The reaction has been fantastic. It was joyful and cathartic to record, and I am delighted it's now giving people such a fun diversion."
Much of the recording process was done at Power House Studios in Tokyo, with Friedman, who was also the producer on the project, joined by bassist Kiyoshi and drummer Anup Sastry.  The recording process started in January, 2020 and the mixing was handled by Jens Bogren at his own Fascination Studios in Sweden. He's a resource Friedman has the utmost confidence in offering, "Jens has mixed my last three albums and he's one of the best in the business. He knows what I want, and I know he'll get it for me."
The latest incarnation of Marty Friedman`s long-selling signature model guitar, Jackson`s MF-1, will be released this month. It is a brand-new Purple Cracked Mirror model, with a stunning design and ultramodern construction.  For more information click here
1. Makenaide
2. Senbonzakura
3. Gurenge
4. Kaze Ga Fuiteiru
5. Echo
6. The Perfect World (ft. Alfakyun)
7. U.S.A.
8. Shukumei
9. Ikuze Kaitou-Shoujo
10. Sazanka
11. Time Goes By
12. Japan Heritage Official Theme Song
ABOUT MARTY FRIEDMAN
Marty Friedman`s presence in the world of music, the world of guitar, and Japanese pop culture is mystifying, bizarre, and nothing short of inspiring.  Born in Washington D.C., Friedman first gained attention with the band Cacophony, which he founded with equally enigmatic and now legendary guitarist, Jason Becker. They released two highly acclaimed albums and then he was recruited by Megadeth in 1990, appearing over the next decade on some of the most influential metal albums of all time. His breath-taking range and distinctly unorthodox musical contributions to Rust In Peace, Countdown To Extinction and all Megadeth multi-platinum albums (Youthanasia, Cryptic Writings, Hidden Treasures and Risk) and world tours until his departure in 2000 made him an icon, as well as helped propel Megadeth to its peak.  Over the next two decades, Friedman's contributions to music are nothing short of prolific.Since 2003, Friedman has lived in Tokyo where he has become a household name, even beyond the world of music. He's appeared on over 700 Japanese TV shows of every variety, as well as motion pictures and commercials. He was also recently appointed an Ambassador of Japan Heritage by the Japanese Government. At the same time, he continued releasing his solo albums and touring them worldwide.