LE BUTCHERETTES + DEATH VALLEY GIRLS ANNOUNCE SPLIT RELEASE
Two new songs are out today on digital formats and will be released on 7inch format February 11th via Suicide Squeeze Records. // Listen to both songs now.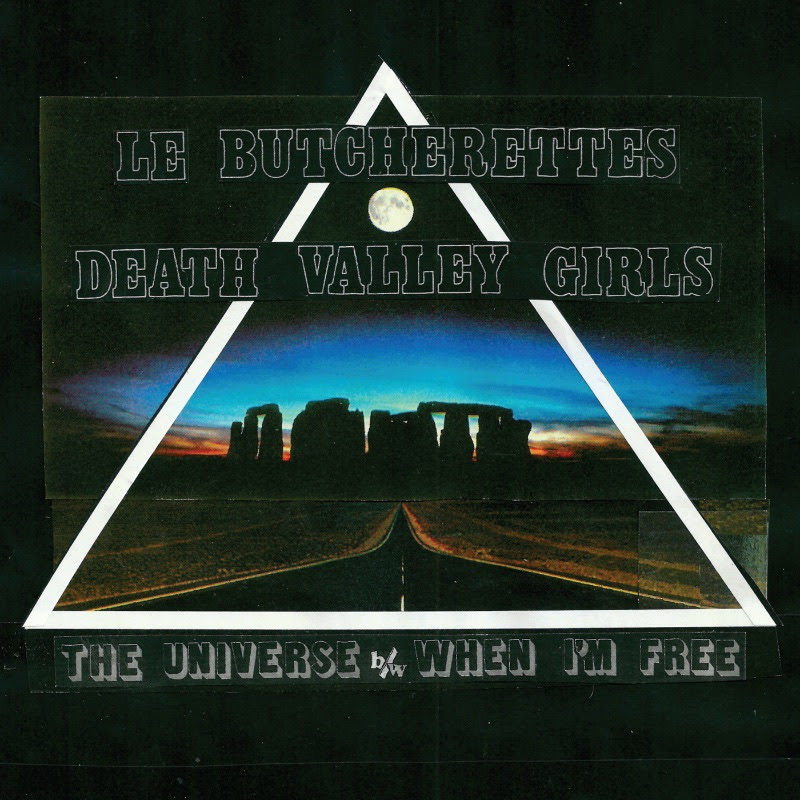 Today, Suicide Squeeze Records are excited to release a new split 7″ with a cover track from Le Butcherettes and a brand new song from Death Valley Girls. The two-song EP is out today on digital formats and will be released on 7inch on February 11th (pre-order here).
Speaking about the release, Teri Gender Bender of Le Butcherettes said "I'm such a huge admirer of Death Valley Girls, so I was touched and surprised when they came up with the idea of doing a split vinyl together. Immediately I knew I wanted to cover one of my favorite songs of theirs, 'The Universe,' in support of their brilliant new single, 'When I'm Free.' A true honor to be a part of their EP!" 
Bonnie Bloomgarden of Death Valley Girls also commented "We've talked a lot about trauma, mental health, and how hard it is to live in a human body! One concept that has really been helping during the daily struggle is the perspective shift – that things aren't 'happening to me,' they're 'happening for me.' Sometimes if you can, squint your eyes, alter your view, try to see experiences as opportunities to learn and grow! Sometimes that's the best we can do!"
Listen (+ share) to Le Butcherettes "The Universe" on YouTube & Death Valley Girls "When I'm Free" on YouTube.
Is there a better pairing of kindred spirits than a split seven-inch single featuring Le Butcherettes and Death Valley Girls? We're hard pressed to think of one. Sure, the interaction is fleeting, but damn is it satisfying. We've got Le Butcherettes on side A taking on one of Death Valley Girls' most cosmic numbers, the kaleidoscopic centerpiece from Under the Spell of Joy album, "The Universe." Le Butcherettes' fearless and charismatic mastermind Teri Gender Bender takes the tune into even trippier territories, replicating the original song's sonic tapestry of synth, sax, and guitars with layer upon layer of vocals. Only the sparse accompaniment of acoustic guitar and modest percussion keeps the song from being fully a capella. It's a perfect interpretation of Death Valley Girls' communal and choral aims.
On side B, Death Valley Girls offer up a new tune—the deliciously ecstatic "When I'm Free." Like every great Death Valley Girls song, it's a celebration of life bolstered by fiery rock n' roll riffage, spiritual organ, dizzying sax, and Bonnie Bloomgarden's defiant and triumphant vocals.
Suicide Squeeze Records is proud to offer up this meeting of mystical minds on vinyl and digital platforms. The one-time vinyl pressing is limited to 1000 copies (700 on Space Junk Splatter, 300 on Inner Ascension) and will be available on February 11th, 2022.  Pre-orders are available here and both tracks are streaming on digital service providers now.
Le Butcherettes press photo (Credit: Robin Laananen):
Death Valley Girls press photo (Credit: The Little Ghost/Kelsey Hart):