LAWSON'S BRAND NEW SINGLE 'KILLING ME' FEAT. ALYSSA BONAGURA OUT NOW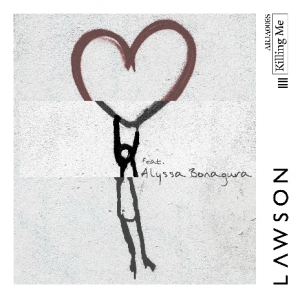 LONDON, UK. –  Hot on the heels of their successful comeback after over 1 million album sales on their debut, Lawson have returned with a fast rollout of singles in the past few months. 'Killing Me' now showcases the strengths in their softer side with an acoustic duet featuring Alyssa Bonagura, who wrote and originally recorded the song for her album Love Hard.
Back in 2015 Lawson finally achieved their country music dream of recording "Perspective" their follow up to debut album "Chapman Square" out in Nashville, TN. They were introduced to singer/songwriter and Nashville native Alyssa Bonagura seven years ago through producer John Fields. Now a frequent collaborator and co-producer on the track, Alyssa sung backing vocals on Love & War, Rio and many others so it only seemed right after all these years to duet with her officially. 'Killing Me' is about falling deeply in love after being without for so long and how unbearable the intensity of that feeling is.
'Killing Me' comes ahead of Lawson's new album CMD Z due for release on July 2nd 2021 (pre-order here) & the band's first UK tour in six years – tickets here:
25 Oct – Sheffield Leadmill
26 Oct – Nottingham Rescue Rooms
28 Oct – Leeds Uni Stylus
29 Oct – Manchester Academy 2
30 Oct – Birmingham O2 Institute
1 Nov – Norwich Waterfront
2 Nov – Oxford O2 Academy
4 Nov – Bristol Trinity
5 Nov – Brighton Concorde
6 Nov – London Shepherd's Bush Empire
With the absence of live touring, the band have produced two livestreams via Veeps, with Alyssa Bonagura appearing with them on their Christmas livestream of last year.
Previous single 'Animals' gained Radio 2 playlisting and coverage on Metro, The Sun & The Daily Star, as well as support from ITV2/ITV4, whilst first single 'Lovers' in April had a stunning video which went straight to Number One in the iTunes video chart. Previous single 'She Don't Even Know' was also added to Fresh Pop on Spotify & Fresh & Chilled Pop on Deezer as well as New Music Daily on Apple Music.
Lawson – completed by Joel Peat (guitar), Ryan Fletcher (bass) and Adam Pitts (drums) – reunited from their hiatus in 2018 to headline a show at Shepherd's Bush Empire, which sold-out in a matter of minutes. Still the best of friends, the reaction they received inspired them to start a new chapter in their career. As Andy recalls fondly, "I think the look on people's faces and the fun we all had together that night made us realise how much we love and miss our fans and each other. We have all been busy with different things the past few years but it felt like now was the perfect time to get back in the studio and just enjoy making music together again."
That return gathered even more pace when they shared the tongue-in-cheek documentary 'Lawson – Where Are They Now?'. A playful parody of the music doc, the video featured guests including Robbie Williams, Rick Astley and Radio 1's Scott Mills, and quickly started trending on Twitter.
Four years is a long time in music, but Lawson's absence has produced a mature, refined and exciting new sound. Newly signed to Cooking Vinyl, they're set to add to a career which has already encompassed 50 million streams at Spotify and 100 million views at YouTube.
Follow Lawson: Spotify / Apple Music / YouTube / Instagram / Facebook / Twitter / Website
ABOUT ALYSSA BONAGURA:
At 33 years old, Nashville native & multi-instrumentalist Alyssa Bonagura has become a songwriting seamstress and producer for a number of artists. Born on a tour bus with her country music parents Baillie & The Boys, she started singing at the age of 2, recorded a duet with Kenny Rogers at 11, and had her first opening tour with Marty Stuart at age 16.
Alyssa got her diploma in 2009 from Sir Paul McCartney in Liverpool where she studied sound technology and production at LIPA. In her time at college she started making her way through the British music scene, playing shows with Ringo Starr and landing a slot on the acoustic stage at Glastonbury. Robin Gibb called her "A future star in the making."
Her song 'I Make My Own Sunshine' (John Fields Remix) was featured in a 2012 nationwide Lowe's (US) commercial and uplifted hearts around America; and her solo album Road Less Traveled was named one of iTunes top country albums of 2016. Rolling Stone has called her "A fixture on Nashville's indie singer-songwriter scene."
A former member of The Sisterhood Band with Ruby Stewart, the duo were signed to Sony Records Nashville and toured the world together for the last five years opening for Rod Stewart, Steven Tyler, Sheryl Crow and Gary Clark Jr. She's had Billboard #1 songs for artists Jessie James Decker & Steven Tyler, and has collaborated with Lawson, Patrick Droney, Jana Kramer, Hunter Hayes and many more. Alyssa is currently working on a new solo project set for release in 2021. http://www.alyssabonagura.com/