FRONTIERS MUSIC
NEW ALBUMS RELEASED 02.06.17 
THE FERRYMEN – 'The Ferrymen'
Audio: 'Ferryman'  http://bit.ly/2rIrlwT
Lyric Video: 'Still Standing Up'  http://bit.ly/2pV4B99
JORN – 'Life On Death Road'
Video: 'Life On Death Road'  http://bit.ly/2srBniv
Video: 'Love Is The Remedy'  http://bit.ly/2rf1ZFv
Lyric Video: 'Man Of The 80's'  http://bit.ly/2pa6m5y
RADIATION ROMEOS – 'Radiation Romeos'
Video: 'Radiation Romeos'  http://bit.ly/2rICDRR
Audio: 'Castaways'  http://bit.ly/2shzJ3x
Video: 'Ocean Drive'  http://bit.ly/2pa5MEU
Audio: 'Like An Arrow'  http://bit.ly/2qWi4gm
SECRET SPHERE – 'The Nature Of Time'
Lyric video: 'Courage'  http://bit.ly/2rY7Y2S
Audio: 'Faith'  http://bit.ly/2pUgq1e
DGM – 'Passing Stages : Live In Milan And Atlanta'
Video: 'Trust'  http://bit.ly/2qEsvFJ
PRIMAL FEAR – 'Angels Of Mercy : Live In Germany'
Video: 'The End Is Near'  http://bit.ly/2qJBMLY
Video: 'Metal Is Forever'  http://bit.ly/2pjYNV7
June 2017 releases promo video :  http://bit.ly/2qE7a3h
NEW ALBUM RELEASES OUT 07.07.17
MR. BIG – 'Defying Gravity'
Recorded in Los Angeles in under a week, the boundless result of the undoubted musical talent within 
Mr. Big is 'Defying Gravity, the group's ninth original studio album and the follow-up to 2014's 'The Stories
We Could Tell'. Original members Eric Martin (lead vocals), Paul Gilbert (guitars), Billy Sheehan (bass) and
Pat Torpey (drums) reunited with producer Kevin Elson (who also helmed the band''s 1989 self-titled debut,
1991''s 'Lean Into It' and 1993''s 'Bump Ahead') for an intensive six day recording session in LA. Torpey was
unable to perform on some songs due to a recent diagnosis of Parkinson's disease, with Matt Starr filling in
for him. ""It was great to get back in the studio with our original producer"," says guitarist Paul Gilbert. ""Kevin
Elson recorded all of our classic albums from the '80's and '90's, and we immediately felt that magic chemistry
with him on this new record. We basically played live in the studio. Over the years, we''ve all had a chance to
experiment with every recording technique possible, but it''s still always the best just to play together as a band.
Most of my guitar solos were tracked live with the band. I''ve worked hard on my improvisation in the last few
years and it really paid off on this record, both melodically and on the face-melting stuff."" Mr. Big is currently
gearing up for the launch of their latest worldwide tour, which will include UK dates in the autumn.
Audio: '1992'  http://bit.ly/2qHbg9i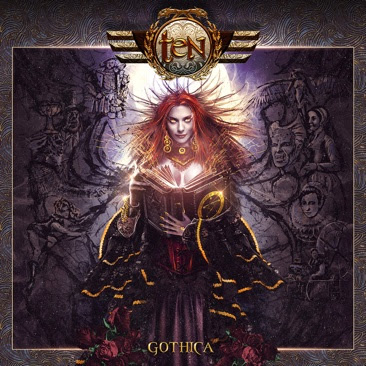 TEN – 'Gothica'
One of the best and most consistent melodic hard rock bands around, 'Gothica' is full of the trademark 
textures and flavours that fans have come to expect during TEN's two decade plus career. It is also their
darkest album to date. 'Gothic' is cinematic in every sense, embracing history, romance and erotic horror
in equal measure. As listeners, we are transported from the darker side of human nature to the nocturnal
supernatural, a dramatic realm of nightmares and the forbidden. A web of musically elaborate spells,
evoking embers that spark the imagination courtesy of the classic songwriting of vocalist Gary Hughes.
Following the artistically successful albums 'Albion' and 'Isla De Muerta', Hughes is joined again by
guitarists Dann Rosingana, Steve Grocott and John Halliwell along with bassist Steve McKenna,
keyboard maestro Darrel Treece-Birch and drummer Max Yates. On this third outing as a collective unit,
they have raised the bar on a record that is packed with stunning musicianship over which Hughes'
rich vocals bring the nuances of his intricate lyrics to life. 'Gothica' is produced by Hughes and mixed 
and mastered by Dennis Ward. It also features stunning artwork by Stan W. Decker.
Audio: 'Paragon'  http://bit.ly/2srYYiS
RIVERDOGS – 'California' 
Original Riverdogs members Rob Lamothe (vocals, guitars), Nick Brophy (bass, vocals) and Vivian Campbell 
(lead guitar), plus long time drummer Marc Danzeisen, have reunited to record their fifth album, 'California'.
Mixing the soulful vocals of Lamothe with the edgy guitar work of Campbell and solid rhythmic lines of Brophy
and Danzeisen, it marks a definitive return to the sound of their critically acclaimed 1990 self-titled debut album.
Riverdogs formed in Los Angeles at the end of the 80's, when flashy, glitzy hard rock ruled the day, but the
group were determined to avoid clichés and adopted an original sounding blues rock style. Vivian Campbell of
Sweet Savage, Dio and Whitesnake fame (at the time) was initially brought on board to produce the band's first
demo but was so impressed that he actually became a member and played on the debut album, with Marc
Danzeisen joining Rob, Nick and Vivian to complete the line-up shortly after its release. Although the record
was warmly received, record label politics led to the band splitting, with Campbell joining Def Leppard and
Brophy becoming a respected producer and engineer. Two records were released in 1993 with a reformed
line-up ('Bone' and 'Absolutely Live'), before the group went on an extended hiatus. The original line-up
reconvened in 2003 to record new demos and play a few reunion shows, but it wasn't until 2011 that a full
studio record, 'World Gone Mad', was completed and released. Now, six years on, Riverdogs have crafted 
'California', an album that truly recreates the magical sounds of their early days and will be welcomed with
open arms by their fans.
Audio: 'Welcome To The New Disaster'  http://bit.ly/2rf0LKy
ALL 41 – 'World's Best Hope'
All 41 is a brand new project very close to the heart of each of the four musicians involved in it. With none other 
than Terry Brock (Giant, Strangeways) on lead vocals, Robert Berry (Three, Alliance) on bass and lead vocals,
Gary Pihl (Boston, Sammy Hagar, Alliance) on guitar and Matt Starr (Ace Frehley, Mr. Big) on drums, All 41 is
born of passion and fire. Musically, the quartet gel incredibly well and have produced a superb debut release
that mixes the most melodic moments of  Mr. Big with the more keyboard-laden years of Van Halen along with
obvious nods to Strangeways and Alliance. The dual lead vocals are also a plus point for this wonderful record,
not to mention the excellent production job by Alessandro Del Vecchio that highlights unforgettable melodies.
This is an AOR highlight of the year!
Video: 'After The Rain'  http://bit.ly/2ro5MPi
GRAHAM BONNET BAND – 'Live…Here Comes The Night'
Legendary rock vocalist Graham Bonnet is back with a new live album and video captured at his (and his 
band's) acclaimed performance at the 3rd edition of the annual Frontiers Rock Festival in April 2016.
Accompanied by musicians Beth-Ami Heavenstone on bass, South American guitar sensation Conrado
Pesinato and Mark Zonder (Warlord, Fates Warning) on drums, Bonnet delivered a thrilling 'Best Of' set
that included songs from his stints with Rainbow, MSG, Alcatraz, Impellitteri and his own solo material.
Bonnet says : "It has been a very long time since I last released a live video, 33 years to be exact (with
Alcatrazz). Myself and the band were very excited to film and record this performance and we are very
happy with the final result!" Bonnet has a powerful and distinctive vocal style and has always preferred to
let his music do the talking. The Graham Bonnet Band has spent the last two years touring regularly
around the world and released a successful new studio album, 'The Book', in November 2016.
Video: 'Jet To Jet'  http://bit.ly/2qEPGnp
NEW ALBUM RELEASES OUT 04.08.17
QUIET RIOT – Road Rage
THE NIGHTS – The Nights  
WORLD TRADE – Unify
KRYPTONITE – Kryptonite
CIRCUS MAXIMUS – Havoc : Live In Oslo
UK TOUR DATES JUNE & JULY 2017
DIRTY THRILLS
01.06.17 BRIGHTON Sticky Mikes Frog Bar (w/Slydigs)
03.06.17 LONDON Camden Rocks Festival (9pm Be At One)
04.06.17 GUILDFORD Boiler Room (w/Slydigs)
05.06.17 MILTON KEYNES Craufurd Arms (w/Slydigs)
24.06.17 WILSTON Wildfire Festival
25.06.17 BIGGAR Wiston Lodge
29.07.17 MAIDSTONE Ramblin' Man Fair (Grooverider Stage)
GRAHAM BONNET BAND
23.07.17 SKEGNESS Suncastle
24.07.17 BRISTOL Bierkeller
25.07.17 SWANSEA Sin City
26.07.17 YORK Fibbers
27.07.17 BILSTON Robin 2
28.07.17 MAIDSTONE Ramblin' Man Fair (Friday At The Fair)
29.07.17 PENTRICH Rock And Blues Festival
30.07.17 BUCKLEY Tivoli
VEGA
23.07.17 GLOUCESTERSHIRE Amplified Festival
FM
28.07.17 NUNEATON Queens Hall
29.07.17 PENTRICH Rock And Blues Festival