LAKE MALICE's new single 'Bloodbath' rails against abusive, controlling relationships and the trauma they inflict:
Watch the music video  |  Streaming
Festival appearances including Download and 2000trees coming up,
as well as support slots with Vukovi and Vended
"Lake Malice are the UK's most exciting new alt.metal band." – Kerrang!
"They are destined to be the talk of the town. Dark, chaotic and devilishly fun, they ebb and flow between techno breaks and towering heaviness." – Metal Hammer

"The sound of British heaviness to come." – Rock Sound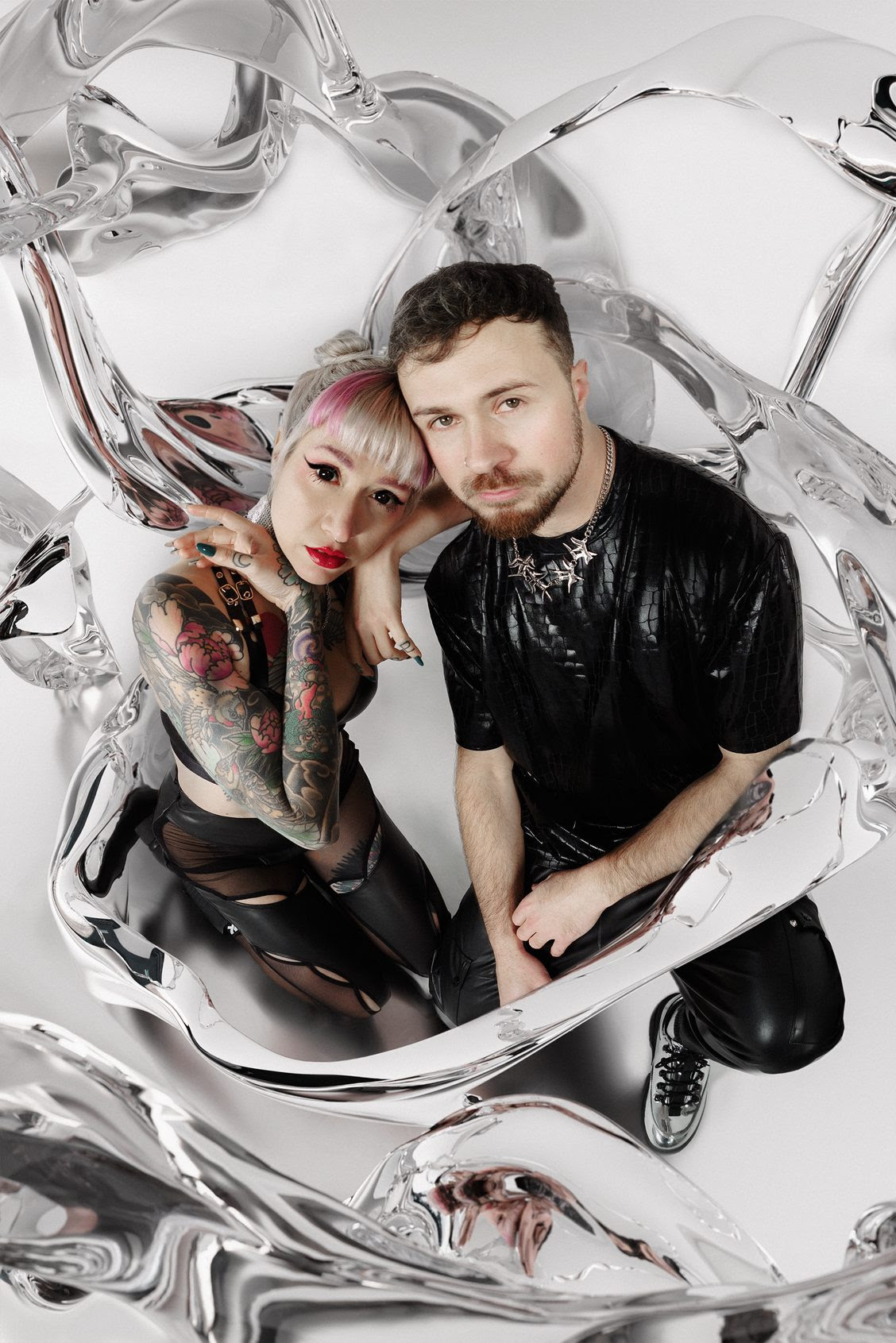 Lake Malice continue their streak of innovatively heavy alt-anthems with new single 'Bloodbath' which is self-released by the Brighton-based duo today. 'Bloodbath' is lyrically descriptive of abusive and controlling relationships, acting as a rallying cry against being stuck in that spiral of abuse. Vocalist Alice Guala says "Bloodbath carries a potent message about the perils of abusive relationships and explores the painful and all too common experience of feeling trapped with a controlling partner. This song is an anthem for anyone who has ever felt trapped and alone."
Alice shifts seamlessly between pure soaring melodies and guttural screams as she flexes her vocal prowess throughout 'Bloodbath'. This duality is mirrored in the music video which glitches between two different Alices and takes inspiration from cyberpunk classics like 'Blade Runner' and 'The Fifth Element'.
Lake Malice's guitarist Blake Cornwall produced the track and it was mixed by Carl Bown (While She Sleeps, Sleep Token, Bring Me The Horizon) and mastered by Ste Kerry (Malevolence, Charlie Simpson, Kele) with the video crafted by Loki Films (Architects, Skindred, Lorna Shore).
'Bloodbath' is the follow-up to Lake Malice's recent rager 'Stop The Party' and its 'The Last of Us' inspired, zombie-riddled music video. 'Stop The Party' has been spun on BBC Radio 1 and Kerrang! Radio, as well as receiving attention from the likes of Kerrang! online and Metal Hammer, to name but a few supporters to date. The band's splicing of hyperpop and metal has also earned them two nominations at the Heavy Music Awards in the 'Best UK Breakthrough Artist' and 'Best Breakthrough Live Artist' categories.
Lake Malice have hit the ground touring in 2023, recently supporting Bloodywood across Europe and the UK (to rave reviews) and playing at The Great Escape just this week. They're also lined up to take the stage at various festivals this summer, including Download and 2000trees. And they'll be supporting Vukovi and Vended on their respective forthcoming UK dates.
Lake Malice Live:
20 May Submit Fest Rotterdam, NL
23 May Waterfront Norwich, UK supporting Vukovi
24 May Moles Bath, UK        supporting Vukovi
25 May Craufurd Arms Milton Keynes, UK supporting Vukovi
10 June Download Festival Donington, UK
19 June Engine Rooms Southampton, UK supporting Vended
20 June The Fleece Bristol, UK supporting Vended
21 June Rebellion        Manchester, UK supporting Vended
22 June The Dome London, UK supporting Vended
06 July 2000trees Festival Cheltenham, UK
30 July Radar Festival Manchester, UK
09 Sept Burn It Down Festival Torquay, UK
Connect with Lake Malice: