L7
Announces Limited Edition "Cooler Than Mars"
Specialty Artwork Flexi Disc 4-Pack
+ Digital Single, out Sept 12
"Cooler Than Mars" flexi disc 4-pack pre-order
"IN YOUR SPACE" US Fall Tour 
Kicks Off Sept 14 in Asbury Park, NJ
Tour dates + tickets here
L7 Experience tickets  here
"L7 return as a bloodthirsty gang … and live up to their legacy." – Rolling Stone
"It proves that a few years haven't dampened this band's ferocity and attitude." – LA Weekly
"the seasoned rockers at their most confident, fun, and pissed off as ever." – Revolver Magazine
"The members of L7 clearly haven't lost any of their snarling grunge spirit" – Paste
"Expect the unexpected from L7" – Las Vegas Weekly
"Both [Punk Rock Bowling] sets solidified "Shit List" as one of the best punk anthems of all time." – Grammy.com
"They sound as vibrant as ever with a potent blend of grunge, metal and garage-rock, combining scuzzy guitars, pounding rhythms, deadpan vocals and catchy song hooks." – KEXP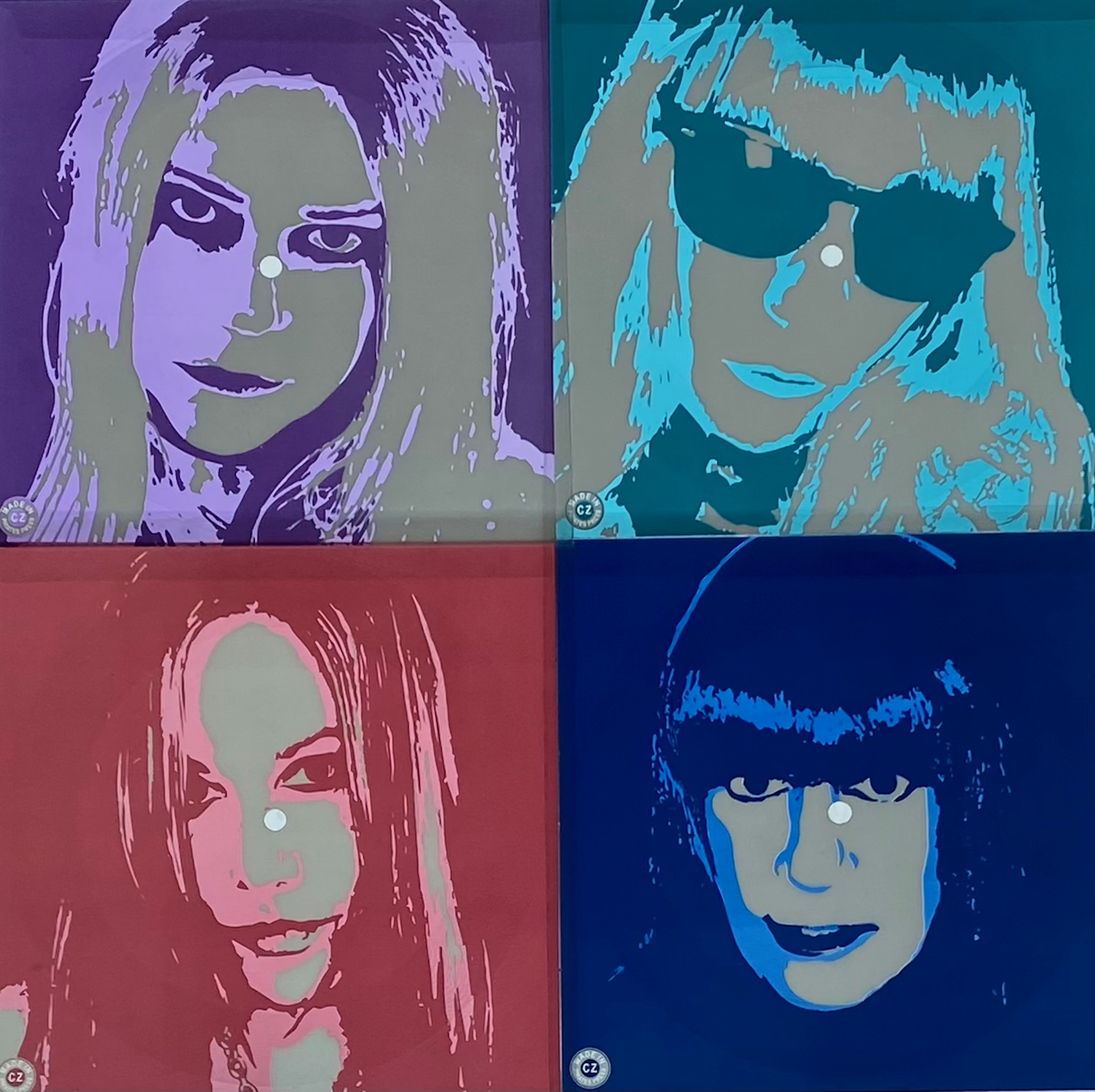 "Cooler Than Mars" flexi disc specialty art 
Clockwise from upper left: Donita Sparks, Suzi Gardner, Dee Plakas, Jennifer Finch
Today, L7 have launched a pre-order for their forthcoming limited edition "Cooler Than Mars" 4-pack flexi disc single due out on September 12. This keepsake will be the song's only physical release and strictly limited to a run of 1000 and features specialty artwork of the band members on flexible vinyl. The song will also be made available as a digital single that day.
"Cooler Than Mars" 4-pack flexi disc single pre-order
In addition to being a vibrant art piece, everyone who purchases the 4 pack will receive a free month's subscription to the Official L7 Fan Club due to launch Oct 1. Members will enjoy exclusive content, ephemera, behind the scenes video of the band on tour, monthly Q&As and more. It'll also kick off with a contest, calling for fan photo submissions with their flexi discs. All will be featured in the first month's launch when the band will also choose one winner to receive a limited edition signed skate deck in collaboration with GIRL Skateboards and VIP Guest list for 2 to any show, anywhere in the world, they play in 2023-2024!
L7 will kick off the "IN YOUR SPACE" US tour on September 14, which includes stops at Louder Than Life and Aftershock festivals. Following their blistering performance at Punk Rock Bowling in Las Vegas and their highly successful 2022 Bricks Are Heavy 30th Anniversary tour, the band is excited to tear it up at some intimate stages for a rib-rattling, IN YOUR FACE night of rock & roll. The "Cooler Than Mars" 4-pack flexi disc single will also be included as part of a 15 capacity/show L7 Experience VIP tour package, which also includes the Fan Club subscription, VIP access to soundcheck for 1 full song, photo op, early re-entry and early access to merch.
"The energy and vibe that smaller venues allow is something that we always want to stay connected to," Donita Sparks shares, "and with a new single coming soon, we can't wait to see our crowd up close and in the flesh."
"Cooler Than Mars" single artwork 
North American Tour Dates – Tickets
9/14: Asbury Park, NJ @ The Wonder Bar
9/16: Boston, MA @ Brighton Music Hall
9/17: New York, NY @ Gramercy Hall
9/18: Washington, DC @ Black Cat
9/21: Louisville, KY @ Louder Than Life Festival
10/2: Los Angeles, CA @ Venice West
10/3: San Diego, CA @ House of Blues
10/5: Sacramento, CA @ Aftershock Festival
10/7: Pioneertown, CA @ Pappy & Harriet's
Facebook | Twitter | Instagram | Website
Bandcamp | Spotify | Apple Music | YouTube