PRESS RELEASE MASCOT LABEL GROUP/PLAYERS CLUB
JOSEPH WILLIAMS
REVEALS NEW VIDEO FOR "WILMA FINGADOUX" FROM UPCOMING NEW STUDIO ALBUM DENIZEN TENANT
OUT FEBRUARY 26, 2021Recording Features Special Vocal Appearances By Williams' Daughters Ray Williams and Hannah Ruick – Ruick Appears In In The Accompanying Music Video Produced and Self-Directed By Williams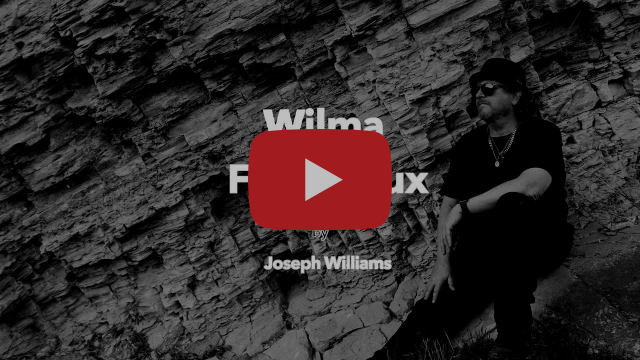 Joseph Williams – Wilma Fingadoux (Official Video)
Joseph Williams and The Players Club / Mascot Label Group present "Wilma Fingadoux," the third track released from his upcoming new studio album, Denizen Tenant out February 26. The accompanying video was self-produced and directed by Williams and you can watch it here
Talking about the song, he offers, "' Wilma Fingadoux' is the latest in a long line of musical messages, songs and poems to my mother who died at the age of 41. I was 13 years old. This song is a reflection of the painful yet wonderful place in my memory where I can speak to her.  Also singing with me are my daughters Hannah Ruick and Ray Williams. Their voices, their presence, makes me so proud of my beautiful girls and their unparalleled talent. And I feel relief also because in this way they too can speak to her through music the way I always have. My mom had such a sharp sense of humour. The title of the song is the punch line of one of my favourite jokes she used to tell…she taught me how to feel funny deep inside! This lyric is my release letter.  Miss you Momma! Xojoe." Steve Lukather and Joseph Williams will both release new records simultaneously later this month.
Williams has previously revealed the videos for  "Never Saw You Coming." and Liberty Man.
Joseph Williams – Liberty Man (Official Video)
Joseph Williams – Never Saw You Coming (Official Video)
Joseph Williams' Denizen Tenant was self-produced outside of "Black Dahlia" and "No Lessons" which were arranged and produced by Jay Gruska and mixed by Dave Way. The musicians and singers who made contributions in the studio read like a who's who of players that have been in the artist's life over the past four decades. Amongst these contributors are band-mates from Toto David Paich and Steve Lukather. Simon Phillips, Leland Sklar, Lenny Castro, Nathan East, all of whom enjoyed tenures in Toto are also featured players on the album. Additional contributions include performances by Oscar Bugarin, Jay Gruska, Mike Landau, Barbara Gruska, Steve Overton, Dylan Ronan, Hannah Ruick, Steve Tavaloni, Weston Wilson, Ray Williams, and Mark T. Williams.
The album was produced and mixed at Digbyroad Studios, Sherman Oaks, CA.  Denizen Tenant features a dozen new recordings. Amongst these are a cover of The Beatles "If I Fell," which Williams cites as the one specific song that taught him about the power of harmonies and vocal arrangements. On Peter Gabriel's "Don't Give Up," a very special guest performance is featured in his daughter Hannah laying down a vocal track. You can see full liner notes here.
ABOUT JOSEPH WILLIAMS
At age fifteen, Williams began his career as a radio and television commercial singer.  Joseph also achieved success as a television and film composer in the late 90's and early 2000's.  He fronted Toto as a lead vocalist from 1986 to 1988 and was featured on the albums Fahrenheit (1986) and The Seventh One (1988).  He also appeared on the 2006 release Falling in Between, sharing lead vocals with Luke on "Bottom of Your Soul."  In 2010 he returned to the band, becoming frontman and lead vocalist, a tenure that continues through today.  He has released ten solo albums and is an Emmy Award-nominated film composer. His career as a session vocalist has placed his voice indelibly in pop culture through the dozens of performances in the medium of film, amongst which is his role as the adult Simba on The Lion King. William's voice is featured on "Hakuna Matata" alongside "Can You Feel The Love Tonight."  He is the son of film composer John Williams and actress Barbera Ruick.
Track Listing
1. Never Saw You Coming
2. Liberty Man
3. Denizen Tenant
4. Wilma Fingadoux
5. Black Dahlia (feat. David Paich)
6. Don't Give Up (feat. Hannah Ruick)
7. The Dream
8. Remember Her (feat Steve Lukather)
9. No Lessons
10. Mistress Winter's Jump
11. If I Fell (feat Steve Lukather)
12. World Broken