"Bubbling with frustration but cut with a The 1975-like lust for life" NME
"Every one of Hot Milk's moves has felt like a serious statement" Kerrang!
"One of the most exciting new rock acts around" Music Week
"Their singles have coupled indelible melodies with ferocious power" The Guardian
Manchester, UK – HOT MILK are back with another rousing single  "Teenage Runaways", out now on Music For Nations.
"We've been running from the norm our whole bloody lives" says Han Mee,  "being in a band 'n living the way we want never went down well with our families and we got so much stick for even daring to want more from life. this song is about the fact we ran away n never bloody stopped."
Listen to the track HERE or Watch the video HERE /below: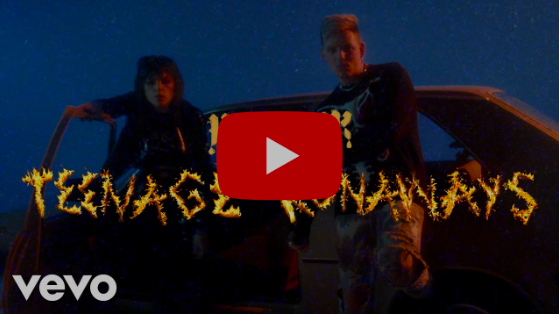 The band are currently taking the US by storm on their first headline tour.  They have already played across 8 cities to packed out crowds, cementing their position as one of the UK's most exciting bands.
______________________
Telling a story of tearaways, delinquents and being the King & Queen of their own dark underworld, fighting the patriarchy.  Hot Milk deliver that infectious rage that can only come from being the outcasts and now are taking back control to create a movement of their own with forthcoming EP "The King And Queen Of Gasoline" – produced by Hot Milk is out 5th August 2022 on Music For Nations.
The six track EP follows on from 2019's " Are You Feeling Alive?' and 2021's "I JUST WANNA KNOW THAT HAPPENS WHEN I'M DEAD" which not only garnered 30 million streams, it propelled them into the spotlight with both critical acclaim and winning tours with the Foo Fighters, The Band Camino, Pale Waves and more.
 
"The King And Queen Of Gasoline " EP creates a storyline of overcoming resistance from control, whether its parental or relationships that have evoked feelings of being stifled and judged.  These themes are threaded within the music which has become a lifeline to the band.
"We wanted to personify this feeling of oppression and give it a face, the bunny cult you'll see visually throughout the record gives us something to rage at."  says Jim Shaw.
"The record has come straight from our veins, written and produced by us in a bedroom in Salford" says Han Mee.  "This has been a labour of love, almost hate and therapy all in one.  Through this record we want to create n intentional space where liberation and the ability to be free of expectation can be lived. We are the King and Queen Of Gasoline.  The best at nearly ruining it all, fucking up and everything nearly going up in flames.
The King And Queen Of Gasoline EP Tracklisting
The King And Queen Of Gasoline
Teenage Runaways
Fell In Love With Someone That I Shouldn't Have
Bad Influence
The Secret To Saying Goodbye
Chloroform/Nightmares
Previous single 'Bad Influence'

The King and Queen of Gasoline comes on CD, white opaque vinyl, and a limited edition translucent red vinyl available exclusively through the band's store.
HOT MILK will be playing headline shows in the USA and EU/UK all summer
Remaining headline US Tour dates
May 22nd- Globe Hall, Denver
May 24th – Moroccan Lounge, Los Angeles
May 25th – Chain Reaction, California
May 27th – So What Music Festival, Texas
May 28th – Bottlerock, Sacramento
May 29th – Napa, California
UK + EU festivals
June 3rd – Slam Dunk Festival, Leeds
June 4th – Slam Dunk Festival, Hatfield
June 9th – Nova Rock, Austria
June 11th – Robot, Budapest Hungary
June 13th – Kulturquartier, Stuttgart Germany
June 15th – Rock For People, Czech Republic
June 17th – Exil, Zurich Switzerland
June 18th – Southside Festival, Germany
June 19th – Hurricane Festival, Germany
June 21st – Feierwerk (Kranhalle), Munich Germany
June 22nd – Artheater, Cologne Germany
June 23rd – 1.999, Paris France
June 25th – Jera On air, Netherlands
June 27th – Engine Rooms, Southampton
June 28th – Empire, Coventry
June 29th – o2 Academy 2, Liverpool
HOT MILK ARE:
Han Mee-vocals/guitar . Jim Shaw- vocals/guitar
Tom Paton-bass . Harry Deller-drums
The King And Queen Of Gasoline is out 5th August 2022- HERE