The news of a new Hollywood Undead live stream was just what I needed to take away from the lack of sunshine we've had the past week. Streaming at midnight EST on the 01 May it was also a great way to start the bank holiday weekend. Signing in to the stream which was also available for 72 hours after it started, I couldn't help but feel a sense of excitement. Hollywood Undead are one of those bands who you either get or don't and for me, I have been following them since their debut album Swan Songs. Having only managed to catch them live once, the intimacy of live streams seemed the perfect way to watch these guys play my favourite songs and to learn more about them.
See The Official Trailer Here
The first thing to mention is how laid back and down to earth each of the guys is as they sit down or drive around while discussing each of the tracks chosen for the performance. After each song played, the video jumps to Charlie Scene, Danny, Johnny 3 Tears, J-Dog and Funnyman individually chatting about the process of where the songs come from. It's easy to just sit back and enjoy and the music however it doesn't appear out of thin air and it's always really interesting to find out just what inspired a certain track, especially those as interesting as the ones written by this band. As the stream changes back to the performance, another aspect that was really interesting is being able to see who performs each part of the song. Hollywood Undead are unique in their mix of rock and rap style and each released song features several parts to them but you rarely wonder which member of the band is responsible for which part. Watching the stream and being up close with the band, it was interesting to see the range of Charlie's raps and the diversity in Danny's vocals as he sings the choruses. It's also worth noting just how talented this band is, as the songs change and each member steps up to perform their part, they swap and change playing the guitar parts with so much ease showing a multi-skilled group.
The highlight of the performance however has to the acoustic section the guys perform in the middle which features a string quartet. It's this which makes hearing "Bullet" being performed live so incredibly special. We're also treated to a performance of "Rain" and a cover of Credence Clearwater Revivals "Have You Ever Seen The Rain?" as part of their unplugged set. It's a calming change from the fast-paced and high energy the rest of the performance gives us.
For almost 2 hours, Hollywood Undead gave us a rundown of some of their biggest hits and fan favourites from "Dead Bite" to "Comin' in Hot" to "Undead". Spanning across their entire back catalogue, the guys provided us with a party getting you up and dancing around while also giving us a step closer to discovering the people who have provided us with over a decade of music. As live music starts to come around again in the upcoming months, I hope that live streams remain as an intimate way to see our favourite bands perform and learn more about them in this special way.
Emmie Ellis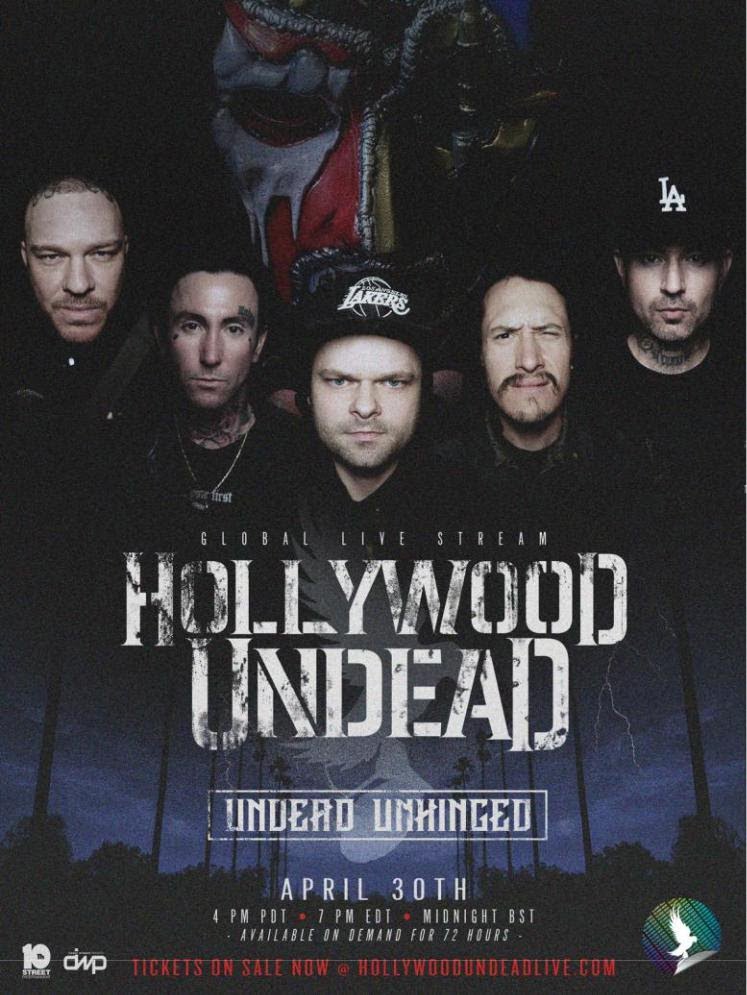 About Hollywood Undead: Formed in 2005, Hollywood Undead inched towards mainstream dominance under the radar with unprecedented success for a modern band. Preceding the current playlist-hopping genre-less boom, they defied stylistic boundaries from day one. Integrating rap, rock, and electronic, the seminal 2008 debut Swan Songs went platinum. 2011's gold-selling American Tragedy bowed at #4 on the Billboard Top 200 with Notes from the Underground soaring to #2 in 2013. Day of the Dead [2015] and Five [2017] brought the group's total streams past 1 billion and New Empire Vol 1. seeing their combined streams across Spotify and YouTube hit a staggering 2 billion. Along the way, they sold out tours on four continents and garnered acclaim courtesy of Rolling Stone, Billboard, Consequence of Sound, Alternative Press, Revolver, and more.
About Danny Wimmer Presents: Since 1993, music industry veteran Danny Wimmer has been producing concerts and festivals, both large and small. In 2011, he formed Danny Wimmer Presents, which now produces several of the largest rock and alternative festivals in the U.S. By combining A-list talent with local cuisine and culture, DWP has become recognized within the industry for delivering the highest-quality entertainment experiences to fans, artists, sponsors, partners and host cities. DWP creates memorable and all-encompassing festival experiences, leaving both consumers and partners with lasting and meaningful impressions. DWP will continue to add new music festivals to its already stellar portfolio, which currently includes Aftershock, Bourbon & Beyond, Epicenter, Hometown Rising, Louder Than Life, Sonic Temple Art + Music Festival, and Welcome To Rockville. Previous DWP festivals include Rock On The Range, Carolina Rebellion, Northern Invasion and more. In 2020, DWP launched the popular digital series Offstage with DWP and ventured into the digital content curation space, promoting pay-per-view live streams.
www.DannyWimmerPresents.com
Twitter.com/DannyWimmerPres
Facebook.com/Dannywimmerpresents
Instagram.com/Dannywimmerpresents
HOLLYWOOD UNDEAD // UNDEAD UNHINGED // LIVESTREAM REVIEW