GLOO announce UK TOUR DATES
New album 'HOW NOT TO BE HAPPY'
Set for release 27TH AUGUST 2021 via HASSLE RECORDS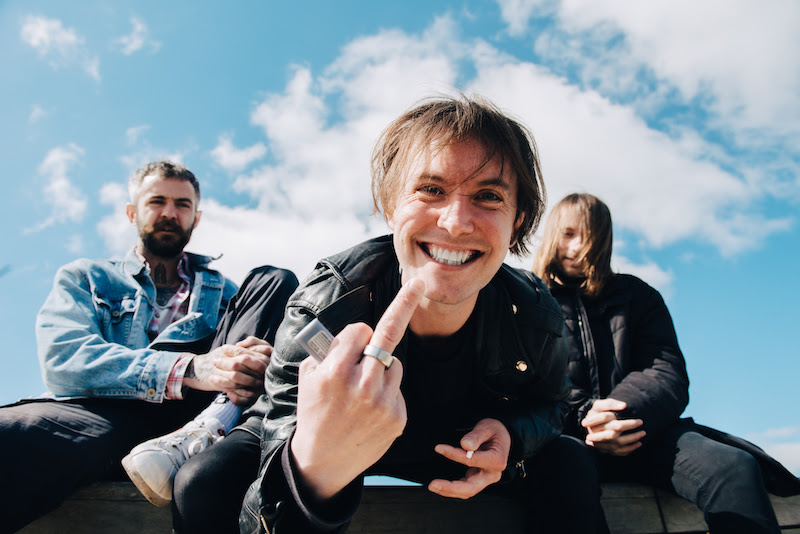 Gloo High-Res HERE
South-coast 3 piece indie-punks GLOO have announced a run of UK tour dates in support of their their highly anticipated sophomore album 'HOW NOT TO BE HAPPY' (set for release 27th August 2021 through the beloved UK independent, Hassle Records.) Fans can pick up tickets HERE.
Speaking on their triumphant return to the live circuit "Are we in a dream? Gigs are back and that means tours are back too?" exclaims GLOO frontman Thomas Harfield. "I don't know if we're either going to explode from excitement or be frozen in shock… but we'll be there, van broken down or not. We're so absolutely buzzing to get back out on the road again and to play to humans…"
Reflecting on the imminent release of their new album 'HOW NOT TO BE HAPPY' Thomas adds "We've only been able to show people the album in headphones or by watching our videos because of the lockdown restrictions, but that's only half of it. These songs deserve to be seen, played loud and with plenty of drinks and flashing lights to get the full story… and we can't wait to share it with you this summer."
CLICK THE IMAGE BELOW TO CHECK OUT 'RIDE'
'HOW NOT TO BE HAPPY' packs 10 tracks of escapism that reflect the drudgery of the everyday but seek to shrug it off over the course of a thirty-minute blur of power-pop, post-grunge and punk rock. The album was recorded with producer Jag Jago (The Maccabees, Jamie T, The Ghost Of A Thousand) across the summer of 2020, in-between local lockdowns, travel bans and COVID restrictions.
MORE ON GLOO
Formed in 2017 by brothers Thomas (vocals/guitar) and Mark Harfield (drums) – the three-piece's line-up minted soon after by the addition of bassist and Tom's old school friend Simon Keet – GLOO, it's important to understand, are not in the business of serious rock 'n' roll. No, that can be left to the po-faced for whom being in a band seems more chore than enjoyment. Being raised on listening to AC/DC in your dad's car will shape your view of music in such a way. Growing up in a place such as Littlehampton, a faded seaside town on England's south coast 20 miles east of Brighton and a world away from London's bright lights, instils a certain appreciation for life's simple things. But if we're not here for a long time, we might as well have a good time, right?
GLOO's debut album 'A Pathetic Youth' and subsequent 'Stop And Stare' EP laid down the musical blueprint for the band, echoing the likes of Nirvana, Dinosaur Jr, Husker Du and Sugar – three-pieces who similarly preached of the power in the purity of when guitar, bass and drums collide – and earned support from the likes of Spotify, Radio 1 (Dan P. Carter, Jack Saunders and Huw Stephens) and Kerrang!. The band's high-octane live shows, meanwhile, won fans the old-fashioned way via support slots with Press Club, Queen Kwong and Demob Happy, and appearances at festivals including 2000Trees and The Great Escape.The lessons learned during those years have all coalesced into shaping not only How Not To Be Happy's sound – a more melodic, looser, slacker GLOO – but also its spirit.
Be sure to check out the band live at one of the following dates.
August
27th – Edge By The Sea, Littlehampton (album release show)
September
3rd – The Hobbit, Southampton
4th – Soma Festival, London
15th – Bloc+, Glasgow
16th – Little Buildings, Newcastle
17th – Play Brew Taproom, Middlesborough
18th – Sunflower Lounge, Birmingham
21st – The Factory Live, Worthing
27th – The Malt Shovel, Horsham
29th – Green Door Store, Brighton
30th – Whiskers, Newquay
October
1st – Apple and Parrot, Torquay
7th – The Jacaranda, Liverpool
8th – Satan's Hollow, Manchester
9th – The Lanes, Bristol
PURCHASE TICKETS HERE 

HIGH-RES ARTWORK HERE
–
'HOW NOT TO BE HAPPY' TRACKLISTING 
1. I Can't Hear Myself Think
2. Ride
3. Work So Hard
4. No One Give's A Fuck
5. Swimming In Your Sea
6. Take The Piss
7. Down 
8. Permanent
9. Big Smoke 
10. Rizla
GLOO: 
Thomas Harfield – guitar & vox / Mark Harfield – drums & vox / Simon Keet – bass & vox