FRONTIERS MUSIC
UK NEWSLETTER 
OCTOBER 2019 
NEW ALBUMS RELEASED 13.09.19
THE DEFIANTS – Zokusho
CRASHDIET – Rust
BLOCK BUSTER – Losing Gravity
KXM – Circle Of Dolls
SASCHA PAETH'S MASTERS OF CEREMONY –
Signs Of Wings
NEW ALBUM RELEASES OUT 11.10.19
VANDEN PLAS
The Ghost Xperiment : Awakening
This new album from the German progressive metal masters is part one of a two part concept
project and is based on an actual documented paranormal experiment. The ninth studio release by
the quintet, Vanden Plas once again offers up a perfect combination of heavy and melodic styles,
albeit with the orchestral arrangements less to the fore in comparison to their previous album and the
band returning closer to its roots via progressive elements heard in songs such as 'The God Thing'
or 'Far Off Grace'. Overall, the six lengthy tracks achieve an impressive and fascinating effect via
band-oriented arrangements, so that the clear, intense urgency of the songs shines through naturally.
The listener is captivated from the start by the epic songs and the storytelling. A product of the band's
trusted collaborations with Markus Teske at Bazement Studios, 'The Ghost Xperiment : Awakening'
is a phenomenal album that yet again proves why Vanden Plas are among prog metal's elite class.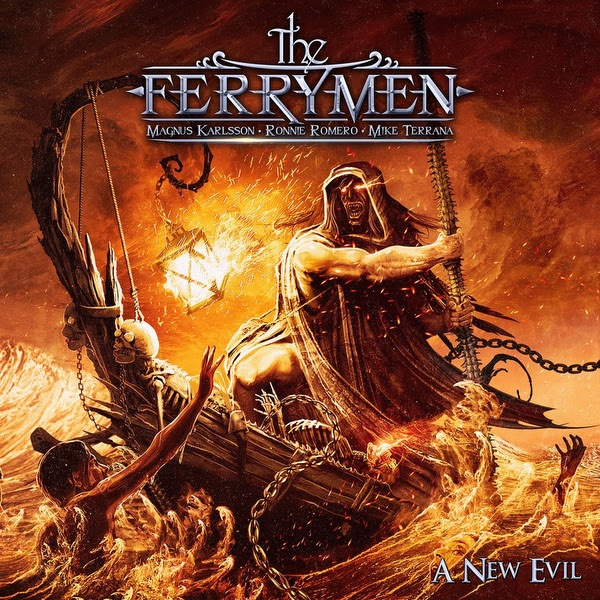 THE FERRYMEN
A New Evil
Having released a self-titled debut album 2017 that took fans of European melodic metal by surprise,
The Ferrymen return with its follow-up. With songwriting handled by ace Swedish guitarist Magnus
Karlsson (Primal Fear, Magnus Karlsson's Free Fall), awesome vocals by the Chilean-born singer
Ronnie Romero (Rainbow, CoreLeoni), and drummer Mike Terrana (Rage, Axel Rudi Pell, and more)
bringing the thunder, the trio take the classic heavy metal sound and combine it with even heavier and
updated songwriting textures and arrangements. A shot of adrenaline for all lovers of melodic heavy
metal, listeners can expect very heavy melodic metal fusing the songwriting and epic structures of the
much praised early Allen/Lande records (of which Karlsson was the main architect) with the Dio-esque
vocal approach of Romero. Having been hand-picked by the legendary guitarist Richie Blackmore to be
the lead vocalist for Rainbow's recent reunion shows, the Dio comparison is more than accurate. With
stunning artwork courtesy of Stan W. Decker and an outstanding mix courtesy of Jacob Hansen (Volbeat,
Pretty Maids etc.), this album will take the world of metal by storm.
MICHAEL SWEET
Ten
Stryper front man Michael Sweet's most intense solo release to date, 'Ten' showcases a full plate of hard
rock and classic metal riffs from start to finish and clearly proves that he is still at the very top of his
game. Says Sweet : "It's called 'Ten' because it's my tenth album, and because there is a title track on
there about the Ten Commandments, a really powerful song. There's real heavy stuff. It starts kind of
smacking you in the face and it ends kicking you in the gut." An array of guest musicians include singer
Todd La Torre (Queensrÿche), drummer Will Hunt (Evanescence), bassist John O'Boyle, and guitarists
Joel Hoekstra (Whitesnake, Night Ranger), Jeff Loomis (Arch Enemy, Nevermore), Marzi Montazeri
(Exhorder, Philip H. Anselmo & The Illegals), Gus G. (Firewind, Ozzy Osbourne) and Andy James. "It
started out where I was gonna have just a few players," he continues. "Then I thought, you know, it would
be really interesting to bring in a different guy on every song. And I started putting names out there and
reaching out to people, and they started agreeing to do it. And then I had guys reaching out to me."
Describing the finished record, he explains: "There are old school, straightahead metal ideas à la Judas
Priest and Dio, as well as a few uptempo riffs in an Iron Maiden vein. There are also a few ballads with
a bit of a Led Zeppelin vibe. I'm really excited about the musical direction. I'm bringing back a few of
those classic hooks and melodies that some of you have asked for. Ask and you shall receive."
OTHER NEW LINKS
VIDEO
WORK OF ART
PRETTY MAIDS
THE DARK ELEMENT
EDGE OF PARADISE
RESTLESS SPIRITS
CRUZH
AUDIO
VEGA
CREYE
PERFECT PLAN
TYKETTO
QUIET RIOT
NEW ALBUM RELEASES OUT 08.11.19
THE DARK ELEMENT – Songs The Night Sings
PRETTY MAIDS – Undress Your Madness
EDGE OF PARADISE – Universe
QUIET RIOT – Hollywood Cowboys
WORK OF ART – Exhibits 
ABOUT FRONTIERS MUSIC SRL 
Originally founded in Naples, Italy in 1996 by Serafino Perugino and his father Fernando as a
distribution company, Frontiers has developed into one of the premiere independent rock labels in the
world. Synonymous with quality music from across a broad spectrum of rock genres, the company has
worked with multiple genre heavyweights and fan favourites. Aside from providing a home for classic
artists from the 1970s and 80's, it also boasts a wealth of young, up and coming talent that, with a savvy
and forward thinking A&R and marketing approach, will be developed into the future of rock and metal.
With a deep commitment to and passion for THE MUSIC and the artists who create it, plus massive
global distribution, sales, marketing and publicity channels, Frontiers is the premiere home for both
established and emerging rock artists.
Head Office: Naples, IT | U.S. Office: Nashville, TN
Subscribe to be alerted when new videos are added:
Follow the 'Newest From Frontiers' playlist on Spotify: