FRONTIERS MUSIC
UK NEWSLETTER
NOVEMBER 2019
NEW ALBUMS RELEASED 11.10.19
VANDEN PLAS – The Ghost Xperiment : Awakening
THE FERRYMEN – A New Evil
MICHAEL SWEET – Ten
Also out : new albums by ECLIPSE and WAYWARD SONS
NEW ALBUM RELEASES OUT 08.11.19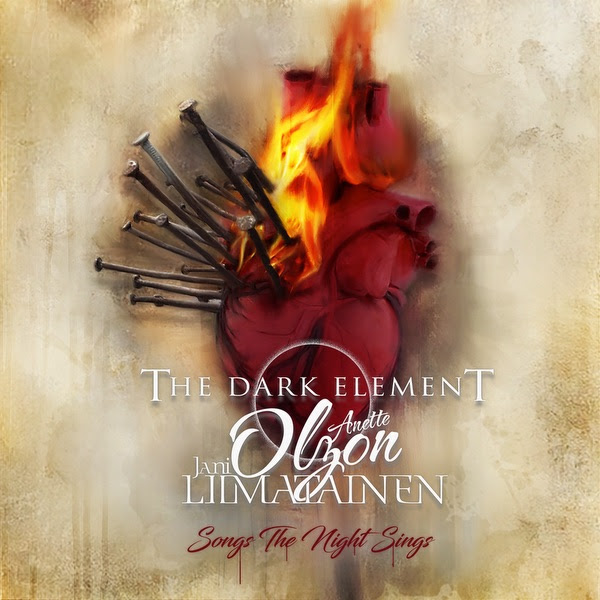 THE DARK ELEMENT
Songs The Night Sings
The Dark Element features vocalist Anette Olzon (ex-Nightwish) and Finnish guitarist and songwriter
Jani Liimatainen (Insomnium, Cain's Offering). 'Songs The Night Sings' is the second album by the
duo and takes up where their self-titled 2017 debut left off, with immaculate vocals from Anette and
fabulous anthems written by Jani. Says Anette: "For me, this album is bigger and better and I
believe everyone who liked our debut will really like this one too." Jani concurs, adding: "I think the
album is very heavy, but still hyper melodic, and this time we are even exploring new musical
territories we didn't on the previous album. I think it's safe to say that with this album you'll get even
more of what made the first album so good, only it's bigger, better and bolder!" Ever since word about
The Dark Element first got out, fans were frothing with anticipation. And no wonder, considering the
talents involved. Anette is widely known for her immaculate voice on two hit albums by Nightwish,
while Jani has recently been busy in Insomnium and Cain's Offering (alongside Stratovarius singer
Timo Kotipelto) but had also made a deep impression on power metal fans following the twelve
years he had spent in Sonata Arctica after co-founding that band.
PRETTY MAIDS
Undress Your Madness
'Undress Your Madness' is the highly anticipated follow up to the successful Pretty Maids album
'Kingmaker', released in 2016 and a record that continued the upward trajectory of its predecessors,
'Pandemonium' and 'Motherland'. With this brand new record, Pretty Maids prove once again that
they are still in the freshest and most vital phase of their career since the early 90's. Says singer
Ronnie Atkins: "I'm really happy about the way it turned out because in my humble opinion there
are a lot of good songs on it and it is probably even more melodic than our previous efforts." As
always, the production is absolutely stellar thanks to Jacob Hansen (Volbeat, Amaranthe, Kobra And
The Lotus), who has given the band a sound that not only reinvigorates them, but also incorporates
the beloved soundscapes of the past to make it simultaneously modern and classic. "I think it's a
match made in heaven," continues Atkins. "There's a great chemistry between us." As for Atkins and
his band partner Ken Hammer, they remain one of the best songwriting teams in the hard rock genre.
Every song on offer is worthy of attention, whether it be in your face barn burners such as the
barnstorming opener (and first single) 'Serpentine', the title track or 'Black Thunder', timeless melodic
metal anthems like 'Firesoul Fly' and 'Will You Still Kiss Me (If I See You In Heaven)', or the superb
power ballad 'Shadowlands'. This album has everything a Pretty Maids fan could possibly ask for!
EDGE OF PARADISE
Universe
Formed by singer/pianist Margarita Monet and guitarist Dave Bates in 2011, Los Angeles based Edge
Of Paradise have made a name for themselves in the metal scene with the release of well received
independent albums and heavy touring both nationally and internationally. 'Universe' is their third album
(and first for Frontiers) and is produced by Mike Plotnikoff (Halestorm, Three Days Grace) and mixed
by Jacob Hansen (Amaranthe, Volbeat, Pretty Maids). It brings together a symphonic and classic metal
approach with contemporary sounds such as industrial and electronic influences. Monet states that "we
set out to create something that would transport you to another world, music that transcends time and
space and takes you on an epic ride through our 'Universe'!" Coinciding with the release of 'Universe',
Edge Of Paradise will tour Europe in support of Sonata Arctica. The band's debut album, 'Mask', was
released in 2012 and was followed in 2015 by 'Immortal Waltz' and then a five song EP entitled 'Alive'
in 2017 that charted highly on a number of prestigious US Rock charts.
QUIET RIOT
Hollywood Cowboys
Widely known as the first heavy metal band to top the US pop charts, the Los Angeles based quartet
Quiet Riot became a global sensation thanks to their monster smash hit 1983 album, 'Metal Health'.
The legendary hard rock and heavy metal icons continue their historic journey with long-time member
(joining in 1982) and drummer Frankie Banali joined by bassist Chuck Wright, guitarist Alex Grossi
and powerhouse vocalist James Durbin. When asked how the new record differs from other Quiet Riot
albums, Banali says "This is our most diverse release. The songs run the gamut from straight ahead
balls to the wall rock tracks, to a blues song, to double bass drum pedal to the metal songs. There is a
whole lotta grooves going on!" Musically, this new record offers exactly what you would expect from
the band – arena ready hard rock with strong hooks and infectious riffs, plus mature songwriting that
only a band with such a history and pedigree can offer. Quiet Riot are back stronger than ever and in
perfect metal health with 'Hollywood Cowboys'!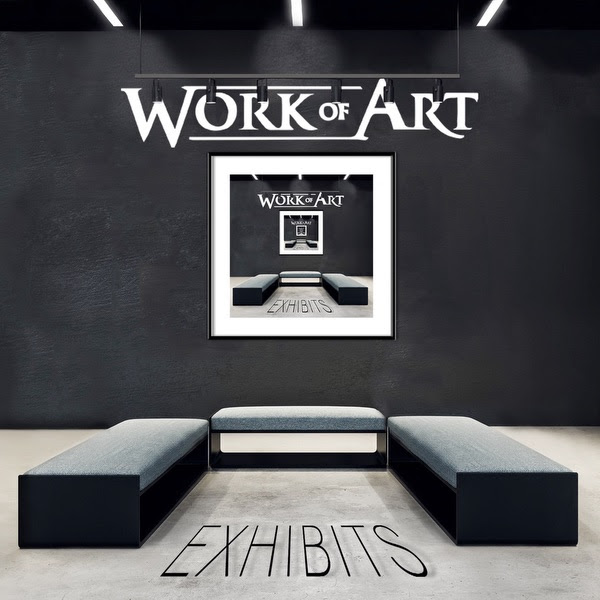 WORK OF ART
Exhibits
'Exhibits' is the first album in five years from the melodic rock masters led by guitarist and producer
Robert Säll. The group debuted in 2008 with 'Artwork', a record that arrived out of the blue and
immediately struck a chord with genre afficionados worldwide. With a sound inspired by greats
such as Toto, Giant and Journey, WOA soon established themselves as one of the most promising
newcomers in the genre. Around this time, guitarist and main composer Säll also joined W.E.T, the
project featuring solo star Jeff Scott Soto and Erik Martensson of Eclipse, thereby cementing his
status in the scene. Expectations for the follow-up album, 'In Progress', were sky high, but WOA
lived up to the hype and the record was a hit in their home territory of Sweden. Their third album,
'Framework', followed in 2014 and kept the momentum going. 'Exhibits' is the logical next step for
WOA and encompasses all the qualities they have displayed to date. Their most uptempo and
straight ahead album thus far, it nevertheless features softer moments, with notable highlights
including legendary keyboard player Vince DiCola (writer of the 'Training Montage' piece on the
Rocky IV soundtrack) as a special guest on 'This Isn't Love'. 'Exhibits' is an album that no AOR
fan can afford to miss.
TYKETTO
Strength In Numbers Live
A celebration of the 25th year anniversary of the release of Tyketto's second studio album, 'Strength
In Numbers', this new live release sees the renowned hard rock act perform all the songs included
on the original 1994 studio album plus 'Wait Forever', which was written and recorded at that time
but only appeared as a bonus track on its Japanese release. The band had actually finished the
writing sessions of the original album by mid-1992, but anyone who lived through the grunge era
knows just how quickly it swept through the world of rock music and changed its landscape.
Meanwhile, Tyketto continued to do what they did best: skilfully write, arrange and record memorable
and meaningful melodic hard rock songs. When the album was eventually released, it was arguably
the best melodic hard rock record of that year, with the band's European and UK fanbases welcoming
it with open arms. Tyketto embarked on the 'Strength In Numbers' 25th Anniversary Tour in March
2019 and it showed the band in prime form, with the shows having an intense yet personable energy
about them. The entire tour was recorded, resulting in this new release, which complements the 2017
'Live From Milan' CD/DVD on which they performed their debut album, 'Don't Come Easy', in full.
OTHER NEW LINKS
VIDEO
PRAYING MANTIS
HOUSE OF SHAKIRA
IMPELLITTERI
W.E.T.
A NEW TOMORROW
CREYE
PERFECT PLAN
LYRIC VIDEO
TORA TORA
LOVEKILLERS feat Tony Harnell
AUDIO
NEW ALBUM RELEASES OUT 06.12.19
EDGE OF FOREVER – Native Soul
THE MURDER OF MY SWEET – Brave Tin World
HOUSE OF SHAKIRA – Radiocarbon
A NEW TOMORROW – Universe
LOVEKILLERS feat Tony Harnell – Lovekillers
PRAYING MANTIS – Keep It Alive
ABOUT FRONTIERS MUSIC SRL 
Originally founded in Naples, Italy in 1996 by Serafino Perugino and his father Fernando as a
distribution company, Frontiers has developed into one of the premiere independent rock labels in the
world. Synonymous with quality music from across a broad spectrum of rock genres, the company has
worked with multiple genre heavyweights and fan favourites. Aside from providing a home for classic
artists from the 1970s and 80's, it also boasts a wealth of young, up and coming talent that, with a savvy
and forward thinking A&R and marketing approach, will be developed into the future of rock and metal.
With a deep commitment to and passion for THE MUSIC and the artists who create it, plus massive
global distribution, sales, marketing and publicity channels, Frontiers is the premiere home for both
established and emerging rock artists.
Head Office: Naples, IT | U.S. Office: Nashville, TN
Subscribe to be alerted when new videos are added:
Follow the 'Newest From Frontiers' playlist on Spotify: