FRONTIERS MUSIC
UK NEWSLETTER 
MARCH 2020 
NEW ALBUMS RELEASED 14.02.20
BLACK SWAN – Shake The World
SEVEN SPIRES – Emerald Seas
ARCHON ANGEL – Fallen
WAITING FOR MONDAY – Waiting For Monday
HARDLINE – Life Live
NEW ALBUM RELEASES OUT 06.03.20
ALLEN-OLZON
Worlds Apart
Inimitable singer Russell Allen (Symphony X, Adrenaline Mob) and acclaimed Swedish guitarist,
songwriter and producer Magnus Karlsson (Primal Fear, Magnus Karlsson's Free Fall) have
collaborated successfully on three albums on which Russell has duetted with Norwegian singer
Jorn Lande. Following a break in this pattern which saw Timo Tolkki step in to oversee one album,
Karlsson has returned to the fold, but there is another exciting new twist to the formula in that this
time around the duo welcome Anette Olzon (ex-Nightwish, The Dark Element) to the fold as Allen's
vocal partner to offer up an unbelievable new album. For any fan of the Allen-Lande releases, but
also the likes of Delain, Within Temptation and Nightwish (albeit with a heavier edge), this is
going to be your album of 2020!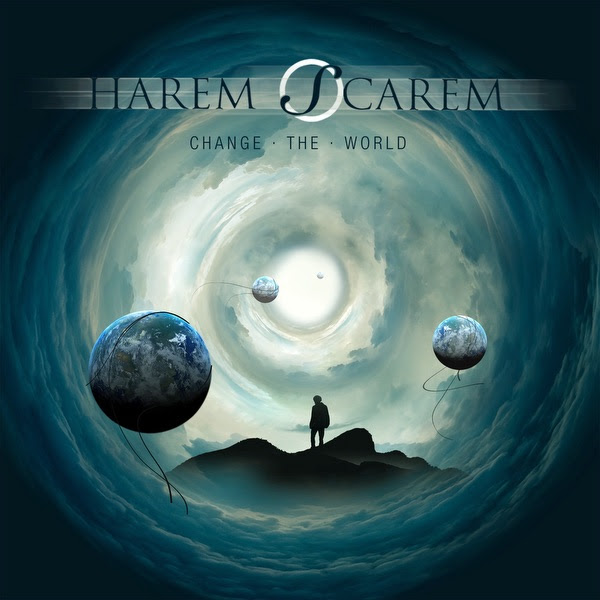 HAREM SCAREM
Change The World
One of the current heavyweights of the melodic hard rock scene, Harem Scarem reunited in 2013
after a five year hiatus to completely re-record their milestone 1993 release 'Mood Swings'. They
then made two exceptional studio albums in 'Thirteen' and 'United', both of which showed the
band delivering their unique trademark sound while simultaneously making a stylistic progression.
'Change The World' is another logical next step and shows them at the top of their game and a
cohesive unit still able to deliver a power-rock-packed punch, with swaggering riff and hooks to
die for. The longstanding band partnership of Harry Hess and Pete Lesperance still has the magic
touch, and, with the addition of bassist Mike Vassos, they are ready to dominate once more.
KHYMERA
Master Of Illusions
Although Khymera began as an alliance between Italian producer/musician Daniele Liverani and the
then Kansas singer Steve Walsh, it developed into a regular project when bassist and producer Dennis
Ward (a member of Magnum since summer 2019, ex-Pink Cream 69) entered the fold. Dennis had
always sung backing vocals, so was more than willing to take on the lead singer role on the albums
'A New Promise' (2005), 'The Greatest Wonder' (2008) and 'The Grand Design' (2015). Dennis now
returns with this brand new album, which is a logical progression of the musical path begun when he
joined, being a strong and extremely melodic release that showcases his vocal abilities while also
highlighting his skills as a songwriter and producer. Khymera remains a shining example of what
European melodic rock is all about: crystal clear production, soaring vocals, killer musicianship and
songwriting reminiscent of bands such as Giuffria, Icon and Signal.
NOVENA
Eleventh Hour
UK prog metal/rock band Novena established themselves on the international prog scene in
2016 with the release of the widely praised EP 'Secondary Genesis'. Boasting the vocal talent of
Ross Jennings (HAKEN) and inimitable poetry of co-vocalist Gareth Mason (Slice The Cake), the
blistering guitar work of Dan Thornton (ex-HAARP Machine, ex-No Sin Evades His Gaze) and musical
drumming of Cameron Spence (Ravenface), plus the expressive and versatile bass playing of Moat
Lowe (Slugdge, ex-NSEHG) and the complex and nuanced compositions of guitarist/keyboardist
Harrison White, the band always delivers something greater than the sum of its parts. Novena's music
moves from the profound to the profane, from the fragile to the unforgiving, and from the introspective
to the utterly destructive, exploring a plethora of different genres along the way. Despite this, every
song on 'Eleventh Hour' has a solid and personal identity with memorable choruses. Novena will play
a London show on 3rd April as they promote the release of this album.
SEMBLANT
Obscura
A rapidly rising act in the South American metal scene, Semblant have also received praise
internationally ever since the 2014 release of their second album 'Lunar Manifesto', three singles from
which have racked up 30 million YouTube views. They are now ready for the next phase of their
career with the release of 'Obscura' and a European tour to promote it, which includes a London show
at The Underworld on 6th April. Semblant formed in 2006 in Curitiba, Brazil when singer Sergio Mazul
and keyboardist J. Augusto joined forces, eventually establishing a settled line-up with the addition of
Mizuho Lin (female vocals), Juliano Ribeiro (guitar), Welyntom 'Thor' Sikora (drums) and Johann Piper
(bass). The first single from the new album, 'Mere Shadow', features most of the band's main
characteristics – an awesome duet between Mazul and Lin, catchy melodies and chorus and heavy
riffs – and is an excellent introduction to the record.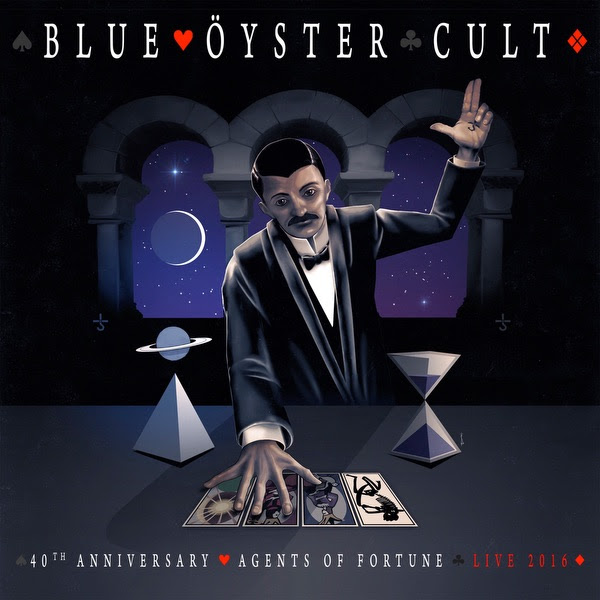 BLUE ÖYSTER CULT
40th Anniversary Agents Of Fortune
Live 2016
To celebrate the 40th anniversary of their seminal 1976 album 'Agents of Fortune', Blue Öyster Cult
performed it in its entirety at an exclusive concert for the Audience Music Network at Red Studios in
Hollywood in front of an intimate audience of invited guests. The performance was recorded and
filmed for a TV special that is now being released on LP, CD/DVD and Blu-Ray. The intense creative
vision of BÖC's original core duo of vocalist/lead guitarist Donald 'Buck Dharma' Roeser and vocalist/
rhythm guitarist Eric Bloom are complemented by Richie Castellano on guitar and keyboards plus
the longtime rhythm section comprised of bassist Kasim Sulton and drummer Jules Radino, while
co-founder member Albert Bouchard also appears as a special guest on guitar, percussion and
vocals on some songs. BÖC's fourth album, 'Agents Of Fortune' achieved platinum status on the
strength of songs such as '(Don't Fear) The Reaper,' their biggest hit. Tinged with a crossover sound
that preserved the band's heavy metal base while exploring new and varied musical forms, it proved
to be their breakthrough record. Nothing they had produced previously prepared listeners for its
level of sophistication and it is now considered an iconic 1970's rock music release.
BLUE ÖYSTER CULT
Heaven Forbid (REISSUE)
Originally released in March 1998, 'Heaven Forbid' was BÖC's thirteenth studio album and was the
group's first full studio set of original material since 'Imaginos' a decade earlier. Science fiction
author John Shirley contributed heavily, writing lyrics for all except two of its new songs, while a live
version of 'In Thee' (from 1979's 'Mirrors') was also included. A classy slab of hard rock featuring
intricate arrangements, provocative lyrics and spine-tingling guitar solos, the band sound in top form
on a set that includes the menacing and thrashy opener, 'See You in Black', the sci-fi epic 'X-Ray
Eyes' and the mythical and atmospheric 'Harvest Moon'.
OTHER NEW LINKS
VIDEO
HER CHARIOT AWAITS
REVOLUTION SAINTS
CRASHDÏET
NEW ALBUM RELEASES OUT 10.04.20
DENNIS DeYOUNG – 26 East: Volume 1
HER CHARIOT AWAITS – Her Chariot Awaits
ONE DESIRE – Midnight Empire
PRETTY MAIDS – Maid In Japan Future World 30th Anniversary
ABOUT FRONTIERS MUSIC SRL 
Originally founded in Naples, Italy in 1996 by Serafino Perugino and his father Fernando as a
distribution company, Frontiers has developed into one of the premiere independent rock labels in the
world. Synonymous with quality music from across a broad spectrum of rock genres, the company has
worked with multiple genre heavyweights and fan favourites. Aside from providing a home for classic
artists from the 1970's and 80's, it boasts a wealth of young, up and coming talent that, with a savvy
and forward thinking A&R and marketing approach, will be developed into the future of rock and metal.
With a deep commitment to and passion for THE MUSIC and the artists who create it, plus massive
global distribution, sales, marketing and publicity channels, Frontiers is the premiere home for both
established and emerging rock artists.
Head Office: Naples, IT | U.S. Office: Nashville, TN
Subscribe to be alerted when new videos are added:
Follow the 'Newest From Frontiers' playlist on Spotify: