FRONTIERS MUSIC
UK NEWSLETTER 
JUNE 2019 
NEW ALBUMS RELEASED 17.05.19
THE BRINK – Nowhere To Run
CRAZY LIXX – Forever Wild
FIRST SIGNAL – Line Of Fire
RESTLESS SPIRITS – Restless Spirits
NEW ALBUM RELEASES OUT 14.06.19
NEAL MORSE
Jesus Christ The Exorcist
'Jesus Christ The Exorcist' is a monumental project in the already impressive discography of the
American singer, multi-instrumentalist, bandleader and progressive rock composer Neal Morse.
A decade in the making, this Prog Rock Musical was written and produced by Morse and features
an all-star cast of vocalists and musicians. The double album set contains two hours of music that
encompasses the entire musical spectrum that Morse is known for, while lyrically it tells the
Story of Stories. With a cast of amazing vocalists and musicians such as Ted Leonard, Eric Gillette,
Nick D'Virgilio, Randy George, Bill Hubauer, Matt Smith, Jake Livgren and more, this prog rock
extravaganza is a landmark event that will leave its mark on every listener. He who has ears to
hear…let him hear!  'Jesus Christ The Exorcist' received its live world premiere in 2018, while
Frontiers is proud to partner with Neal on his continuing musical explorations and extending his
legacy via this latest creative vision.
SWEET OBLIVION feat GEOFF TATE
Sweet Oblivion
Sweet Oblivion sees the legendary former Queensryche and current Operation: Mindcrime singer
Geoff Tate teaming up with a stellar cast of Italian musicians led by Simone Mularoni, the mastermind
behind prog metal masters DGM. Musically, this album marks a return to a more melodic metal style
for Tate and showcases a fine collection of songs that also highlights the talent of Mularoni and his
hand picked ensemble. "I was approached by Frontiers to do this record and am pleased I took the
chance," says Tate. "It's an album filled with fun and I believe a lot of the fans who dig the old
Queensryche sound will enjoy this!" Adds Mularoni: "I grew up listening to 70's and 80's rock and
metal bands and, of course, Queensryche's classic albums are among my favourites ever. Having the
opportunity and luck of working together with a musical giant like Geoff has been a real blessing on
both the human and the artistic side. I asked a few amazing musicians and friends to help me out and
together we delivered a bunch of classic heavy rock songs in which I tried to fuse a contemporary
approach with a classic Queensryche vibe….the performances are amazing!" Excellent musicianship
and a sound that harkens back to the massive melodies and hooks of classic albums like 'Empire',
'Rage For Order' and 'Operation: Mindcrime'. Enjoy!
CHAOS MAGIC feat CATERINA NIX
Furyborn
Chaos Magic is centred around Chilean vocalist Caterina Nix. 'Furyborn' is the second album by
her band, and this gem of a metal album has seen her work in collaboration with fellow Chilean
producer, musician and singer Nasson. Having worked with ex-Stratovarius guitarist Timo Tolkki
on the self-titled Chaos Magic debut album in 2015, Nix explains that with the new album "I had
the freedom to design a musical vision of my own. I wanted 'Furyborn' to have both a modern
sound and a nostalgic feel. It's a mixture of heavy, melodic, symphonic and alternative metal, with
traces of modern progressive and electronic elements, unique arrangements and yet associated to
certain sounds from the 90's and early 00's. It has moments of rage, power and sick darkness, but
also vulnerable, sensual and sometimes playful points." She has also pulled in some talented
singers to perform guest duets on 'Furyborn', including Ronnie Romero (Rainbow, Coreleoni,
ex-Lords of Black), Tom S. Englund (Evergrey) and Ailyn (ex-Sirenia). The album is mixed by
Danish studio master Jacob Hansen (Volbeat, Pretty Maids, The Dark Element).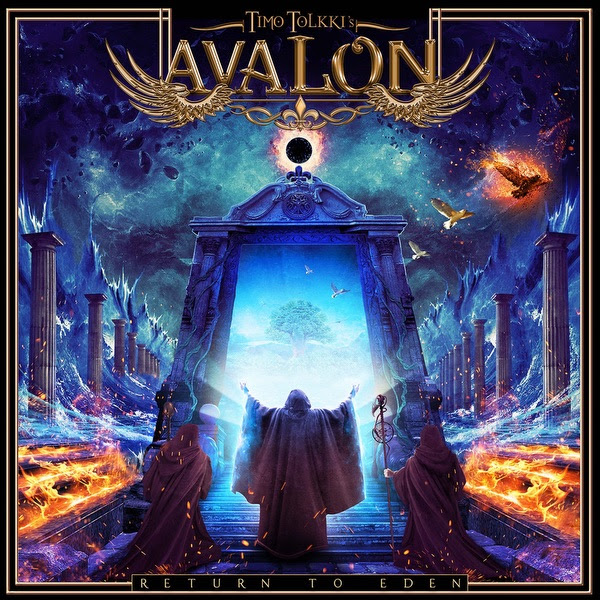 TIMO TOLKKI'S AVALON
Return To Eden 
Five years in the making, 'Return to Eden' marks a new return for Finnish guitarist and composer
Timo Tolkki (ex-Stratovarius). Following a period out of the spotlight, Tolkki began writing the
third chapter of his metal opera (it follows 'The Land Of New Hope' [2013] and 'Angels Of The
Apocalypse' [2014]) and completed this outstanding comeback album with help from Italian
producer Aldo Lonobile (Secret Sphere). A convincing and inspired release, Tolkki's creative
drive and vision is more evident than ever. As with the previous chapters in this opera series, a
slew of heavyweight guest vocalists handle vocal duties, with featured appearances by renowned
Dutch singer Anneke Van Giersbergen (ex-The Gathering), Zak Stevens (ex-Savatage), Todd
Michael Hall (Riot V), Mariangela Demurtas (Tristania, Ardours) and Eduard Hovinga (ex-Elegy).
"I would like to say… Tolkki is back!" exclaims the man himself. "I feel that this is one of my best
works to date and I believe the whole cast of singers and musicians truly went above and beyond
the call of duty. We managed to create a really great record. I hope the fans will like it." Tolkki
has travelled a long, hard road to get to where he is today, but is now back and more determined
than ever to claim his rightful place in the metal scene. Listen and believe!
JORN
Live On Death Road
Jorn Lande celebrated his 50th birthday in 2018 with the release of a 12 album box set and some
live shows that featured the most diverse setlists of his career and presented the true and ultimate
legacy of himself as an artist and band leader. His headlining set at the Frontiers Rock Festival in
Milan, Italy was recorded in its full glory and this epic concert performance is now being released
on 2xCD/DVD and Blu Ray formats. One of the most prolific vocalists of the modern metal era,
Jorn's powerful vocal talent has earned him status as one of the last pioneers of true classic hard
rock and heavy metal. Aside from his main band, JORN, Lande has fronted acts including Ark,
Beyond Twilight and Masterplan, while he has also participated on projects such as the
Nostradamus and Dracula Rock Operas, the Allen/Lande albums with Symphony X vocalist
Russell Allen, plus the Ayreon and Avantasia projects.
OTHER NEW LINKS
VIDEO
VANDEN PLAS
HARDLINE
ARDOURS
HARDLINE
AUDIO
HOLLOW HAZE
MIND KEY
JIM PETERIK & WORLD STAGE
NEW ALBUM RELEASES OUT 12.07.19
VISIONATICA  Enigma Fire
MIND KEY  Aliens In Wonderland
BILLY SHERWOOD  Citizen In The Next Life
HOLLOW HAZE  Between Wild Landscapes And Deep Blue Sea
GRAHAM BONNET BAND  Live In Tokyo 2017
VANDEN PLAS  The Epic Works 1991-2015 (11CD Box Set)
UK TOUR DATES
TO 30.06.19
DOOMSDAY OUTLAW
17.05.19  READING Facebar
18.05.19  LONDON The Lounge
23.05.19  STOKE Eleven
26.05.19  NUNEATON Queens Hall
THE BRINK
23.05.19  STOKE Eleven *
25.05.19  LINCOLN Lincolnshire Showground **
26.05.19  NUNEATON Queens Hall *
* with Doomsday Outlaw
** Call Of The Wild Festival
BIGFOOT
23.05.19  SWANSEA Hangar 18 *
24.05.19  LONDON Underworld *
25.05.19  NORWICH Waterfront Studio *
27.05.19  CAMBRIDGE Portland *
29.05.19  SHEFFIELD Corporation *
30.05.19  MANCHESTER Rebellion *
31.05.19  GLASGOW Stereo *
01.06.19  CARLISLE Brickyard *
* with The Treatment
VEGA
14.06.19  DONINGTON PARK Download Festival
ABOUT FRONTIERS MUSIC SRL 
Originally founded in Naples, Italy in 1996 by Serafino Perugino and his father Fernando as a
distribution company, Frontiers has developed into one of the premiere independent rock labels in the
world. Synonymous with quality music from across a broad spectrum of rock genres, the company has
worked with multiple genre heavyweights and fan favourites. Aside from providing a home for classic
artists from the 1970s and 80's, it also boasts a wealth of young, up and coming talent that, with a savvy
and forward thinking A&R and marketing approach, will be developed into the future of rock and metal.
With a deep commitment to and passion for THE MUSIC and the artists who create it, plus massive
global distribution, sales, marketing and publicity channels, Frontiers is the premiere home for both
established and emerging rock artists.
Head Office: Naples, IT | U.S. Office: Nashville, TN
Subscribe to be alerted when new videos are added:
Follow the 'Newest From Frontiers' playlist on Spotify: