FRONTIERS MUSIC
UK NEWSLETTER 
DECEMBER 2018
NEW ALBUMS RELEASED 09.11.18
RED DRAGON CARTEL – 'Patina'
STEPHEN PEARCY – 'View To A Thrill'
TEN – 'Illuminati'
HOLTER – 'Worlds On Fire'
NORDIC UNION – 'Second Coming'
DOOMSDAY OUTLAW – Suffer More 2018 REISSUE
NEW ALBUM RELEASES OUT 07.12.18
DEVIL'S HAND feat SLAMER-FREEMAN – 'Devil's Hand'
Devil's Hand is a new project featuring the talents of two outstanding musicians: producer/
guitarist/songwriter Mike Slamer and singer Andrew Freeman (of Last In Line). Mike Slamer
has been the man behind many classic melodic hard rock releases over the last two decades,
including records by Steelhouse Lane, Seventh Key, Slamer and Terry Brock, but his pedigree
goes as far back as the 70's with City Boy followed by the 80's with Streets (featuring Kansas
singer Steve Walsh). The quality of his songwriting and production work is unsurpassed and he
remains a true musician's musician. Andrew Freeman is one of the most gifted singers in the
current hard rock scene, with his performances on the debut album by Last In Line turning heads
as he put his own stamp on a band that had previously been perceived by some as 'just another
Dio tribute act'. His unbelievable set of pipes takes no prisoners on this album and is a testament
to the abilities of one of the greatest rock singers around. 'Devil's Hand' is destined to be a
highlight of the year in the melodic hard rock scene. Don't miss it!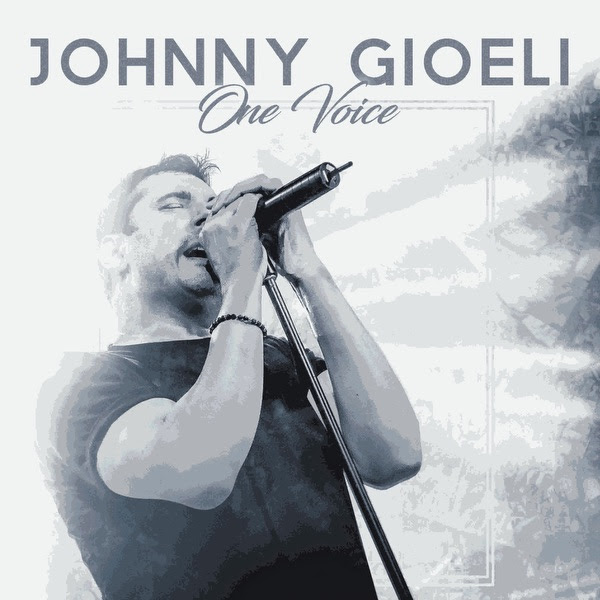 JOHNNY GIOELI – 'One Voice'
Johnny Gioeli has one of the most gifted voices to grace the hard rock genre in the last 25
years, as evidenced by his output with Hardline, Crush 40 and Axel Rudi Pell. Personable,
funny, humble and one of the nicest guys in the business, the powerhouse singer says of this
solo album: "One day, I just woke up and said 'I wanna do this'. I've always been so faithful to the
groups I'm in, and I remain that way, but I just thought it was time that I do something on my own
and see how it goes, for the creativity and the freedom to express myself." He sees 'One Voice' as
a tribute to the fans who helped him create it. "I love a big ballad, I love guitar driven rock, melodic
hard rock," he continues. "If you've listened to Hardline, you know who I am….and for my Crush 40
listeners, you know me too. I love a song that lifts you up, gets you moving, and puts you in a
positive frame of mind." A portion of the money raised for this album via a crowdfunding campaign
is being used to help a young man named Joe Barber as he recovers from a recent accident
that has left him paralysed. The power of music is amazing, especially when it is used to heal.
PALACE – 'Binary Music'
Palace is a Swedish melodic rock band founded by lead singer and multi-instrumentalist
Michael Palace. Heavily influenced by 80's imagery and sounds, Palace delivers a massive
melodic rock/AOR sound that is heavier than most in the genre, with swirling layers of keyboards
and guitars the dominating features. 'Binary Music' is the second Palace album and offers classic
80's themed melodic hard rock wrapped up in a tight production courtesy of Daniel Flores (Find Me,
First Signal, The Murder Of My Sweet). Despite his youth, Michael Palace has already accumulated
a wealth of experience playing both live and in the studio with acts that include Adrenaline Rush,
Reach, Erika, Houston, Find Me, Gutterdämerung, Big Time and Miljenko Matijevic. He initially
worked with Frontiers as a songwriter and guitar player for First Signal (featuring Harry Hess of
Harem Scarem), Cry of Dawn (with Goran Edman), Kryptonite (featuring Jakob Samuel) and
Toby Hitchcock. These successful collaborations led to a deal with Frontiers for his own music.
STATE OF SALAZAR – 'Superhero'
State of Salazar was founded in 2010 by five students from the Malmö Academy of Music, with
singer and songwriter Marcus Nygren envisioning the group playing rock music made for big arenas.
Following a well received EP, they signed to Frontiers and released their acclaimed debut album,
'All The Way', in 2014. It coincided with them being the first band to grace the stage at the debut
Frontiers Rock Festival in Milan. Kevin Hosford took over keyboard duties soon after, and for this
highly anticipated second album he also contributes a brace of songwriting and lead vocal credits.
Considering that the band's influences include acts such as Toto, Queen, Journey, Survivor and the
film score composers Bill Conti and Vince DiCola, State of Salazar have an awful lot to live up to.
However, their songwriting, arranging and instrumental prowess amply demonstrates that this is a
band that wants to develop and contribute to the melodic rock genre. State of Salazar is back with
another 'feel good' AOR masterpiece!
MAGIC DANCE – 'New Eyes'
Magic Dance was begun in 2012 as a solo project of Long Island, NY based singer-songwriter and
producer Jon Siejka. Having initially released a series of EP's that were heavily influenced by iconic
synth-pop and film soundtrack music from the '80s, his sound evolved into the 'Haunting Me' EP in
2015 that featured more guitar-heavy cuts. A debut album entitled 'Vanishings' followed that was a
grander sounding statement combining '80s influenced AOR, pop rock and synth-pop. Magic Dance
have since signed to Frontiers and, for this new album, Siejka has collaborated with several other
musicians, resulting in an outstanding heavier, guitar oriented record that leans towards classic
mid-80's AOR with hints of Loverboy, Heart, Survivor, etc.
ALCATRAZZ – 'Parole Denied Tokyo 2017'
As part of the Graham Bonnet Band's 2017 tour of Japan to promote 'The Book' album, a reunion
of Alcatrazz took place over three nights to the delight of the Japanese hard rock faithful. Founding
members Graham Bonnet (vocals), Jimmy Waldo (keyboards) and Gary Shea (bass) reunited after
a gap of over three decades for shows in Osaka, Nagoya and Tokyo, with the trio joined by guitarist
Conrado Pesinato and drummer Mark Benquechea. In addition to the Tokyo performance being
captured on both audio and video, some unreleased bonus tracks from the Alcatrazz archives have
been added to the package, including the 1985 song 'Emotion' that features a young Steve Vai on
guitar. Alcatrazz was formed in 1983 by former Rainbow and Michael Schenker Group vocalist
Graham Bonnet, along with Jimmy Waldo and Gary Shea. They made three studio albums in the
1980's, with their debut featuring the young Swedish guitarist Yngwie Malmsteen and its follow-up
Steve Vai. They split up in 1987 after the release of their third album, 'Dangerous Games'.
STEELHEART – 'Rock'n Milan'
'Rock'n Milan' is a live album and video of Steelheart's performance at the Frontiers Rock Festival
IV in Milan, Italy on 29th April 2017. The band had taken the stage by storm ahead of the release of
their comeback album, 'Through Worlds of Stardust', which is represented here with the inclusion of
'My Dirty Girl', while the rest of the setlist was comprised of Steelheart classics. With tracks culled
from their self-titled debut album and the 'Rockstar' movie soundtrack, singer Miljenko Matijevic
was in fine form and delivered an amazing performance to a wowed crowd. The release of this
show is also a fitting tribute to the memory of Steelheart guitarist Kenny Kanowski, who passed
away just a couple of months after this last concert with the band.
OTHER NEW LINKS
VIDEO
QUIET RIOT
GIOELI CASTRONOVO
CORELEONI
CORELEONI
TREAT
DOOMSDAY OUTLAW
IMPELLITTERI
LYRIC VIDEO
AUDIO
KANE ROBERTS
STARBREAKER
NEW ALBUM RELEASES OUT 25.01.19
JETBOY – Born To Fly
QUIET RIOT – One Night In Milan
KANE ROBERTS – The New Normal
STARBREAKER – Dysphoria
TOBY HITCHCOCK – Reckoning
UK TOUR DATES
TO 31.12.18
CITY OF THIEVES
09.11.18  PWLLHELI Hard Rock Hell XII
15.12.18  LONDON Big Red
PRAYING MANTIS
10.11.17  INVERNESS Monsterfest
17.11.18  MOTHERWELL Firestorm Rocks
AIRRACE
17.11.18  MOTHERWELL Firestorm Rocks
DOOMSDAY OUTLAW
20.11.18  EXETER Cavern *
21.11.18  BIRMINGHAM Academy 2 *
23.11.18  SCARBOROUGH Apollo *
25.11.18  LEEDS Key Club *
27.11.18  NORWICH Waterfront *
28.11.18  STOKE Sugarmill *
01.12.18  SHEFFIELD Winter Rocks Fest
02.12.18  BEDFORD Esquires *
08.12.18  BILSTON Robin 2 **
14.12.18  BARNSLEY Old School House
* with Wayward Sons
** with VEGA
THE BRINK
21.11.18  CARLISLE Brickyard
22.11.18  GRIMSBY Yardbirds
23.11.18  TROON Winterstorm
24.11.18  SHEFFIELD Corporation
25.11.18  NEWCASTLE Trillians
27.11.18  BRISTOL Louisiana
28.11.18  SOUTHAMPTON 1865
29.11.18  LONDON Underworld
30.11.18  MANCHESTER Rebellion
01.12.18  CARDIFF Fuel
02.12.18  BILSTON Robin 2
OPERATION: MINDCRIME
22.11.18  EDINBURGH Bannerman's
23.11.18  BLACKPOOL Waterloo
24.11.18  TROON Winterstorm
25.11.18  TROON Winterstorm (acoustic set)
26.11.18  NEWCASTLE Trillians
27.11.18  YORK Fibbers
28.11.18  EVESHAM Iron Road
29.11.18  STOKE Eleven
30.11.18  PONTYPRIDD Muni Arts Centre
01.12.18  LONDON Underworld
02.12.18  TRECCO Planet Rockstock
03.12.18  LEEDS Brudenell Social Club
04.12.18  NORWICH Waterfront
05.12.18  HULL O'Rileys
06.12.18  ABERDEEN Assembly
BIGFOOT
30.11.18  WOLVERHAMPTON Slade Rooms
01.12.18  TRECCO BAY Planet Rockstock
14.12.18  BRADFORD Underground
15.12.18  PRESTON 53 Degrees
ABOUT FRONTIERS MUSIC SRL 
Originally founded in Naples, Italy in 1996 by Serafino Perugino as a distribution company, Frontiers has 
developed into one of the premiere independent rock labels in the world. Synonymous with quality music
across a broad spectrum, the company has worked with genre heavyweights such as DEF LEPPARD, 
WHITESNAKE, JOURNEY, YES, ELECTRIC LIGHT ORCHESTRA, RICK SPRINGFIELD, STRYPER,
WINGER, MR. BIG, NIGHT RANGER and more. Aside from providing a home for classic artists,
Frontiers also boasts a wealth of young, upcoming talent that, coupled with a savvy and forward thinking
A&R and marketing approach, will be developed into the future of rock 'n' roll. With millions of records
sold and multiple Top 10 album chart entries around the world, the label has also expanded with offices
in the USA (Nashville) and UK (London). With a deep commitment to and passion for music and the
artists who create it and with massive global distribution, sales and marketing channels,
Frontiers is the home for both established and emerging rock acts.
Subscribe to be alerted when new videos are added: 
Follow the 'Newest From Frontiers' playlist on Spotify: