FRONTIERS MUSIC
UK NEWSLETTER 
APRIL 2020 
NEW ALBUMS RELEASED 06.03.20
ALLEN / OLZON – Worlds Apart
HAREM SCAREM – Change The World
(available from 5pm UK time on 6th March)
KHYMERA – Master Of Illusions
NOVENA – Eleventh Hour
SEMBLANT – Obscura
BLUE ÖYSTER CULT
Agents Of Fortune 40th Anniversary Live 2016
+
Heaven Forbid (REISSUE)
NEW ALBUM RELEASES OUT 10.04.20
FM
Synchronized
Formed in 1984, FM released their debut album 'Indiscreet' in 1986 and spent the next decade
consolidating their position at the forefront of British melodic rock, touring extensively as both a
headline act and also joining bands such as Status Quo and Whitesnake on tours to promote
'Tough It Out' (1989), 'Takin' It To The Streets' (1991), 'Aphrodisiac' (1992) and 'Dead Man's
Shoes' (1995). Following a twelve year sabbatical, the band returned to the stage and
eventually released their sixth studio album, 'Metropolis', in 2010. The subsequent decade has
seen headlining tours in the UK and overseas, special guest slots and festival appearances,
plus the albums 'Rockville' and 'Rockville 2' (both from 2013), 'Heroes And Villains' (2015) and
'Atomic Generation' (2018), as well as 'Indiscreet 30' (a re-recorded version of their debut album)
and the live CD/DVD 'The Italian Job'. The brand new 'Synchronized' is the band's 12th studio
release, with frontman Steve Overland stating: "I'm really proud of this album. It really shows the
band's strengths as writers and players and has hints of vintage FM as well as what we are all
about in 2020." Guitarist Jim Kirkpatrick says: "It's my favourite to date. The band excelled on
this album," while keyboard player Jem Davis adds: "It's a rollercoaster of an album for 2020,
so sit back and enjoy the ride."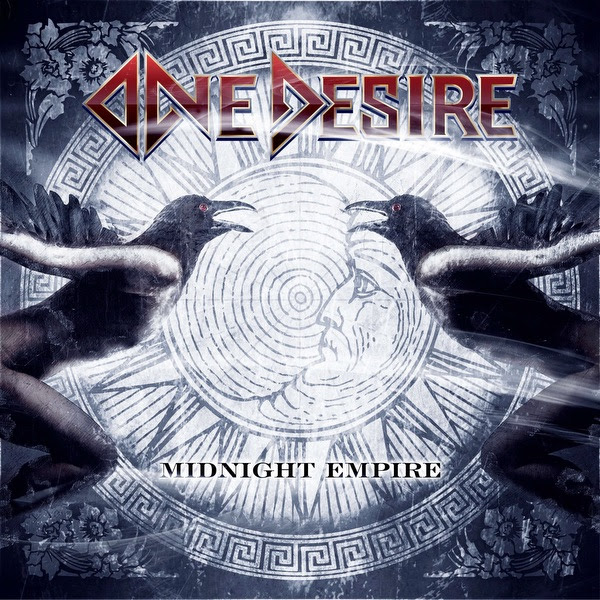 ONE DESIRE
Midnight Empire
One Desire released their self-titled debut album in March 2017 to massive acclaim. Containing
the hit single 'Hurt' (2 million views on Youtube, over 3 million streams on Spotify), it helped the
band find their way to the forefront of the melodic rock scene. Successful European tours with
Eclipse and H.E.A.T were followed by further dates and festivals through to the end of 2017,
before the band headed back to the studio to start work on their second record. In the works for
a little over two years, 'Midnight Empire' generously repays the long wait. It is a more mature,
at times adventurous, album, but still with an unbelievable hookiness that fans will recognise
from their debut. The band will embark on a European tour with The Night Flight Orchestra in
early March, the opening night of which takes place in London on 6th.
DENNIS DeYOUNG
26 East: Volume 1
Former Styx frontman Dennis DeYoung is back with his sixth original solo studio album. 26 East
was the address where DeYoung grew up on the far south side of Chicago and where Styx was
formed in his basement in 1962. Across the street lived the Panozzo twins, John and Chuck, who
along with DeYoung would go on to form the nucleus of the band. The cover artwork features
three locomotives traveling through space, representing the original members leaving Chicago
on their journey to the stars. "On this, I decided to write songs about my journey from these
humble beginnings to the very top of my chosen profession," the singer states. Although
DeYoung previously announced that this will be his last album, more recently he has revealed
that "there were so many songs written that Frontiers suggested dividing it into two albums
rather than one." The album process began when DeYoung's neighbour Jim Peterik sent him a
song, which led to them writing nine more together, five of which will be on Volume 1. An initial
single, 'To The Good Old Days', will be issued on 9th March and is a duet with Julian Lennon.
HER CHARIOT AWAITS
Her Chariot Awaits
Her Chariot Awaits is a new hard rock/metal group featuring Spanish singer Ailyn (ex-Sirenia)
and American guitarist and producer Mike Orlando (Adrenaline Mob). This exciting new musical
alliance came about through the vision of Frontiers, who put the two artists – each eager to create
a new and exciting project – in touch. The pair gelled well, creating an album that will excite lovers
of technical, aggressive, modern and catchy heavy music. Melding the well defined metal approach
of Adrenaline Mob with more melodic hooks, Her Chariot Awaits showcases the incredible vocals
of Ailyn. Here, she moves in a heavier and more straightahead direction compared to her previous
band. Says Ailyn: "Her Chariot Awaits is a new step forward in my music career and I can't wait to
share the beginning of this journey with you," while Orlando adds: "It was a pleasure to write and
perform with Ailyn, who has a beautiful voice and was great to work with in and out of the studio.
The album is a great collection of hard hitting yet melodic commercial rock tracks, which I hope
you will all enjoy." A remarkable union of two great artists who still have a lot to prove, 'Her
Chariot Awaits' is going to leave listeners breathless!
PRETTY MAIDS
Maid In Japan – Future World 30th Anniversary
Released on CD+DVD, Blu-ray and 2xLP, 'Maid In Japan' is a special live document which sees
Danish hard rockers Pretty Maids offer a full performance of their classic album 'Future World',
originally released in 1987 and their first major breakthrough release in the metal community.
Having hit the road during 2017-18 to celebrate the 30th Anniversary of 'Future World', the band
decided to record and film a live performance of the album in Tokyo, where they played for two
nights in November 2018. "The decision to record it in Japan was kind of obvious as it has been
one of our strongest markets since the 1980's, and we had never filmed any live stuff there,"
explains singer Ronnie Atkins. "I remember both the concerts we played as absolutely great fun
with a very loud and enthusiastic crowd. It's always a pleasure performing in Japan since it's a
fantastic and very dedicated audience and always has been." 'Maid In Japan' follows the autumn
2019 release of 'Undress Your Madness', the current studio album by Pretty Maids and the latest
in a line of critically and commercially successful records the band made during the 2010's that
also includes 'Kingmaker', 'Motherland' and 'Pandemonium'.
OTHER NEW LINKS
VIDEO
ELECTRIC MOB
LEVERAGE
EDGE OF PARADISE
SEVEN SPIRES
BLACK SWAN
LYRIC VIDEO
NEW ALBUM RELEASES OUT 08.05.20
MAGNUS KARLSSON'S FREE FALL – We Are The Night
HOUSE OF LORDS – New World – New Eyes
ELECTRIC MOB – Discharge
SMACKBOUND – 20/20
PARALYDIUM – Worlds Beyond
BLUE ÖYSTER CULT – iHeart Radio Theater NYC 2012
BLUE ÖYSTER CULT – Curse Of The Hidden Mirror (REISSUE)
ABOUT FRONTIERS MUSIC SRL 
Originally founded in Naples, Italy in 1996 by Serafino Perugino and his father Fernando as a
distribution company, Frontiers has developed into one of the premiere independent rock labels in the
world. Synonymous with quality music from across a broad spectrum of rock genres, the company has
worked with multiple genre heavyweights and fan favourites. Aside from providing a home for classic
artists from the 1970's and 80's, it boasts a wealth of young, up and coming talent that, with a savvy
and forward thinking A&R and marketing approach, will be developed into the future of rock and metal.
With a deep commitment to and passion for THE MUSIC and the artists who create it, plus massive
global distribution, sales, marketing and publicity channels, Frontiers is the premiere home for both
established and emerging rock artists.
Head Office: Naples, IT | U.S. Office: Nashville, TN
Subscribe to be alerted when new videos are added:
Follow the 'Newest From Frontiers' playlist on Spotify: