FRONT LINE ASSEMBLY | DIE KRUPPS
THE MACHINISTS REUNITED TOUR 2022
+ TENSION CONTROL
Fans of cultivated EBM and industrial rock in mainland Europe have been rejoicing with the news that genre legends Front Line Assembly and Die Krupps will be back on the road together in August for 'The Machinists Reunited Tour 2022', a repeat offering of their summer 2018 series of co-headlining shows.
Audiences can expect updated set lists from both groups, as Front Line Assembly have released the studio albums 'Wake Up The Coma' (2019) and 'Mechanical Soul' (2021) since last touching down on European soil from their home in Vancouver, Canada, while Die Krupps have issued 'Vision 2020 Vision' (2019) and the recent covers collection 'Songs From The Dark Side Of Heaven' (2021).
As on the first Machinists United tour, Hamburg-based Tension Control will open each show with a trademark set of old-school EBM bangers.
Having just completed a set of US dates to promote 'Mechanical Soul', Front Line Assembly will also be performing at the M'era Luna Festival in Hildesheim, Germany on 7th August, immediately prior to the tour. A remix of the album song 'Purge' by Black Asteroid has recently been issued and can be heard HERE .
Having played guitar with Front Line Assembly in the US, the renowned Swedish musician/producer Tim Sköld (best known for his work with Marilyn Manson, KMFDM and Shotgun Messiah, plus his Not My God collaboration with Nero Bellum) will also accompany FLA on all European dates.
FRONT LINE ASSEMBLY | DIE KRUPPS
THE MACHINISTS REUNITED TOUR 2022
+ TENSION CONTROL
09.08.22  PL  WARSAW Progresja
10.08.22  PL  WROCLOW A2
11.08.22  DE  BERLIN Kesselhaus
12.08.22  DE  DRESDEN Strasse E / Bunker
13.08.22  CZ  JAREMER Brutal Assault Festival
14.08.22  HU  BUDAPEST A38
16.08.22  DE  MÜNCHEN Backstage Halle
17.08.22  DE  WEINHEIM Cafe Zentral
18.08.22  DE  OBERHAUSEN Kulttempel
19.08.22  BE  ST NIKLAAS De Casino
20.08.22  DE  ROSTOCK Mau Club
23.08.22  SE  STOCKHOLM Skaktkyrkan
24.08.22  NO  OSLO Vulkan Club
25.08.22  SE  GÖTEBORG Pustervik
26.08.22  SE  MALMÖ Plan B
28.08.22  NL  HEERLEN Nieuwe Nor *
*change of venue from previously advertised
album
MECHANICAL SOUL
2xLP / CD / digital
out now
[Metropolis Records]
UK REVIEWS
"Wielding rich sonic textures with care, 'Mechanical Soul' conjures bewitching ghosts in the machine 8/10"
CLASSIC ROCK
"Fresh and invigorating, the fluid sounds forged here sonically pulse in ever-inventive and strange ways 8/10"
VIVE LE ROCK
"A fine example of a band that has stuck to its principles and is continuing to deliver quality product. Highly recommended"
ELECTRICITY CLUB
"They have stood the test of time and prove once more that they are at the very top of their genre. This album is a must-have"
ALTVENGER
"They have once again raised the standard for others to follow"
MAXIMUM VOLUME MUSIC
"Prime FLA. Dark, twisted, atmospheric, clubby, immaculately produced and up there with their best. Recommended"
THE MIDLANDS ROCKS
"With many strengths and highlights, repeated listening reveals new subtleties and nuances which give their albums longevity"
MMH RADIO
"A strong release that throws back to their '90s electro-industrial heyday"
A MODEL OF CONTROL
Vancouver-based electro-industrial act Front Line Assembly have been fearlessly pushing the boundaries of that genre description for more than three decades, exploring all manner of styles and influences since being founded by Bill Leeb as a purely electronic concern in the mid-80s.
Leeb and long-term cohort Rhys Fulber released their current album, 'Mechanical Soul', in 2021. It earned plaudits worldwide as one of the strongest records in their extensive catalogue and was seen by many as a return to the classic records they issued at the dawn of the 1990's such as 'Caustic Grip' and 'Tactical Neural Implant'. There is certainly something on 'Mechanical Soul' to suit most electronically inclined tastes; taken as a whole, it is a masterful work from one of the greats of their genre.
'Mechanical Soul' also includes guest appearances by Jean-Luc De Meyer of Front 242 and Dino Cazares of Fear Factory.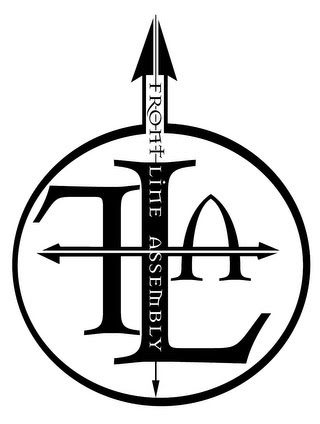 facebook.com/frontlineassembly
frontlineassembly.bandcamp.com